Edinburgh Festival Fringe theatre reviews: Pilot | Tea and Milk | 52 Monologues for Young Transsexuals | Collar | Cowboys and Lesbians
Our latest round-up of Fringe theatre reviews includes an enigmatic one-man show, an absorbing, amaiable and quietly intense monologue, and an uncompromising piece based on interviews with trans women.
"I'm interested in telling stories," Lekan Lawal says, half-way through his new solo show. Pilot turns that old theatre cliché on its head, taking an unusual and intentionally incomplete approach to staging an untold story though fragments of texts, ideas, visions, proposals, rejections. This evasive show from the director of Eclipse Theatre Company is slippery by design, shapeshifting in front of us as the fragments pile up.
One of Pilot's stories begins in what feels like a seminar; Lawal is preparing to read us a manuscript with the easy charisma of a well-liked lecturer. Or maybe it's a table reading. Sometimes it's definitely an audition. He diverts the audience with a game instead: it's about winning, he suggests – or winning the chance to speak, to be celebrated, to be understood.
Thanks to a clean, bold application of digital media, Pilot always feels like a sleight of hand: two live camera feeds competing for attention create a suspicion of misdirection, but also bring focus to the intricacies of Lawal's mercurial performance. Sharp sound (Gareth Fry), video design (Lawal), and dramaturgy (Tommo Fowler) all help this enigmatic performance to shift between modes, spliced together like fight scenes in a graphic novel.
Some myths get made, whilst others remain in a locked desk draw. A pilot episode is the chance to tell a new story for the first time, to set up new characters and new journeys in the hopes that they'll find wings.
Juxtaposing Marvel lore with the world's oldest mythologies, and snippets of Vershinin's vision for the future from Chekhov's Three Sisters, this Pilot creates a space in which everything is up in the air, all these ideas are flying – and they never land. Once you taste freedom in expression, Lawal asks, what if you never want to come back down?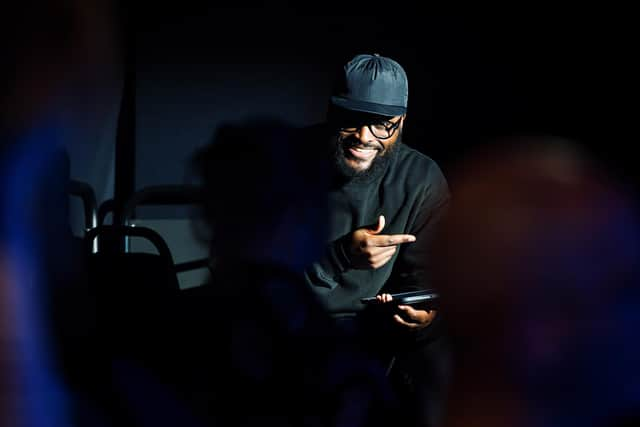 C ARTS | C venues | C aquila (Venue 21) until 27 August
Sitting between 'here' (London) and 'there' (her home elsewhere), Edith Alibec's narrator provides a cool commentary on her life, selling organic face cream made out of "horse" for a well-to-do woman at Camden Market and offering a hilariously honest critique of the men she has sex with.
It's almost as much of a cliché to say that something is "like Fleabag" as for shows at the Edinburgh Fringe to be like Fleabag – but if you like Fleabag.. etc, etc. However, in this instance, the direct-to-audience, noir-esque narration of an Italian gangster film is paired with a young woman caught between two countries – one of which includes her mother, who is ill – and the kind of everyday work and relationship dramas that might fill the life of any 20-something starting out.
Travelling between her two realities, she has a cool, international, indie girl feel, with her unflinching eyes and wry outlook on her familiar situation but with a self-knowingness that makes it feel fresh. Her abrasive humour slices through the dialogue, as she has random sex with guys on the internet to help her get over her ex – a conscious strategy that she's perfectly fine with and doesn't lead to the bleak depictions of such behaviour in shows elsewhere. Slowly, it becomes clear where her impressively hard edges might have come from.
Alibec has a super energy as both an actor and writer – an absorbing, amiable and quietly intense presence, full of underlying strength. There's a darkness to the descriptions her unusual but also everyday narrator gives – an ability to look death straight in the face and not so much laugh but shrug. "Skinny jeans millennial girl," she calls herself, just one of many others, but through this small but absorbing piece, we get to hear her unique voice.
52 Monologues for Young Transsexuals ***
Pleasance Courtyard (Venue 33) until 28 August
There are moments of brilliance in this uncompromising, messy and experimental show, based upon interviews with trans women, carried out by writer/ performers Charli Cowgill and Laurie War. It opens with us being asked to spit into a cup (imagine that three years ago), before they launch into the kind of high-octane, sexually extreme dance routine that you'll either love or hate if you're in the front row -- and a bold and at times brutal tone is set.
The voices of the real-life people being interviewed reveal different expectations and attitudes in a way that's insightful, but often paint a similarly bleak picture: of young transexuals looking for love from chauvinistic men who largely seem to want to objectify them before moving on to someone else. However, Chari and Laurie are likeable hosts and it's through their friendship that something more hopeful emerges. Why do we never see people like them out and about, just being friends, they ask. Why are they always referred to in terms of bathrooms, the Olympics, or sex?
As their frantic moves and commodified pink are replaced by a dance that feels more real and celebratory, the lip-synched words to Barbara Streisand's Enough is Enough lead to an ending that's particularly uplifting because of everything that's gone before.
theSpace on the Mile (Venue 39) until 26 August
Looking forward to swapping being human for being 'man's best friend', Benjamin Peters tells us, matter of fact, that he identifies as a dog. It's a heightened premise that in lesser hands could feel trite, but writer Hannah McLeod has created a heartfelt open-ended analogy for being trapped in the wrong body. Warmly performed by Thomas Josef Burr, it centres around Ben, an attractive, charming and likeable man, who tells us he has never been described as such, and also that he has never had sex. Bright eyed and upbeat, he likes the idea of being "happy all the time", of people instantly loving him, of becoming a dog.
It sounds farcical, but, like the film Lobster, it's portrayed as simply something that, with government funding, can be now done – and beneath the concept and Ben's bright white smile is a sadness that is made all the more so by the fact that he never outwardly shows it. As his unsupportive family grow increasingly abusive, he's finally faced with a choice, alone.
There's all kind of parallels that could be drawn around identity and looking for a simpler life, which the writing leaves tantalisingly unsaid, before a rather sudden conclusion, in which we're left to continue thinking about them.
Pleasance Dome (Venue 23) until 27 August
Against the backdrop of the rolling hills and other archetypes of gay and non-gay fiction, Billie Esplen's charming little lesbian love story about playfully contrasts the awkwardness of a friendship-could-be-romance between Noa and Nina, two big coat wearing, geeky school girls, with the grandiose love stories that they poke fun at, picking up a variety of recognisable and amusing motifs along the way, particularly those a the cowboy story.
There's a danger that the construct of the story-inside-a-story becomes more of a focus than the story itself, as we flit back and forth between two duelling realities of teenage life and fantasy fiction, but Georgia Vyvyan and Julia Pilkington, as Noa, Nina and all of the characters that they play, are such versatile actors that watching them switch roles and genders injects momentum and an added layer of wry commentary on the sometimes stifling roles that men and women, straight or gay, are often expected to play.
When relationship dramas at the Fringe often tend to focus on sex ("don't people get bored?" one of the characters wryly asks the audience), this one focuses of first love, friendship and coming out from a more innocent and almost sexless perspective – and the young, studenty audience love it.