Edinburgh Festival Fringe theatre reviews: Pieces of Us | Buff | Layers | Walking Home | Sit or Kneel
Our latest round-up of Fringe theatre reviews includes a poignant series of carefully characterised monologues from across the United States, a paean to self-improvement and acceptance, and an affecting one-man play about the effects of dementia.
theSpace @ Surgeons Hall (Venue 53) until 26 August
American theatremaker Jessica Munna has doubts as to whether she'll be able to save the world "with an earth-shattering piece of socio-political art", but this series of poignant, carefully characterised monologues from across the United States' geographical and political boundaries goes further towards achieving a sense of real understanding than most.
She visits Appalachian West Virginia, and an elderly former mine worker who mourns the poverty and opioid addiction levels in his state; a place where the people, we are told, are hungry for hope. Usually parodied as 'redneck' Trump supporters, the true meaning of the word is outlined – the red bandanas proudly worn by striking mine workers as they took on their exploitative bosses.
It's a gentle but extremely memorable vignette, and the rest of Munna's play is similarly concerned with exploring moments of loss and trauma in the lives of others, in order to find real connection.
Drawn from interview accounts, her own experience and an amount of dramatic licence, she plays a woman remembering her Holocaust survivor Jewish grandmother standing up to a bully in a cinema; a hard-nosed tech entrepreneur who, we discover, was abandoned by her family after the loss of her mother and believes capitalism means "get your shit together so you can take care of yourself, because no-one else will"; a teacher feeling survivor guilt after a school shooting; and a native Brooklynite comparing post-COVID New York to the days after 9/11.
Poignant, truthful aphorisms are woven throughout, about not placing judgement on someone because of where they're from, or the comparative cost of standing up against injustice versus not standing up.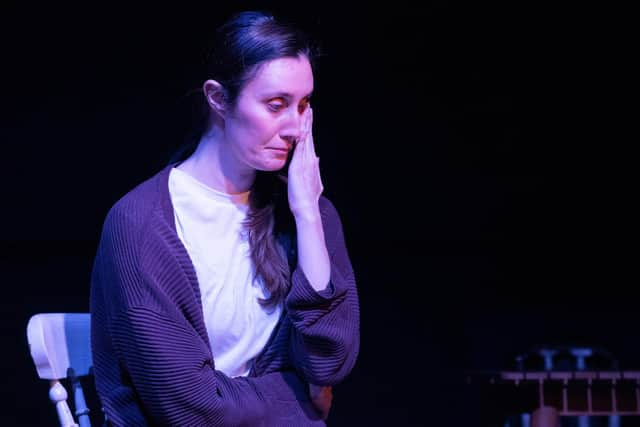 Buried away in a 10am slot in a back room at one of the Southside's many venue options, this heartfelt and well-crafted work deserves to find an open-minded and enthusiastic audience before its run is over.
Pleasance Courtyard (Venue 33) until 28 August
Nick's a confident, sexually liberated gay man – a large presence in all senses of the word, equally at home on niche dating sites as he is in his job as a dynamic primary school teacher, holding kids to account when they're casually homophobic. However, it's the "no fat" comments that, beneath the bravado, take their toll in Ben Fensome's rattling monologue, compellingly performed by Pearse Egan.
When "buff" lodger Jamie moves in, Nick is bedazzled. Could their friendship turn into something more? Jamie has a more selective approach to dating – but then starts seeing Tim, a barista, and is becomes patently obvious they're not looking for a third wheel.
The single perspective script depicts Nick's jealous response in a way that's at times funny, dislikeable and sad. Maybe it's OK to get annoyed sometimes, the piece suggests, but when the marginalisation and rejection finally causes Nick to snap at school, it's his ability to take responsibility, in the way he encourages the kids to do, that's most inspiring.
Nick's approach to romantic relationships is left unresolved elsewhere, but when Pearse takes his bow, both he and many of the audience are in tears at one man's commitment to self-improvement and self-acceptance.
Assembly Roxy (Venue 139) until 27 August
Chronicling ten minutes in the life of the performer, Yuuya, and his family, this one-man play observes how close-knit networks of care are formed during times of hardship and illness.
Yuuya's father suffers with dementia; every day, he repeats the same story as if telling it for the first time, and his deteriorating health is juxtaposed by his relationship with the family dog, Max, whom he never forgets to walk or feed.
The action can be confusing in its depiction of Yuuya's familial dynamic (theatrical elements are inconsistent in their keeping of time and place, which unfortunately means the storyline is unclear), as we watch the same scene over and over, from multiple viewpoints.
Characters are added one-by-one, and once they have played their part, their likenesses are projected onto a gauze screen. Each video overlays the last; they are always in conversation with one another. Through this, the piece crystallises and takes shape - the effect is similar to that of a photograph developing.
Layers is affecting, particularly in its conclusion, and ultimately, truly innovative in its attempt to dramatise the slow progression of an illness that estranges the sufferer inexorably from the people and places that know them best.
Gilded Balloon Teviot (Venue 14), until 28 August
It's a normal day in the office of an unnamed magazine, except that Carla hasn't turned up for work. Then news emerges that Carla was the victim of a sexual assault while walking home the previous night. How this affects the four remaining work colleagues is played out in this devised play directed by Chantelle Micallef Grimaud for Pricky Pear Productions, a female-led company of Maltese creatives in the UK.
Each of the four takes turns to break the fourth wall and voice their emotions. One is angry at the widespread misbehaviour of men. Another describes the burden of that perception on a young man dating. Several ask if they could have done more to prevent what happened.
The material for the show was drawn from some 40 interviews and feels disjointed at times, a collection of stories and reactions gathered around a theme. The awareness-raising agenda is no bad thing, but it becomes more important than the narrative, meaning the show tends towards the didactic rather than the dramatic. This isn't helped by the fact that the central action takes place off stage, to a character we never meet.
theSpace at Venue 45 (Venue 45), until 26 August
Billed as "Fleabag meets the Vicar of Dibley", Mimi Nation-Dixon's one woman play offers a no-holds-barred account of the life of a young female vicar. Margot's charge is "not the Cotswold fantasy", her small, ageing congregation less than enamoured with a woman incumbent. All of them, that is, except for Jonathan, a dashing young estate agent.
The shadow of Phoebe Waller-Bridge does hang over this show, which is directed by Jennifer Lafferty, as perhaps it must over any solo show about a young woman's relationships. However, Nation-Dixon's writing is smart and interesting, and she is excellent as Margot, warmly confiding, achingly sad, occasionally bawdily frank about her un-vicarly fantasies.
Where it differs is that behind the rom-com plot and the cheeky innuendos is a thread of genuine faith, and an exploration of what it might feel like for a young woman to follow her vocation into a job which is still highly patriachal, and (for both men and women) often thankless and rather lonely. Comparing it to the lives of the lady vicars I follow on Twitter, it rings entirely true.