Edinburgh Festival Fringe theatre reviews: Luke Wright: The Remains Of Logan Dankworth | Boy | Blood Harmony | Irvine Welsh's Porno
The latest monologue from acclaimed performance poet Luke Wright is an extraordinary and eloquent journey through Brexit Britain, while Dutch writer Carly Wijs's powerful and searching new piece about sex and gender also impresses.
Luke Wright: The Remains Of Logan Dankworth ****
Pleasance Courtyard (Venue 33), until 29 August
There are many shows on this year's Fringe that reflect on the Brexit vote of 2016 as a moment when something broke, in Britain; and there are also an unusual number of English voices not from London, with shows made - for example - in Oxford, Manchester and Plymouth asserting their own strong, distinctive presence.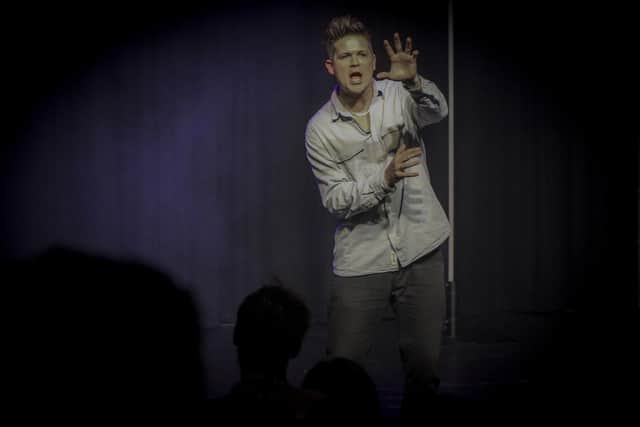 If you're looking for a show, though, that brilliantly brings together and explores these twin themes, then The Remains Of Logan Dankworth - the latest monologue from acclaimed performance poet Luke Wright - offers a superb hour of pointed and timely storytelling about the last six years in the life of one man. In 2016, as the Brexit referendum looms, Logan Dankworth is a happy freelance journalist living in a rented flat in London with his wife and baby daughter.
Soon, though, the offer of a lucrative column with a radical but hard-hitting online publication begins to consume his life, as the vortex of the Brexit debate becomes more intense, and he conceives the idea of writing not only the column, but a satirical blog taking the opposite view, under the name of Dankworth's Valet. His marriage begins to fail, as his wife becomes increasingly desperate to move back to their home county of Essex for a bigger house and more family support; while Logan can no longer imagine leaving the metropolis.
In the end, of course - for love of their vulnerable daughter - Logan is compelled to make the move, and to experience a kind of epiphany on Southend pier. Not, though, before Luke Wright has taken us on an extraordinary and eloquent journey through the temptations and pressures of life in Brexit Britain; and the emotional, psychological and moral damage suffered by millions, as they try to succeed in a heartless system that rips us from our roots, and eventually wounds even those it most richly rewards.
Summerhall (Venue 26), until 28 August
It's six years since the Dutch writer and director Carly Wijs won a Scotsman Fringe First award for her acclaimed young people's show Us/Them, about the horrifying Beslan school siege of 2004; and now she returns to the Fringe with a powerful and searching new piece that plunges straight to the heart of the current bitter debate about sex and gender, and how gender is constructed.
Boy tells the horrifying true story of a twin boy, here called Bruce, who, as a tiny baby, suffers a horrific medical accident during a circumcision operation, and loses his penis. Already traumatised by a medical profession only interested in protecting themselves, Bruce's naive parents, brought up in the devout Amish faith, eventually fall into the hands of an academic "expert" called Dr. Money, who assures them that if they treat and dress Bruce as a girl, and give him female hormones at puberty, he will grow up happily as "Brenda", and never mourn his missing penis.
What follows is a shocking human tragedy, in which the attempt to make Brenda into a girl not only fails to work, but eventually ends in the shocking exposure of Dr. Money as a pervert who invites the children to abuse one another sexually, in order to learn their proper gender roles.
All of this is conveyed with painful eloquence by performers Jesper Arin and Vanja Maria Godee, who play the desperate and baffled parents on a stage often covered with torn-up teddies and amputated soft toys, charting their journey from a youthful embrace of science, to a heartbroken return to their old faith. In the end, as we watch film of the man on whose life this story is based, the whole piece seems like a frightening metaphor for the alleged failure of modern rational liberalism, wrecked by the crimes of those who abuse their secular power; and although Wijs may intend the tale as a warning rather than a conclusion, it somehow seems to have come too late, for Bruce and his family, and for us.
Traverse Theatre (Venue 15), until 28 August
When siblings sing together, the music is special, says the publicity for Blood Harmony at the Traverse; and this play with songs about three warring sisters reunited for their mother's funeral therefore features a soaring score by The Staves, the English indy band made up of three sisters from Watford.
Yet despite its strong musical credentials, and the support of an impressive range of arts organisations across northern England and Wales - including ThickSkin theatre, the Lawrence Batley Theatre in Huddersfield, and the Wales Millennium Centre - the play, witten by Matthew Bulgo, somehow fails to sound like much more than a very routine afternoon radio drama about families falling out and reconciling again, enlivened by a few songs. Philippa Hogg, Keshini Misha and Eve de Leon Allen all do what they can with the characters of bossy Anna, flaky Maia and stay-at-home Chloe; and all sing beautifully, in their own style.
Whether it's a fundamental lack of originality and energy in the concept though - or simply the fact that siblings singing together really do sound special - these three characters never really sound or feel like sisters, either dramatically or vocally; and despite some striking moments of physical theatre from directors Jonnie Riordan and Jess Williams, this is a play that seems to have run out of things to say, long before it actually ends.
Pleasance Courtyard (Venue 33), until 28 August
Irvine Welsh's 2002 novel Porno is a powerful sequel to Trainspotting, set 10 years on from the original story; and if Davie Carswell's 70-minute stage adaptation struggles slightly to make the case for it as a stage play, it's still fascinating to see Renton, Begbie, Sick Boy and Spud inhabit a stage again, now more battered by life, but still ready for any scam that might deliver a quick buck - or, in Begbie's case, a chance to beat up his enemies.
The story begins as a vengeful Begbie is released from prison, and Renton arrives back in Leith after years in Amsterdam, to visit his sick mother. Spud is now a sad figure, begging for money on the streets; Sick Boy, by contrast, has inherited his auntie's Leith pub, and is looking suave, if a shade sleazy. And in no time, despite dark threats from Begbie, Sick Boy and Renton are hatching up plans to transform the pub's upstairs room - normally used for am-dram rehearsals - into a porn film studio, churning out local product starring the luscious and ambitious daughter of the local police inspector.
All of this is as entertaining, vivid, funny and foul-mouthed as any Irvine Welsh fan could wish, and features four fine central performances from Scott Kyle, Chris Gavin, Simon Weir and Kevin Murphy. The play, though, inevitably lacks the physical athleticism and excitement of the characters' youthful exploits; and with Porno already the subject of a successful film adaptation, it's difficult to feel that this brief and inevitably sketchy stage version adds a great deal to our understanding of this vivid and brutal return to the world of Trainspotting, a decade on.