Edinburgh Festival Fringe theatre reviews: International House of Vape: Redefining Theatre Experience | Herstorectomy | Where Is Love | Nick Wilty: Veteran Comedian | All the Glorious Moments in Between | Jane/Norma
Our latest round-up of Fringe theatre reviews includes a minutely-observed spoof of bullish/foolish young entrepreneurs, a charmingly chaotic musical comedy, and an important, unflinching drama prefaced by a very necessary trigger warning.
International House of Vape: Redefining Theatre Experience ****
With blaring music and a triumphant run through the audience, slapping high-fives and saying enthusiastic hellos as they go, the International House of Vape are here!
Two ultraconfident, entrepreneurial bros, they set up shop during COVID "as a direct response to the Panny D". They revolutionised the vaping industry first, and they've turned their attention – and their unique "Double D, Double E… Diversify, Disrupt, Expand and Empower" strategy – to multiple industries. "We've redefined the cardboard box!" they proclaim, and now they're here for theatre.
The first two-thirds or so of this frankly great new piece of work by Tom Brennan and James Newton of the Wardrobe Ensemble (creators of past Edinburgh hits Education Education Education and The Last of the Pelican Daughters) is an energetic and minutely-observed spoof of the young corporate entrepreneur of the TED Talk and viral YouTube marketing age. 'Tom' and 'Jim' bound around the stage, full of verbal positivity and upbeat aphorisms designed to change our thinking and our lives. "We will make theatre inevitable!" they blare.
They sound good, but every word is almost meaningless in its blandness, driving towards their core belief that what the theatre industry needs is a good dose of free market economy. "KPIs, SEOs… where's the business model, people?" they implore, before revealing a short, ingenious montage of the 250 commercial new plays they've written to replace the theatrical canon en masse. From romance to sci-fi action, these are like something from the nightmare, AI-written future Hollywood which writers are currently striking against.
When Jim breaks down mid-presentation and Tom has to console him, the play goes somewhere far darker and more esoteric, deliberately defying meaning as a physical piece deliberately written so only they can understand it.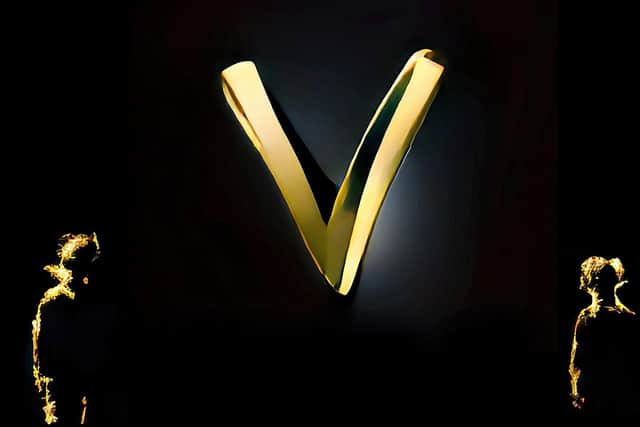 From a lampoon of the bullish business bravado infecting theatre, which any artistic director will surely recognise, to the stark emotional cost of creating work for a living, it's hard to imagine a more perfect creative comment on the current condition of the theatre industry.
Just the Tonic at The Caves (Venue 88) until 26 August
Carmel wants a hysterectomy. She has polycystic ovary syndrome, everything hurts all the time, and she's sick of explaining herself. No, she's not married, yes, she's a lesbian, and no, she doesn't want children. All this and she still doesn't qualify for surgery, so she tries a different tactic: lying to her doctor.
Herstorectomy, a new musical from theatre comedy collective The Counterminers, really kicks off when Carmel's fictionalisations start to spiral. She invites her GP over for dinner and hurriedly casts her colleagues to fulfil the image of a harmonious heteronormative nuclear family. A creepily persistent colleague is eager to pretend to be her husband, and two interns are roped in to be their unfeasibly teenage children.
Devised by a cast of eleven, Herstorectomy is charmingly chaotic. The collective has great chemistry and goofy characterisation – Ruby Loftus' Carmel is surrounded by an eclectic crew, and well-staged group numbers give everyone a chance to shine.
This is avowedly a comedy, not a medical drama, and the biggest laughs arise from silly, surreal details. It's just a shame that some of the best ideas are rushed: a Desert Island Discs interview with the contraceptive pill would make a great show in itself.
theSpace @ Surgeons Hall - Theatre 3 (Venue 53) until 26 August
An unflinching portrayal of a real woman's experience with domestic abuse, Where Is Love touches on important themes of coercive control and intergenerational trauma against the backdrop of Bradford in the mid-70s.
Our main character, whose actual voice we hear as audio clips throughout the show - discussing and dissecting her traumatic life experiences with compelling frankness - is a young woman who dreams of having an office job (where she can wear kitten heels, of course). Her plans are derailed, however, when she falls pregnant and gets trapped in a cycle of intimate partner violence. Sparse props, straight out of domestic life - a washing line and tub, an ironing board - are used to great effect. A blanket becomes a baby, a red shirtsleeve becomes a bloodied arm.
Maeve Brannen portrays Shelly with composure and heartbreaking vulnerability; while the (very necessary) trigger warning at the start of the show reveals the terrible story of Shelly's relationship before the lights have dimmed, we still feel the horror anew when each instance of abuse is detailed.
While Shelly's story has a happy ending - she can wear kitten heels and have a relaxing bath without fear - the show effectively highlights how much work is needed, still, to support victims of domestic abuse.
Nick Wilty: Veteran Comedian ***
Gilded Balloon Patter Hoose (Venue 24) until 27 August
Nick Wilty likes three things: beer, women and travel. But it is this last, his wanderlust, that led him to the British Army. His unit: the Royal Signals. His role: a radio telegraphist. In Veteran Comedian, stand-up becomes a means of recounting his military career in all its light and shade.
Wilty expertly navigates the horrors and complexities of the Falklands War (the invasion and occupation of the Falkland Islands and Georgia by Argentina in 1982), in addition to his experiences of post-traumatic stress as a result of his time in the naval task force.
He is an engaging performer, and the piece is marked by an almost rueful nostalgia. There is limited use of technology throughout, which is curious, given the nature of his office. However, when lighting, sound, and video are employed, this is done to great effect.
It is, ultimately, a story of healing. "Have you found your peace yet?" a fellow survivor asks. Here, Wilty gives a small, sad smile. It is the finer details, such as this, that make Veteran Comedian so vivid, so visceral. Imagine: the feeling as his aircraft drops out of the sky. Imagine: a butterfly landing on the back of his hand.
All the Glorious Moments in Between ***
theSpace on the Mile (venue 39) until 26 August
Three women with glorious outlooks and infectious smiles encourage their new friend, as well as the audience, to focus on the beauty rather than the darkness. Directed and created by Hollie-Jasmine Wills, this uplifting 40-minute show is a mix of choreographed movements, monologues and poetry, which all have a modern feel.
The cast is made up of four strong women of colour who exude joy - Anika Sharman, Freya Johnson, Marisol Rojas, and Tara Olawoye. They have an undeniable chemistry, and it really does feel like they are the best of friends. Sharing their personal moments of happiness and appreciating their heritage, home, and those around them, they inspire one another and ultimately become closer.
Darker times are alluded to but Queen Mary Theatre Company's piece refrains from delving deep into them. The emphasis remains on the positive, which is somewhat refreshing when it is much more common to focus on the opposite. The pacing feels slightly off at times and the piece would benefit from being tightened up. Although it lacks slickness, Wills's direction and writing create a warm and welcoming space that will leave the audience with a lasting glow.
theSpace @ Niddry Street (Venue 39), until 25 August (odd dates only)
The overturning of Roe vs Wade in 2022, restricting abortion rights in many US states, is a pertinent moment to look back at the woman who was the subject of the original 1973 court case.
Norma McCorvey, who died in 2017, was a complicated character. Her claim that the pregnancy resulted from rape was later alleged to be false and, after years as a pro-abortion campaigner, she underwent a Christian conversion and joined anti-abortionists Operation Rescue. Some believe she was exploited by both sides.
Viewpoint Theatre Company, formed by Masters students in acting and directing from Edinburgh's Napier University, draw on verbatim material from all sides of the debate, as well as from Norma's friends, family members and (female) partner, with Charlotte Bella Page and Peter Morrison adeptly playing all the parts.
However, the ever-changing viewpoints and zig-zag chronology make for a play which is often confusing. And more problematic is the absence of Norma's own voice until the very end. Creating a verbatim play about her, without her, when the material clearly exists, feels like denying her agency all over again.