Edinburgh Festival Fringe theatre reviews: Horizon Showcase: Things Hidden Since The Foundation Of The World | Soldiers of Tomorrow | The Knot | How to Become Ridiculously Well-Read (In About Fifty Minutes) | 2-Faces | 33 to 04 | The Lifespan Tour
x
Horizon Showcase: Things Hidden Since The Foundation Of The World ***
Summerhall (Venue 26) until 27
Since he first arrived on the Fringe back in 2017, the Manchester-based theatre-maker Javaad Alipoor has built a formidable reputation for his visionary and technically ambitious shows about the clashes of culture between the west and the rest - a clash partly embodied in his own history, as the child of an Iranian man and an English woman.
In his latest show, though - at the Traverse as part of this year's Horizon Showcase - there are so many strands of thought and investigation in play, that the performance almost threatens to collapse under the weight of its own complexity, and its agonised and compulsive self-reflection.
At its core lies the tragic and powerful story of the Iranian pop superstar Fereydoun Farrokhzad, exiled from his homeland after the Islamic revolution of 1979, and brutally murdered in his small flat in Germany in 1992.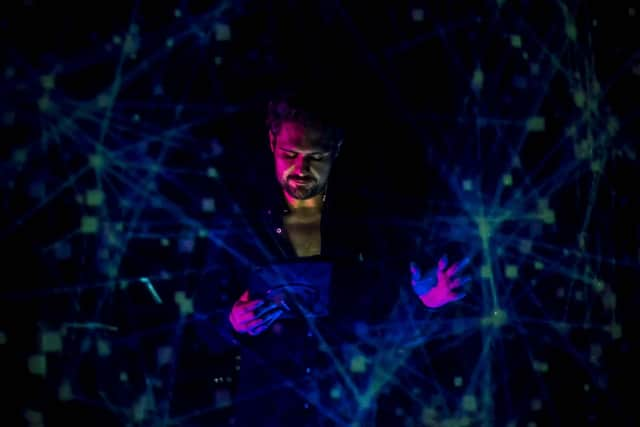 The telling of this story, in a lightly satirised true crimes podcast style that reviews all existing theories about the murder, sits comfortably alongside a strand of reflection about the western cultural colonialism and hegemony that leaves Farrokhzad almost unknown outside his country, and doomed forever to be "Iran's Tom Jones", rather than vice versa.
Alipoor also frames this story, though, in a long and troubled onstage lecture in which he interrogates his own research methods - and the influence of the internet in perpetuating existing assumptions about what is recorded, and what remains hidden - at a length that brutally delays the telling of Farrokhzad's story, and yet somehow fails to cast further light on it.
There is a huge amount to relish, as ever, in Alipoor's show: the archive footage of Farrkhzad, the wonderful music introduced and co-performed by exiled Iranian musician-composer Raam Emami, and Asha Reid's spirited performance as the podcaster, perched in an upper room of Ben Brockman's complex set.
Yet despite Chris Thorpe's presence as dramaturg, there's a sense here of a story still in search of the structure that would do it full justice; although a hugely vivid, disturbing and significant story, nonetheless.
Much simpler in presentation - and therefore more satisfying - is Itai Erdal's Soldiers Of Tomorrow, a meditation on the militarisation of Israeli society, and the tragedy of the continuing Israel-Palestine conflict, seen from Erdal's perspective as a former Israeli soldier now living, like Raam Emami, in exile in Canada.
On a simple set surrounded by ranks of toy soldiers, and backed by a screen showing images from his life, Erdal tells his own story with the help of fine onstage musician-composer Emad Arnoush, focussing on the moments of decision that drove him into exile, including a haunting incident at a checkpoint when he was a young soldier.
Now living at peace in Vancouver, Erdal radiates a sober, reflective exile energy that both echoes too much of Jewish history, and adds a vital chapter to it.
Yet as the final scene of his show reminds us, his sense of the wrongs done by him, and in his name, follows him everywhere - even into his friendly Vancouver barber's shop, where he and the Iraqi-born barber chat amiably, while the barber wields his gleaming cut-throat razor.
TheSpace @ Niddry St (Venue 9) until 26 August
There is an interesting, magical-realist idea at the centre of The Knot, a new play from David Murray and Norwich-based student company Minotaur Theatre, which is to manifest the myriad angsts and insecurities of a grieving teenage boy as a monstrous, Neil Gaiman-ish visitor that encourages him towards aggression every day when he gets home from school.
It is lost, though, amid an overstuffed plot set in some indistinct dystopia, a set of patchy performances, a melodramatic staging, and some ill-advised, under-developed attempts to address trickier topics like domestic violence. Fifty minutes unfortunately feels a lot longer. Nice costumes, though.
How to Become Ridiculously Well-Read (In About Fifty Minutes) **
Greenside @ Nicolson Square (Venue 209) until 26 August
The spirit of the Fringe is strong in Leo Kitay, the energetic writer and performer of this scrappy but charming show about six-year-old Leo's quest to read all 300 books in his school library before a demon he has conjured burns down the building.
Young Leo is hyper-stimulated and imaginative, with an endearing and evangelical desire to pass on his love of stories. Adult Leo is an infectious performer who leaps and clambers all over his tiny studio space.
He is also a talented multi-instrumentalist and promising writer of comedic songs but, even with such get-up-and-go, his show definitely takes longer than fifty minutes.
Greenside @ Infirmary Street (Venue 236) until 26 August
The performances by Hassan Hope and Jasmine Dorothy Haefner at the heart of this two-handed crime comedy-thriller are the most easily-recommended aspect of it, with the pair cycling through multiple characters with wit and physical energy.
Yet the conception of the piece feels all off, with two London-based detectives (referred to in the listing as Interpol agents, which seems unlikely) investigating an art theft which they also committed, at the behest of their crime boss foster father.
The projected text scene transitions are also very strange, offering half-accurate Cockney rhyming slang translations and what seems like running commentary from two viewers watching a film version of this story.
theSpace on the Mile (Venue 39) until 26 August
On route to an important surgery, 67-year-old Lainey (Emilie Jardine), and young doctor, Asa (Alban Nolan), get stuck in a hospital lift.
Like the lift, the piece unfortunately doesn't go anywhere. It's filled with awkwardness as one would expect but for a comedy, the humour is too subtle to be effective.
The contrast between Lainey's cheeky Scottish attitude and occasional foul mouth and Asa's serious character has potential. However, rather than being funny their relationship comes across as harsh and is missing chemistry.
A mysterious guitar player, played hauntingly by Martha Hobbs, is the most intriguing element. Although not visible to the others, the connection between them is cleverly unsettling.
Greenside @ Nicolson Square (Venue 209) until 26 August
There's no faulting the ambition of this "original poetic adventure" from Sarah de Nordwall and the Company of Bards, or the scope of this curiously spiritual slice of science fiction that makes Takovsky's Solaris look like Caravan of Courage: An Ewok Adventure. The show aims to take you beyond Earth, beyond life or death and ultimately beyond understanding.
Long after the Earth's passing, futuristic beings in neon pink wigs are offered the chance to experience the lifespan of one of its creatures as a virtual holiday.
It's performed with a bright, ringing confidence by de Nordwall that suggests it certainly means something to her but it fails to communicate much more than a lingering sense of befuddlement.