Edinburgh Festival Fringe theatre reviews: Clown Sex | All Aboard! at Termination Station | Until Death | Character Flaw | Wonder Drug: A Comedy About Cystic Fibrosis | Kitchen Underwear
Our latest round-up of Fringe theatre reviews includes a grotesque and invigorating clown show, a defiant pro-abortion crusade, and a passionate monologue about living with ADHD.
Pleasance Courtyard (Venue 33) until 27 August
Do not be deceived by the jolly circus music at the start. "I thought she might be psychotic," says Gary Strange, referring to a woman he's been watching from his home down the drain, "but maybe it was also part of the act."
You might be thinking the same about him, with his nasally voice and toothy grin, illuminated by a torch under his chin. He's been living in the sewer, we learn, sniffling, shuffling and listening to people's stories. It's given him a new perspective. It's encouraged him to "try something new." Maybe it will help us to do the same.
A grotesque clown show that, like a demonic babushka doll, gives birth to an ever-expanding array of creepy characters, it's an invigorating hour in the at times so-shocking-you-want-to-look-away-but-so-shocking-you-can't-look-away company of a (as Gary at one point also puts it) "a professional." The only times you'll see a red nose and a rainbow wig will make you never look at them in the same way ever again.
Natasha Sutton Williams is a master of the form, whose face moulds like plasticine between her three horrifyingly but also strangely recognisable personas. As well as Gary, there's the faded wisp of a woman he's watching, a pedant in pastel, who gets her kicks from shouting at kids and the explicit sex diagrams in magazines that lead her to a night of hedonism that must be never spoken about again.
Elsewhere, there's an international journalist covering "apatite" who has an unusual relationship with a cat, but don't worry, it's consensual. Finally, Gary, with his noir-esque narration and Clockwork Orange aesthetic, finds himself drawn to the biggest clown of all: "Cuck-oo", she says.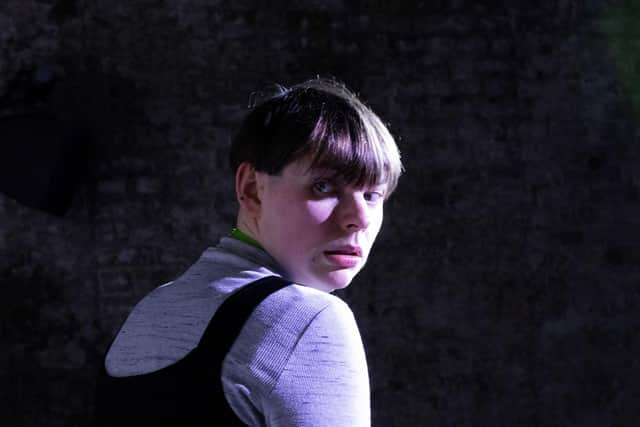 What happens next is horrifying, provocative, funny and scary: throwing sex, like rotten vegetables, at the world of the Big Top.
All Aboard! at Termination Station ***
Pleasance Courtyard (Venue 33) until 28 August
The current situation in the US, where many women are no longer entitled to have an abortion, gives this defiant one-woman crusade of a show an extra sense of urgency.
Lilly Burton, self-titled Creative Activist and Conductress, bursts onto stage, drenched in sequins, proudly proclaiming she's had an abortion, before launching into what I can only describe as a rollercoaster ride of a performance, mainly because she likes train analogies and also seems partial to jarring juxtapositions.
Rattling along the tracks of a journey of no return – correction, three returns – to what she describes as the Termination Station, it starts like a stand-up routine, in which she also points out that one in three women have had an abortion. Anyone looking for a more sensitive discussion of what can be an emotional subject is likely to find themselves being, as the warning at the start says, "triggered". Although, as Lilly also points out, would a quieter piece on this subject attract such a crowd? We'll never know, because this isn't that.
However, as Lilly strips away the theatrics, there's some more thoughtful analysis – specifically, around the fear, guilt and lack of support that many women experience, which the performance boldly attempts to draw attention to through in-yer-face theatre.
theSpace @ Surgeons Hall (Venue 53) until 26 August
There is a bat on the loose in Surgeons Hall, pursued by a man wielding a cleaning product like a sword, in the dazzlingly charismatic Nalini Sharma's not-quite-one-woman-show that, like an origami version of the creature currently terrorising the venue, gradually unfolds to reveal an ever-changing array of bizarre and brilliant characters who inhabit an institution that's as much medical as it is magical.
A woman in a wheelchair who wishes she hadn't given her kidney to her daughter but can now perform a fun (for her) trick on an audience member is a highlight, as is a new shade of Marilyn Monroe who, with her blotched foundation, is joined on stage by all of her fans.
Through a clever structure, the connections between scenes, often playing with British-Indian identities and an energy somewhere between Bollywood and The Mighty Boosh, slowly become clear to create an exciting new form pitched somewhere between character-based stand-up and a play. A bold final routine with a killer punchline creates an audacious but not entirely smooth change of tone.
The story feels like it's still to be developed, but leaving the stage like a comet, Nalini Sharma is clearly heading for the stars.
Greenside @ Nicholson Square (Venue 209) until 26 August
Philippa Dawson, like so many people with Attention Deficit Hyperactivity Disorder (ADHD), gets politely angry when people tell her they once left their phone on a bus so they might be "a little bit ADHD" themselves. Its symptoms – the forgetfulness, the lack of concentration – are common experiences, but an ADHD diagnosis comes when they become impossible to regulate, to the extent they disrupt everyday life.
It also annoys her that the media have begun to refer to the growth of ADHD diagnoses as a trend, as this implies it's not to be taken seriously. In this clear, personable and passionate monologue, built on her own life experience, she explains to her audience exactly what it is to live with ADHD (the 'inattentive and hyperactive' kind, in her case), in terms which are amusing and relatable.
She compares it to the loss of a train of thought, except her trains are multiple, and they're going to many destinations. Trains continue to be a handy explainer, like the one she took to Hampstead but instead ending up in Brighton, having lost track of place and time. She outlines the time she flooded a friend's house by forgetting she'd started running a bath, the emotional dysregulation which quickens her anger and the hyperfocus which "isn't a superpower if you can't choose when to use it."
It took her 27 years to be diagnosed; if this play can do nothing about NHS response rates, at least it will foster understanding in anyone who sees it.
Wonder Drug: A Comedy About Cystic Fibrosis ***
Pleasance Courtyard (Venue 33) until 28 August
Writer/performer Charlie Merriman's solo play details his own distinctive medical journey from a first-person perspective. Specifically, it relates his experience as someone with cystic fibrosis in a manner which is just light-hearted enough to be accessible, yet rich in painful, frustrating detail to the extent that the audience's sympathy is engaged early and often. Director Helen Eastman balances the tone well.
A genetic discrepancy means salt and water can't pass through his body in the normal way, he explains, producing excess mucus which gives him a continuous cough, affects his lungs and leaves him at greater risk of infection. He's also just started dating Sarah, whom he likes a lot, when COVID lockdown arrives and their relationship moves online.
Amid a jokey, prop-strewn show – the Blind Date spoof Combined Date, in which puppet versions of the ten drugs he needs to take are paired off, is especially effective – his wariness about what to tell her is a nice device to illustrate just how much his life is affected by the condition.
During COVID he must self-administer doses of intravenous drugs daily to fight an e-coli infection, while worrying whether he will one day need a lung transplant and awaiting the arrival of an in-development miracle treatment (his composure and lack of cough here tells us early that it arrived). It's illuminating, and unexpectedly fun.
Greenside @ Infirmary Street (Venue 236) until 26 August
Created by young Edinburgh company Hey Thanks! Theatre Collective, this pocket-sized two-hander follows two female flatmates named Ash and Zee, who help each other navigate their dating experiences with women. One is confident in her sexuality, the other matures into it through her interest in a woman who visits the coffee shop where she works, and eventually they come together themselves and then break apart.
As a complete work of theatre it's raw (not helped by the compact hotbox of a performance space), but the young performers at its core are engaging and believable. File under a rehearsal run for more and better to come, hopefully.