theSpace on the Mile, until 27 August
Wallace Norman's gripping monologue about the energy of courage and delicacy of friendship follows two young boys who, in an all-too-common situation, are abused by a member of the Catholic church – something that continues to affect them, in different ways, as they grow up and apart. Norman is a magnificent actor and powerful writer. As he shifts between the two characters – himself, as William, and his dazzling friend Matthew, a unique character who is fearlessly intelligent, inhumanly brave, and wonderfully intense – he moves fluidly through time to tell the two friends' story, which sees Matthew gloriously take on school bullies with Marxism and Shakespeare, before the two boys join what should be a lovely church choir.
With unflinching clarity, Norman describes the scene in which William is first abused by Brother James, an event that leaves him feeling terrible shame but also, afterwards, a confused "love" for his abuser, who, unlike his family, tells him he is "special". United by a shared silence regarding what they both know is happening to each other individually, William and Matthew's friendship grows stronger through the things they never talk about.
The challenges of living silently with such trauma increase as the boys grow older. Matthew cuts William off after he tells him that he's gay – seemingly unable to separate what should be a happy occasion from the abuse they both suffered. Many years later, Matthew takes his own life. Devastated, William, still struggling in his own way, decides to revisit the past and demand answers. The tragedy of two friends separated by a terrible experience that they each struggle to deal with alone lies unsaid – but Norman's constantly unfolding script is also a celebration of Matthew's spirit of fighting back, which, through tracking down Brother James, William finally takes on as his own. Sally Stott
Assembly George Square Studios, until 27 August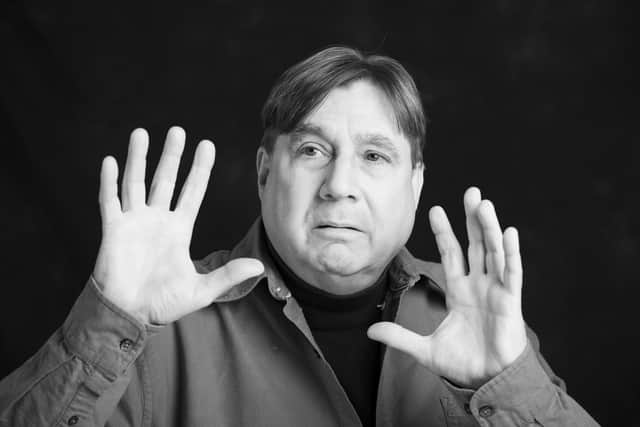 This is a show that will push theatricality to alarming meta-theatrical levels, Max Barton says at the start – and when the elaborate live sound system fails, leading to 5-10 minutes of frantic chat between anyone who's familiar with the words "jump leads", it would be hard to argue with this.
What follows is a 'film script', narrated by Barton, which takes us from the auditorium into the festival and world outside, back through lockdown and into deep history, before it develops into a Hollywood-style climate disaster movie, based around a rapidly growing fungi, which also draws in Barton's father's treatment for leukaemia. What can feel like an extended scene description is accompanied by Jethro Cooke, who has "an aptitude for electronics" and creates a live soundscape.
There's a lot going on and the piece could benefit from some more developed characters – something Barton is happy to point out, as both critic and creator. However, an immersive world of mushrooms is magically evoked by Cooke's looping sound and a web of wires, and the various story strands are brought together at the end in a way that is clever and moving. At times more interesting than engaging, it's nevertheless an ambitious multi-dimensional piece of experimental theatre. Sally Stott
RSE Theatre, until 28 August
The Yellow Mug theatre company has taken one of the most sensitive and heated contemporary topics of discussion as its subject, and portrayed it with a winning blend of sensitivity and biting satire. Lin Baxter (Andrew Lake) is a young non-binary person who experiences a homophobic attack in a public toilet, and is then wheeled out – literally, while fastened to a trolley – on heated morning telly programme The Great British Morning. The initials of its host Patrick Monaghan (Ray Stafford) give a pretty clear indication of which over-opinionated, 'woke'-baiting television host he's meant to be.
Despite the pretence that Lin is given a fair hearing and a chance to put their view across, they're literally and metaphorically silenced, first by technical problems and then by Monaghan and outspoken activist Ellen Button (Emma Wilkes) loudly proclaiming their own opinions over them. The government's Shadow Equalities Minister tries to make a bit of political capital out of Lin, but while they're increasingly treated like a performing monkey (a climactic plot point) by the mass media, their own podcast The Gay Agender gets their message out.
Lake and Stafford's play is a topical piece, both humorous and nicely balanced. As much as shock jock clickbait news media is derided, the journey to acceptance by Lin's mother also shows the benefits of personal communication, clear terminology and a lack of presumption on both sides. David Pollock
REDEEMher - How I Screwed Up My Perfect Mormon Life ***
Pleasance Dome, until 28 August
Tatum Langton marries her Mormon college sweetheart in Salt Lake City in 2005 and they settle down to eternal bliss. But soon the cracks begin to show: husband Kevin is none too happy with Tatum taking acting jobs, nor the fact that she isn't yet ready to start their much talked about "future family".
When she has sex with another man (a single occurrence she immediately regrets, but in Mormon thinking tantamount to murder) the church hierarchy takes over. They will decide if she will be able to return to her marriage, her faith, her life.
Langton's play, directed by Jessica Lynn Johnson, tells her story with insight and humour. Like the Pixar movie Inside out, she plays the different parts of herself: the Rebel, the Angel, her Sex Agent and, eventually, God as well, in addition to the other human characters.
While her agonising is skilfully staged, you need a church background to understand why she wants so much to make it right, rather than taking her kind, well-meaning heart and running for the hills to escape the clutches of an oppressive moral majority. Susan Mansfield
Pleasance Courtyard, until 29 August
Who wants to be a half-millionaire? That's the intriguing premise of this new play by Jon Gracey which tackles issues like class, greed, identity and gameshows as the clock counts down. Two unnamed women – actors Abbie Murphy and Natalie Durkin – are locked in a room with a million pounds. An unseen voice informs them that they have one hour to decide on how to split the money between them and the digital clock on stage starts. Obviously they don't immediately agree to split it 50/50 – where's the drama in that?
Murphy's character is a businesslike hard-faced negotiator and suggests a 90/10 split while Durkin's is clearly outraged by her sneering upper middle-class sense of entitlement. It's hardly surprising that Gracey is also a game designer and this premise could have made for a great episode of the original Twilight Zone. But there's a big difference between 25 minutes' worth of plot and a full hour.
Oddly, the characters never address why they've been chosen, who's doing this and what possible motivation they could have, which inhibits interest initially. However, as the deadline draws closer there's a real sense of tension and the ending is cleverly handled. Rory Ford
Summerhall, until 28 August
Paines Plough affirms their commitment to theatre for all ages with the premiere of this play by Laura Lindow for 5-12 year olds. Ten-year-old Dill Pickleton (Princes Khumalo), is happy living with her Elvis-mad mum (Sara Hazemi) and her Grand-Ted, who reads her stories and claims he played drums with the greats.
But when Grand-Ted dies suddenly, everything changes. They have to leave their house for a tower block; there's a new school, new job and money worries. Worst of all, grief drives a wedge between mother and daughter as neither feels they can speak to the other about the person they miss.
Eva Sampson directs a strong, hard-working cast in this high-energy production which keeps the plot twists, and the laughs, coming. There's just so much happening – a bully to be bested (or befriended), a race to be won, an accident-prone talking wolf (played to great comic effect by Samuel Tracy) – that the emotional heart of the play gets a bit lost. For a play which aims to teach children about loss, it's a little bit too relentlessly upbeat. Susan Mansfield