Edinburgh Festival Fringe theatre, musicals and opera reviews: A Mirrored Monet | Four Cut Sunflowers | Victorine: The Artist's Model
In our latest round-up of reviews, Susan Mansfield takes in a Monet musical, an ambitious play about the widow of Vincent Van Gogh's brother, and a beutifully performed examination of the validity and meaning of art itself.
Greenside @ Nicolson Square (Venue 209) until 26 August
theSpace @ Surgeons Hall (Venue 53) until 26 August
Victorine: The Artist's Model ****
Greenside @ Riddles Court (Venue 16) until 26 August
If you're trying to get your show noticed on the Fringe, a connection to a big name artist won't do you any harm. A Mirrored Monet, a new musical by American writer and composer Carmel Owen, produced in Scotland with a Scottish creative team and cast, manages to avoid many potential pitfalls, even if the hero doesn't come out of it in a particularly good light.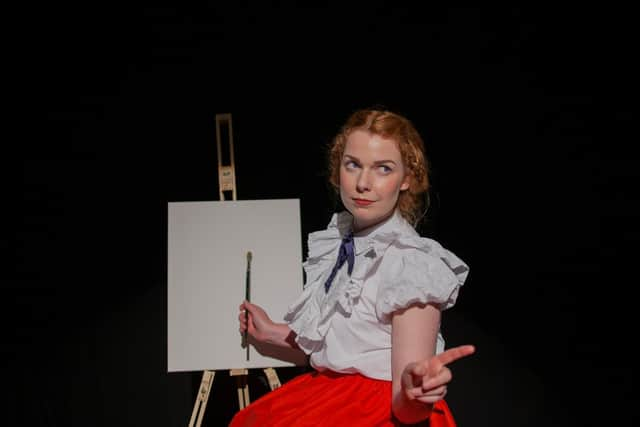 It's 1916, and Monet is in his seventies, struggling to paint waterlillies at Giverny to fulfil a government commission which is his only income. War seems to draw closer every day, and he is haunted by the memory of his first wife, Camille Doncieux, who died in 1879, less than a year after the birth of their second child. Through flashbacks, the older Monet (Crawford Logan) berates his younger self (Matt Hydzik) for being too wrapped up in his art to appreciate what he had.
The creative energy sizzles as the young Monet works with Renoir and Manet, seeking to challenge the Academy and rewrite the rule book on art. The music captures something of the flavour of the Belle Epoque, though it could benefit from greater variety, and the striking digital backdrop paints and unpaints itself, showing us the cafe, the studio, the forest in an Impressionist style.
The show is burdened with a bit too much history - do we need art critic Louis Leroy singing about his reviews, at the expense of more time with the artists, or with Monet and Camille? Sarah Haddath gives a strong performance as Camille, and gets some of the most poignant songs, yet she never quite takes centre stage as she should. Such, perhaps, is the fate of women who fall in love with artists whose first love is art itself.
Manon Harvey's play Four Cut Sunflowers, staged by Cambridge University Amateur Dramatic Club, attempts something even more ambitious. Really, the play is the story of Johanna Van Gogh Bonger, the widow of Vincent Van Gogh's brother Theo, and the role she played in securing the recognition his work deserved. The mistake is to give Vincent a walk-on part.
Kitty Ford makes an admirable attempt at the role but, in truth, nobody could get it right with a character who has been so much analysed and is so well loved. The play feels disjointed. At times, it seems to gallop through the years without making sure that the audience is strapped in. As in A Mirrored Monet, backdrop projection is used well but this play, too, labours under too much historical narrative.
Blossom Durr is superb as Johanna, a little known figure whose story is well worth telling, and one wonders what this would look like as a solo show, giving us the other characters through her eyes.
Victorine - The Artist's Model, by Moon Rabbit Theatre, has much more breathing space simply by avoiding well-known real-life artists, although the play draws on general research about the period.
Victorine is in Paris in the 1860s, at the same time as Monet, a young (fictional) Irishwoman who becomes an artist's model until she discovers she's a dab hand with a paintbrush herself.
Staged by the two-person team of writer/director Joshua King and performer Jasmin Gleeson, Victorine is greatly helped by its forthright, down-to-earth central character (whose real name is Mary), puncturing the pomposity of the art students and the hidebound traditions of the Salon with its surfeit of Venuses. About art, though, she is serious, for when she picks up a paintbrush herself, everything in the world seems to come into focus.
Rejection doesn't bother her, nor does leaving behind her work when she flees Paris at the outbreak of the Franco-Prussian war, because she knows she has the most valuable commodity of all: her talent.
Well written and beautifully performed, Victorine does more than tell the story of a specific character in a time and place, it digs into deeper questions about art itself, what it means to make your mark on the world, and how much making a make really matters.