Edinburgh Festival Fringe theatre, music and musicals & opera reviews: It's a Motherf**king Pleasure | Does My Fanny Look Big in This? | Save the Princess | Heart of Mind and A Useful Tragedy | Are You Worthy? | Picture This | 30th Anniversary! Valery Ponomarev: The Jazz Messenger
Our latest batch of Fringe reviews includes an uncompromising identity politics satire from a disability-led theatre company, a fiercely frank show about sexual anxiety, and an octogenarian jazz survivor.
It's a Motherf**king Pleasure ****
Underbelly Bristo Square (Venue 302) until 27 August
An accessible, inclusive, meta-satire, It's a Motherf**king Pleasure doesn't just point out the mines in the field of identity politics - it pokes at them too. Created by disability-led theatre company FlawBored (Samuel Brewer, Aarian Mehrabani and Chloe Palmer), this show tackles Able Anxiety, and the monetisation of identity in contemporary influencer culture, with an uncompromising tongue-in-cheek, two-fingers-up attitude.
FlawBored demonstrates a knack for experimentation and risk-taking, chiefly through audience participation and the seamless integration of technology. Two caption screens show the troupe talking in italics, shouting in all-caps. The technology is subject to failure at times, and the captioner, John, often intervenes in the action, which blends narrative theatre and self-referential sequences in the style of a lecture or public service announcement.
The narrative component works to enact FlawBored's concerns around the commodification of disabled identities, and lived experiences of disability, by corporations. In the boardroom of a fictional talent agency, Rize, pandemonium ensues. One of their clients has, very publicly, "done an ableism", and the company needs to backpedal, pronto.
When Tim (a so-called 'diversity-hire') steps in, he pioneers a new experiential framework that centres a blind instagram influencer, in a bid to rebrand disability.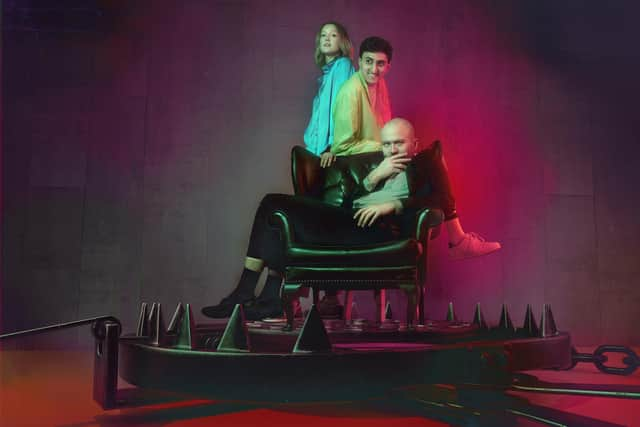 FlawBored highlights reviews and other arts industry coverage of It's a Motherf**king Pleasure - and they're not afraid to name names. This media attention, as well as their recent support by funders, becomes a true-to-life case study of their earlier fictional thrust around issues of tokenism and virtue-signalling.
While powerful, the ending (though not inconsistent with the themes, or the form, of the rest of the piece) appears at odds with the scene that precedes it. Curiously, FlawBored stops just shy of the bottom of the rabbit-hole, not daring to finish the story they so fearlessly started.
Does My Fanny Look Big in This? ***
theSpace @ Surgeons Hall (Venue 53) until 26 August
There's a restless energy to this solo show about sexual anxiety by Eleanor May Blackburn quite at odds with the earthy laughs implied by the title.
Starting with a literal bang, Blackburn prowls the stage in a cartoon of female sexuality before faking a loud orgasm. There's a weird, challenging nature to her performance as she then assumes the role of a sex education teacher mocking the embarrassed sniggers of her pupils.
There is a structure here but it doesn't really coalesce until occasional bursts of white noise and the repetition of the phrase "I didn't say no," point towards a darker aspect. It's a fiercely unembarrassed mixture of what you imagine to be somewhat autobiographical sexual misadventures with what you can only hope is fictional. It's like an abstract portrait that acknowledges that people - and sex - have far too many conflicting elements to be neatly defined.
t feels like it shouldn't really work but Blackburn is a remarkably self-possessed performer, quite confident to mix her own verse - which is excellent - with a scene where she simulates sex with an inflatable man. Ultimately, it's a sex-positive piece which feels honest and the audience singalong of "I Am Not Your Slag" at the end feels undeniably empowering.
theSpace @ Surgeons Hall (Venue 53) until 26 August
This is an ingenious piece of interactive theatre from London-based theatre collective The UnDisposables that's hindered by a rather clunky script.
You scan a QR code with your phone which allows you to make choices that guide Princess Plum through various video game worlds in a quest to stop getting captured. The choices are colour coded and the actors are notified of the audience's decision via stage lights. The game worlds are well-realised via video projection and the technical aspects are top notch.
While the basic structure is sound, Esther Joy Mackay's script is filled with huge swathes of expositionary dialogue that makes the cut scenes in a Hideo Kojima game look economical. Even so, this is still a good idea and you sense that if they keep working on it - apparently there are other game worlds and six possible endings - it could live up to its potential.
Heart of Mind and A Useful Tragedy ***
theSpace on the Mile (Venue 39) until 26 August
Exploring the limits of truth and love, this double bill from Raiser Theatre is full of young talent. Although different in content and style, the two shows written by two young writers are highly entertaining and thought-provoking pieces.
Love, grief and mental health are explored in Heart of Mind written by Kayden Best. Still grieving her grandfather's death, Zuno (Kayden Best) experiences intense hallucinations. Kayden is so convincing in the role, that when it is revealed that not all is as it seems, it comes as quite a shock.
Directed by Simon Schatzberger and Camilla Stranger, there is a focus on the difficult relationship between Zuno and her sister Isha (Ketie Ganeva). We get an insight into Isha's head through asides, which effectively conveys how those on the outside struggle to know how to support those suffering mentally.
What is actually going on with Zuno's heart isn't abundantly clear and her mental state could be explored further. The ending is quite abrupt and this deserves to be a longer piece.
Under Schatzberger's direction, a different cast brings to life Benedict Zephyr's, A Useful Tragedy. In just 25 minutes it tackles dangerous fake news, racism and discrimination in a way that initially has everyone laughing until the fun gets dramatically sucked out of it.
It takes place in a local newsroom, with a simple set and skeleton crew that effectively shows that it is a small struggling channel whose future is under threat. Mimi Taylor gives a standout performance as incredibly ambitious presenter Kathy, who isn't afraid to exaggerate and twist stories to gain viewers and keep them watching.
Those around her start to question her morals as her desperation causes her to make outlandish claims. When Saachi (passionately performed by Kara Sood) a young woman on a work place gets dragged into it, she brings a clarity and honesty that feels painfully real.
BlundaGardens: BlundaBus & Magical SpiegelYurt (Venue 212) until 27 August
For legal reasons, Are You Worthy? is not about Glastonbury, but Grant Sharkey's musical comes deliciously close. In the fields of South-West England, at Classtonworthy, the most prestigious festival in the world, Glory (played by mezzo-soprano Grace Lovelass) hopes to realise her dream of singing on the main stage - but a trans-dimensional golden pyramid has other ideas.
The utopian glamour of the festival (at which we, the audience, are partaking) is soon rejected, revealed to be nothing more than a 'mediocre day prison' - an ugly, closed system that sustains itself by capitalising on those who, for the promise of a ticket, must first fork over their dignity, thus feeding the pockets of those who can already afford it.
With live piano accompaniment by Izzy Mawdesley, stand-out moments include the anthem, Bucket Hats, the headline act Whyte Saviour, and an excellent finale featuring the refrain: "You are never more than six feet away from a tory".
A script-in-hand, sing-a-long, laugh-a-minute, rallying-cry, Are You Worthy? highlights class barriers in the arts with gusto, and is a shining example of the generous, zany and socially-engaged performance-types that are, so often, among the most exciting and talked-about works at the Edinburgh Fringe.
theSpace @ Surgeons Hall (Venue 53) until 26 August
For a thriller-musical Elise Marra's production isn't very thrilling. Marra stars as Mary in this one-woman show, which would be better described as an absurd musical that bends reality and is mildly funny.
Mary is a work-obsessed stop animation filmmaker and things take a turn when the miniature toy General she is photographing comes to life. He immediately starts to influence the way she lives but the threat he poses is minimal and the level of control he has is questionable.
Some gags and songs work well but what brings the most laughs is the way Mary interacts with and controls the General's tiny body.
30th Anniversary! Valery Ponomarev: The Jazz Messenger ****
The Jazz Bar (Venue 57) until 27 August
Trumpeter Valery Ponomarev touts shamelessly for applause, for both himself and his excellent quintet and …well, why shouldn't he, a musician who escaped Soviet Russia for the United States in the Seventies and ended up playing with the seminal Art Blakey's Jazz Messengers?
Now 80 and celebrating his 30th stint at the Jazz Bar, he cuts a short, stocky figure as, when not playing, he danders about the stage, working the audience or urging on band members with unabashed relish.
Despite his amiable flannel, and all the "as Art Blakey used to say …" anecdotes, Ponomarev can still blow, with episodic authority, as he fronts alongside dynamic tenor saxophonist Tim Armacost, twin horns sounding fiercely together against an admirable rhythm section of pianist Paul Kirby, bassist Ed Kelly and drummer Minchan Kim.
They opened up with Gina's Cooking, which indeed simmered, double bass motoring busily as Ponomarev's trumpet interjections punctuated Armacost's limber sax, while piano and drums both had their considered say. Kelly laid down the bass riff for Freddie Hubbard's Crisis, trumpet and sax alternating sharply before Armacost took a limber solo, the band now in full flight and Kirby's animated piano streaming through.
Armacost also came out with a gorgeous, rich-toned ballad, which slipped into an easeful stroll before subsiding gracefully.
The band were fairly travelling, too, in some Wayne Shorter numbers, such as the exuberant bounce of Tell It Like It Is or the punchy One By One. The enthusiastic reception they elicited from a packed Jazz Bar seemed to confirm Blakey's declaration that – as Ponomarev kept reminding us, putting on his stentorian Blakey voice: "Jazz is a collective product".