Edinburgh Festival Fringe theatre, dance, physical theatre & circus reviews: Mass Effect | Three Sisters and Them | Constrictor | How to Find a Husband in 37 Years or Longer | Park Bench | True Spirit Pathway
Our latest batch of Fringe reviews includes an astonishing and physically frank dance show, an ambitious reimagining of Chekhov's Three Sisters, and an unpologetically direct confessional monologue.
Summerhall (Venue 26) until 26 August
Five characters are assembled at the edge of the simple white dancefloor as the audience file in. They wear black sportswear, as though preparing for a session at the gym, and greet their audience with welcoming, somewhat self-satisfied smiles when the performance begins. In formation, their feet beat out a ticking, heel-turning step rhythm, and then they begin to jog, and then to run.
They break a sweat, working harder and harder. The tone shifts, feels more competitive, more punishing. Amid their synchronised grunts and counting in to the next formation, they break into an "ole, ole, ole" chant, as though the sportswear makes them no longer fitness enthusiasts, but football fans preparing for combat. As each new energetic barrier is breached, they begin dancing with wild abandon to a pulsing club beat. Then their sweat-soaked clothes begin to come off.
The edited synopsis above does nothing to recreate the sheer force of physical power and celebration within choreographer and artistic director of Danish company HIMHERANDIT Andreas Constantinou's astonishing work. It becomes a very physically frank work, and anyone who might feel embarrassed by the sight of a penis or a breast may be gently advised that it's not for them; but despite the conventional physical beauty of the dancers, it's not prurient.
Instead, Mass Effect is a celebration of the human physical form at a moment of heightened, endorphin-rushing physical activity, whether exercising, competing, losing oneself in dance or enjoying sex; the latter not actually simulated, but rather suggested through the nudity and sense of vigorous movement.
That it becomes a participatory work (although please be reassured, no-one in the audience is required to be involved) and is executed with such satisfying, foot-tapping style only adds to the effect. After experiencing it, you'll want to breathe in the fresh air and run all the way home.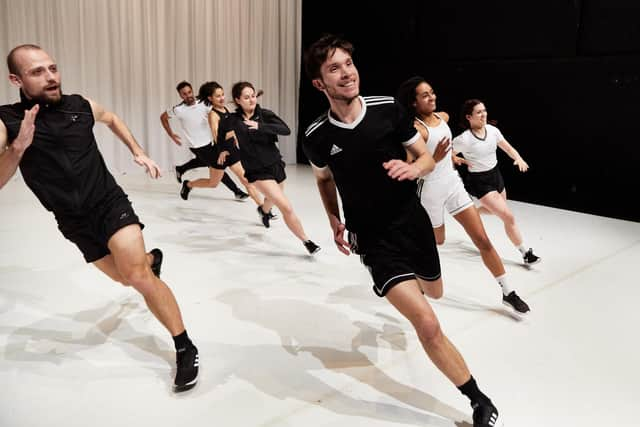 Three Sisters and Them ***
theSpace @ Surgeons Hall (Venue 53) until 26 August
In ambitious if extremely DIY circumstances, Rita Ippolit's play for the A Drunken Sailor theatre company attempts to reimagine the title characters of Anton Chekhov's 1900 classic play Three Sisters as exiles in present-day London, shifting its focus to current political and social concerns. Masha (Julia Rufey) is no oligarch, but rather a widowed woman who has settled and integrated in London. Her sister Olga (Julia Munrow) arrives, their first meeting in forty years.
The fact Olga has fled from Ukraine doesn't mean she is opposed to Putin, however, and the sisters' conflict of ideals – optimistic Western complacency versus bitter post-Soviet cynicism – is an intriguing clash to delve into. The third sister, Irina, is a non-speaking, hospitalised character at the end of a phone line; instead, Masha's trans daughter Alana (Teddy Walker) challenges Olga's sense of familial loyalty in the face of her religious beliefs, held in check for so long under Soviet influence. Alana, they point out, also knows about hiding her true self.
A simple three-hander squeezed into the length of a Fringe show, the play doesn't get a chance to develop any grander themes and ends on a somewhat truncated cliffhanger, but it's a well-performed piece which takes us some way inside the experience of the post-Ukraine invasion migrant in London.
theSpace @ Surgeons Hall (Venue 53) until 26 August
Where are you from? It's a question that thinly conceals a pile of other assumptions and stereotypes that a mixed-race woman, played by Jaimee Aislyn Dewitt, dissects over one hour, as we travel through her stream-of-consciousness, straight-talking response, with insights into her life, relationships and motherhood.
"Pixie", "nymph" "dragon" are how her ex-partners describe her: "a sexy lotus." As long as they don't call her a Geisha, she observes, they appear to think everything else is fine.
With fragmented insights and more developed anecdotes permeated by sharp jokes and loose, literary flair, she breaks down the fetishised perceptions others have of her – eyes, hair, Miss Saigon – and speculates on the phycological effects this has had, then connects it to the subsequent ways that she has been treated elsewhere, which include the injustice of not being listened to when it matters most.
As a confessional monologue, it's unapologetically direct in a way that's fresh if lacking in the subtext and sophistication of some of the more theatrical shows at the Fringe on the same subject. But Dewitt's upbeat, confident performance demands that this defiant young woman's words be heard, as well as ensures that the audience keep listening.
How to Find a Husband in 37 Years or Longer ***
theSpace @ Surgeons Hall (Venue 53) until 26 August
This is the show that JJ Pyle has been planning for years. If she waits much longer she'll be too old to play herself, she jokes, with a straight-talking, quick thinking, multi-tasking New York energy running through this Sex-in-and-out-of-the City-style monologue about relationships with men called things like 'French Guy From Florida' and 'Maybe Someday' (who is actually 'Never').
Intercut with this is another kind of journey – one to Indiana in a pick-up truck with her Dad, who gives insights into his own, life and loves, which involve four ex-wives and a recent drugs bust.
The two strands are sharply sliced together through Pyle's pacy narration, in which her perspective on relationships gradually changes, as she goes from being heartbroken to a heartbreaker in a way that illuminates both. "It's better to want someone and not to have them, than have someone and not want them," she says.
Paired with Pyle's engaging performance – she is, after all, the classic American waitress-turned-actress – it's an entertaining insight into one women's experiences in which neither she nor we establish how to "find a husband" in 37 years, or one hour, but which is nevertheless an entertaining ride through dating and the America landscape with a free-wheeling spirit.
theSpace on the Mile (Venue 39) until 26 August
One of those Fringe shows which exists as a form of on-the-job experience for future talents who aren't quite there yet, and to receive enthusiastic noises from other companies in the same boat which share space in one another's audiences, this series of interwoven vignettes from Queen Mary University of London's theatre company follows a bunch of characters who interact around a single park bench.
From a woman who comically expects her commitment-shy husband to propose, to a pair of single parents who begin a romance, it's characterful, energetic and blessed with real enthusiasm from its cast, but not near the top tier of entertainment available in August, even at this venue.
Greenside @ Riddles Court (Venue 16) until 26 August
Lead actor Hasena Bibi shines in this otherwise clunky production about a cult. When Jodi meets Danny at a securities conference, she's convinced that she's found her soulmate. Unfortunately, the path of true love never did run smooth – but luckily, an online course promises to help Jodi make him hers.
Though Bibi does an admirable job of portraying the wide-eyed devotion of the zealot, the writing fails to be as convincing. The play leans heavily on Jodi's vulnerabilities, leaving the cult's internal logic thinly sketched and therefore less credible.
Moreover, jarring leaps in chronology disrupt any sense of narrative flow, bleeding the shock value out of certain reveals, so that when True Spirit Pathway judders to its gory conclusion, it feels curiously empty of true belief.