Edinburgh Festival Fringe Reviews: The Brief Life & Mysterious Death of Boris III, King of Bulgaria | Something Educational | Swan Song | Drop Dead | Showgirls and Spies | Marmalade
A spirited celebration of the Bulgarian monarch who outwitted Hitler and saved thousands of Jewish lives is awarded five stars in our latest Fringe theatre round-up.
The Brief Life & Mysterious Death of Boris III, King of Bulgaria *****
Pleasance Dome (Venue 23), until 28 August
The story of the Bulgarian king who defied the Nazis and saved 50,000 Jewish people's lives is virtually unknown today. Shortly after Boris III's mysterious death, his country was invaded by Russia and its wartime history swept under the carpet. Out Of The Forest Theatre has a whale of a time bringing it back.
It's 1940 and King Boris III (Joseph Cullen, who co-wrote the show with Sasha Wilson) is under pressure to pick a team. Reluctantly, he chooses to ally with Germany, under pressure from right-wing Prime Minister Filov (Laurence Boothman) to regain the territory his father lost and "restore Greater Bulgaria". Boris, however, is determined that the alliance will be in name only, even when the Nazis demand that he signs documents to rob the country's Jews of their citizenship.
After a series of manoeuvres in which the man Hitler called "the wily fox" found ways to outwit and double-cross the Reich, Boris was summoned to a meeting with the Fürher. While there is no record of what took place that day in 1943, two things resulted: 50,000 Bulgarian Jews were saved from deportation, and, shortly after returning home, Boris mysteriously died.
The five-strong ensemble gallop through history with an unstoppable vim and vigour, donning the characters of major political players and lacing it all with spirited renditions of Bulgarian and Jewish folk songs (most also play instruments). Their razor sharp wit and faultless timing mean the show is very funny, though they never take their material less than seriously.
King Boris is an intriguing figure, often appearing indecisive, naive or just terminally nice, yet all the while choosing to do what is right in the face of pressure from an implacable and dangerous ally. In another age of land grabs and right-wing resurgence, he is particularly deserving of this spirited celebration.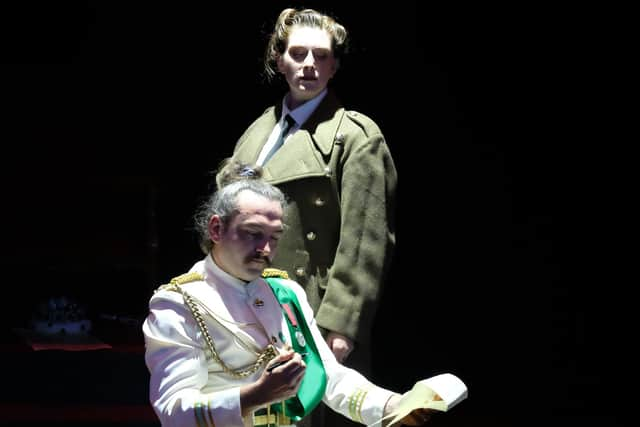 Something Educational ***
Lower Theatre at theSpace @ Niddry St (Venue 9) until 12 August
Instead of being out and celebrating their last day of school, a game of bingo in a church service leaves five close friends stuck inside. All they need to do is write essays about friendship, honesty, and integrity, as well as a joint speech. Sounds straightforward. However, Rosie MacKay's short piece is not smooth sailing and uses this situation to explore the difficulties of being young and facing the real world.
Act Two Scene One's drama comedy does not take itself too seriously, with plenty of banter and relatable – often irritating - teenage characters, played convincingly by a cast of five promising young performers. As previously concealed frustrations are let out, it would be easy to take a disliking to some, but it's clear through Mackay's writing and direction that nothing comes from a place of hate and that it is often just an avenue for them to release tension.
With a simple storyline that avoids any risks, the piece does suffer from predictability early on. Despite this, there is certainly a great deal of heart in the piece and this company are definitely ones to watch out for in the future.
Greenside @ Infirmary Street (Venue 236) until 12 August
Don't you hate it when people you barely know drone on about their love life tribulations? Fortunately, former roommates Joanna Brodecki and Fiona Collinson have found a way to make this most self-centred of ruminations into a bite-sized entertainment.
Collinson, channelling a fanciful character called Beatrice, is (to her mind) the pretty blonde that everyone wants to go out with and is your classic in-love-with-love capricious dreamer pontificating in heightened theatrical and epistolary style about the numerous "actual" loves of her life. Brodecki, her drama school buddy, has developed an uproarious stand-up routine on her chaste Catholic adolescence and eventual liberation from the curse of virginity. This involved some semi-erotic potato peeling.
Their contrasting experiences and presentation clash deliberately in a precision-timed tussle for the audience's attentions. According to Brodecki's CV, at which we all get a not-so-sneak peek, her special skills are "touch tongue to nose" and "horse impression". Neither feat is much in evidence but she proves to be a top brawler and her riotous bitch fight with Collinson is but one fun example of this show's gonzo energy.
theSpace @ Niddry St (Venue 9) until 12 August
This is the kind of young people-powered ensemble comedy show that, for many audience members, the Fringe is all about. For some not entirely clear reason, a man has decided to organise a rehearsal for his own funeral, a premise that largely feels like an excuse to bring together a gregarious gaggle of guests to fight over his money.
The fact that it presumably isn't going anywhere soon because, well, he's still alive doesn't seem to bother plummy, plotting Penelope Anastasia (affectionately known as Pen-as), nor her tarot card reading rival Celeste, or the laidback groundsman set to gain everything.
Created by the Woodplayers Troupe, it's full of silly humour, but also some sophisticated one-liners, plus fun comic characters that the cast are clearly having a blast playing – their infectious energy spilling over into the audience, who cheer them on.
Some of the jokes are more obvious than others, and others aren't really jokes at all, but when it's at its sharpest, the script, like the cast, shines as brightly as the prospect of a windfall inheritance. A final killer line is one of many moments of great comic timing that, with a slicker overall story, demonstrate great promise in the ever-popular genre of farce.
Pleasance Dome (Venue 23) until 13 August
In present day London, four Jewish siblings inherit a suitcase from their grandfather, its contents a portal back to wartime Europe and the exploits of his cousin, the real life dancer and Resistance member Florence Warren, who successfully eluded detection and capture as a Jew in wartime Europe. Her cover? Dancing the can-can at famed Parisian cabaret club Le Bal Tabarin before her career as a ballroom dancer elevated her to the same circles as Josephine Baker and Edith Piaf.
Finding roles for a Young Pleasance ensemble of 19 enthusiastic players inevitably makes this production a touch busy but also gives it an eager energy as the cast glide on and off stage, shunt scenery – the standard dress rails and illuminated doorways which indicate that life is a cabaret – and pivot from effusive dance routines to haunted Holocaust expressions as required.
The message that antisemitism is still alive and ugly in the 21stcentury feels somewhat tacked on at the end but when the action finally stills with a Jewish prayer, the production belatedly finds a way to say more with less.
Greenside @ Infirmary Street (Venue 236), until 11 August
Robin (Josie Bell) has a plan to snag the cute guy from History by becoming an ambassador for testicular cancer. But she and flatmate Ranjani (Nivetha Nandakumar) are negotiating their way through bigger issues: is their sexual freedom empowering, or a licence to men to disrespect them?
This is just one of many interesting questions raised in Bell and Nandakumar's play. Meanwhile, the girls' Jehovah's Witness neighbours, Joshua and Jeremiah, poignantly played by Ashley Gunstock and Garry Roost, have problems of their own.
Sadly, the play ends just as the ice is breaking between them. It's intriguing to imagine what might happen next.