Edinburgh Festival Fringe musicals and opera reviews: After This Plane Has Landed | Bed: The Musical | Palindrome: The Musical | Woven | My Life Online
​Love tested by a hostage crisis, a fragmenting marriage and seven women in Odysseus' life form the eclectic subjects for our latest review round-up of musicals
After This Plane Has Landed ***
theSpace @ Surgeons Hall (Venue 53) until 26 August
"Love makes hostages of us all" is the tagline of this new musical, which runs with the post-Six the Musical tradition of picking a seemingly random historical topic, writing some songs about it, and awaiting success. In this case, Adrian Kimberlin's "musical dramedy" looks at the life and love of John McCarthy and Jill Morrell, a political cause célèbre of the 1980s.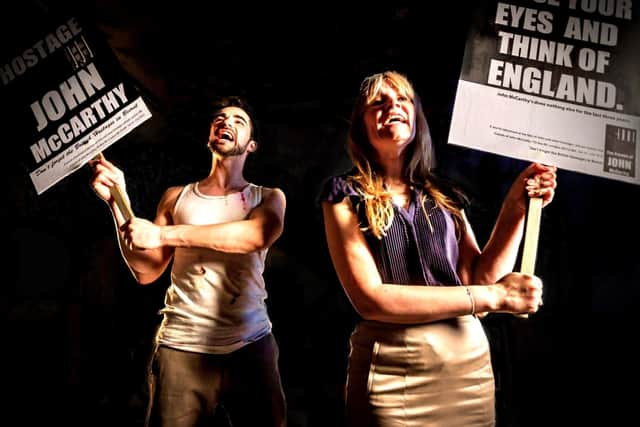 Journalist McCarthy was held hostage in Lebanon between 1986 and 1991, while his girlfriend Morrell founded a group named Friends of John McCarthy back home in Britain, working tirelessly to keep his name in public view. They're played here by Benedict Powell and Claire Russell, and Kimberlin's script and songs and Alan Magor's direction bring them a rich sense of personality, even as they spend much of the piece apart.
The endurance required for McCarthy's ordeal – during which his mother died, and he was as likely to be beaten as treated with compassion – is brought home, as is the effect it had on Morrell's life back in England. The title refers to their life after his release, also covered here, when their relationship broke apart. Despite the description, the comedy is light and tends towards the self-deprecating about the play itself, but otherwise it's a well-crafted spin on a very unusual love story. David Pollock
Gilded Balloon Teviot (Venue 14) until 28 August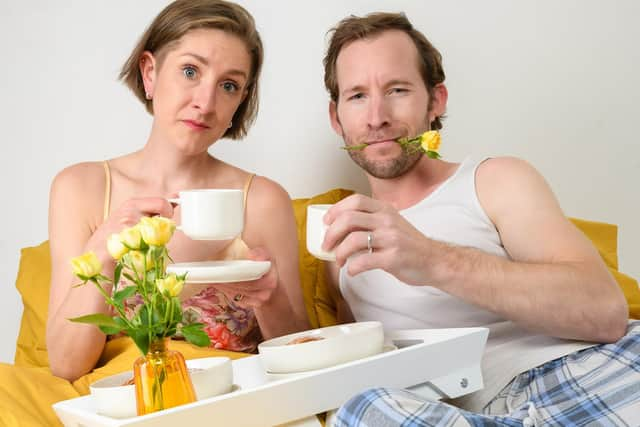 A celebration of settling, delivered by a couple going through the motions of marriage, domestic chores and parenthood, this is a defiantly downbeat musical (by Tim Anfilogoff and Alan Whittaker) that asks us to invest in a relationship that seems to be falling apart from the moment a new marital bed is bought. However, Alice and Ben are committed to being committed, even if they're not always to each other, and so, with the accompaniment of consistently melancholic musical numbers, they sing their way from their post-wedding slump, through the subsequent decades to, finally, an inevitable end.
The "joy of being a family" at times feels more spoken (or sung) than felt, for both the on-stage couple – pragmatically played by Madeleine MacMahan and James Loynes – and the audience, whose lethargic clapping between numbers appear to reflect Alice and Ben going through the motions of a relationship that seems more about tolerance than love. It's a recognisable story, if it's not a particularly hopeful one, but the characters' blind perseverance has an energy of its own. A weepy conclusion resonates in what is a familiar story of the kinds of compromises that we all might find ourselves trapped by, for better or worse. Sally Stott
Palindrome: The Musical **
theSpace @ Niddry St (Venue 9) until 26 August
This good-natured musical – about an extremely un-self-aware woman called Hannah who works for an Amazon-style warehouse that threatens shut down her parents' Highlands post office – is full of youthful idealism. So much so that the plot – which sees a new romance inadvertently generate sufficient revenue to keep the business alive – feels as charming as it does far-fetched. The lightly sung songs could do with the punchier energy of the band, with the drums the driving force behind many of the numbers, along with more projection from the cast to help inject the small-town story with greater emotional clout. Sally Stott
Greenside @ Infirmary Street (Venue 236) until 26 August
As the hero of his eponymous Odyssey, Odysseus is a name familiar even to those without a background in classics. But what of the women in his life – his wife Penelope, the goddess Athena, the nymph Calypso? How did they feel about him? How did they feel about each other? Woven tells the story of the seven key women in Odysseus' life, set against the backdrop of his own funeral. With the famous narrator finally rendered voiceless, his romantic interests have the opportunity to air their grievances with the "golden boy" – and, in the process, heal.
It's an ambitious concept. The standout moments are by far when we see the women's touching relationships with each other: a nervous Penelope being calmed by Athena, Circe giving a pep talk to the timid Helen of Troy. However, with so many personalities to introduce and explore, we end up feeling underinvested in the individual women – after all, Homer had the luxury of 24 books in which to develop these characters, while Woven only gets an hour of our time. The musical has a snappy script, a talented cast and an incredible live band – but there are still a few too many loose threads at the end. Ariane Branigan
theSpace @ Surgeons Hall (Venue 53) until 26 August
This smart, witty one-woman contemporary opera is set in a San Diego apartment. Its occupant, Kay, hasn't ventured outside in a year – she can live her life quite adequately via her four screens. She even has an old pager stuffed in a drawer and a toy dog that doesn't need walking. There are Zoom calls with concerned loved ones, work calls with rude customers, and online "shrink time" where she literally unpacks her baggage. But, despite its title, Scott Eyerly's boutique opera is not strictly an indictment of the insidious convenience of online interactions.
Gradually we learn of Kay's previous life as a legal aid lawyer, working with immigrants, and the traumatic betrayal that led to her self-isolation. All of this is conveyed with bright, comedic personality by soprano Sarah Minns, accompanied by Lana Bode on piano. The clutter around Kay reveals more of her story – a budgie mirror is a triggering thing, and she dons her boxing gloves for a fight to come. Finally, when a young migrant needs her help, she prepares for her own border crossing – over the threshold of her apartment. Fiona Shepherd