Edinburgh Festival Fringe dance reviews: Red | Night Dances | The Rest of Our Lives | Walk-Man | Sad Book | Assume People Like You
It's four-star reviews galore in our latest Fringe dance round-up, with Red, Night Dances, The Rest of Our Lives and Walk-Man all coming strongly recommended from our critics Kelly Apter and David Pollock.
Dance Base (Venue 22), Until 28 August
Unflinchingly personal, deeply moving, yet fun and uplifting, Red is a powerful celebration of strength and resilience. Liz Lea has danced all around the world, with feathers in her hair and heels on her feet. As a young woman, she pushed aside the messages her body was trying to send her about inherited endometriosis, forever chasing the next dance gig to write the next rent cheque.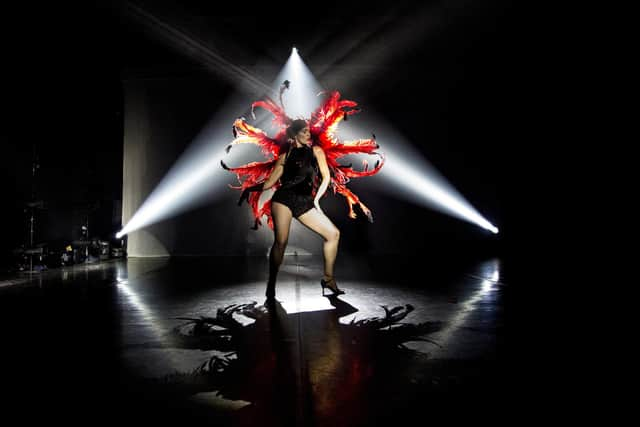 But you can only run for so long, and with pain levels rising ("10 Nurofen before lunch"), she finally admits defeat and seeks medical advice – only to be told she's making a mountain out of a molehill. And so it goes on, as Lea imparts her sorry tale of doctors' appointments, procedures, touring and pain, pain, pain.
None of which sounds terribly fun to watch or listen to, but Lea is such a captivating dancer and storyteller, we jump on her glorious coat tails and go along for the ride. Costume changes set the scene and mood, backed by beautifully filmed footage of Lea outdoors, fully costumed, pacing along as her dress billows in the wind.
At 52, there is no sign of her slowing down, strutting her stuff to The Rolling Stones' Paint it Black and Ricky Martin's She Bangs. All of which is highly entertaining, but it's when Lea turns down the dial a little that our emotional engagement ramps up. A particularly poignant scene set to Chris De Burgh's The Lady in Red (yes, really) brings a tear to the eye. As does her interaction with the members of over 60s dance group, PRIME who arrive on stage dressed to the nines to dance alongside – but ultimately look after – our own magnificent lady in red. Kelly Apter
Zoo Southside (Venue 82), until 28 August
A strange brew of influences has been tipped into choreographer Emma Martin's quartet of dance works. A glimpse of a Dublin rave when she was 12 years old, TikTok footage of young commercial dancers in LA, the tale of Lucifer being banished from heaven, and statues of the Virgin Mary – so ubiquitous in her Irish homeland.
From this disparate bunch of thoughts, feelings and images Martin has created a late-night happening that transports us from a Fringe venue to a repurposed warehouse or field in the middle of nowhere. For although it's the ten dancers on stage that move to the beat, it crawls deep inside us, too. Set to live music so loud you can feel it in your teeth (a word to the wise – take advantage of the earplugs offered at the door), Night Dances may have been inspired by external influences but according to Martin this show "isn't 'about', it just 'is', because dancing is enough."
It most certainly is, especially when it's served up with such all-consuming passion. Opening piece, The Raver, finds a topless young man lost to the rhythm. At first, he dances in silence but we can almost hear the sounds inside his head, egging on each jagged move his body makes. Anyone who's ever felt their whole body consumed by a pulsating dancefloor will feel his almost spiritual connection with the music.
Next up comes God is a Girl, in the form of five teenagers razor sharp in their delivery of a commercial dance set. Their steps may be mainstream, but being backed by an intense guitar and throbbing beat gives it a whole other vibe. Slow motion solo Lost Boy and Virgin Mary-inspired trio Red complete the set and only serve to reel us in further, until we're as lost in the dance as they are. Kelly Apter
The Rest of Our Lives ****
Summerhall (Venue 26), until 28 August
In an ideal world, Jo Fong and George Orange would live next door to you. Each morning would start by sharing a coffee and chat with them, and possibly some bonkers movement to get the blood flowing. But, as we know, it's not an ideal world so we'll have to make do with a hilarious, life-affirming hour with them watching The Rest of Our Lives.
Rather than buy a car they can't afford or take up a new hobby, Fong and Orange decided to embrace mid-life head-on by creating this show. Between them, they have decades of experience in the dance and circus worlds, and while their bodies may not do what they used to (or at least not without effort), their minds are as sharp as ever.
Rarely is an audience so entirely 'up for the ride' from the get-go as we are here. But then who could resist the charms of these two glorious performers? They chat to us on arrival, talk about each scene as it opens and closes, and by the end, we're all on stage with them (yes, all of us). Something in Fong and Orange's manner evokes a child-like spirit in everyone, whether they're climbing over each other, in and out of chair frames, singing or inviting us to hit ping-pong balls across the stage.
A digital ticker tape display at the back is regularly updated with hilarious scene titles and comments, or at one point lyrics for us to sing along to. In fact, the whole show is soundtracked by one great song after another, which adds to the humour, shifts the mood or simply lifts the spirits. Life is too short not to live like this. Kelly Apter
Zoo Southside (Venue 82), until 28 August
Three men in black trousers and vests are working hard to carry and lay long wooden planks of flooring in a seemingly random order around the stage, their sense of urgency interrupted by a fourth man, a bearded, muscular guy who looks like a circus strongman. He's completely naked, save for the single board he carries to hide his modesty. When he tries to put a set of Walkman headphones over his ears to listen to music, he and we know the only way he can do it is by dropping the board.
Slowly, painfully, but very precisely, he manages to grasp the board between his thighs and belly and get the job done. It's a funny opening sequence, but it's also merely one of the least impressive acts of physical dexterity seen during this almost wordless piece of theatre by Danish company Don Gnu, as choreographed by artistic directors Jannik Elkaer and Kristoffer Louis Andrup Pedersen.
The recurring motif here, the 'walk' of the title, is the black and white traffic crossing laid out using the boards, at which the men wait or walk, depending on the traffic signal being beeped out by one of their number. In a comedic recurring sequence, the quartet – Petras Lisauskas, Jeppe Kaas Vad, Jesper Moller Hermanson and Kasper Buus – show obedience and disobedience to the signal, and disdain or even aggression to those 'crossing' with them. There's tenderness too, with the characters at one point breaking into a tango.
Ingeniously, the piece is at once a mimed physical comedy, a dance performance and an acrobatic circus show, as the actors scale gravity-defying free-standing planks and backflip off them, among other impressive feats. It's a powerful and precise celebration of physical masculinity, whether that manifests as arty titillation for gay men and straight women, or a pure creative celebration of the power and capability of the healthy male body. David Pollock
Zoo Southside (Venue 82), until 28 August
An awful lot of work and thought has gone into this cross-artform production inspired by Michael Rosen's Sad Book. Created and performed by 201 Dance Company, the piece blends original music, digital animation, text, physical theatre and choreography. Not to mention some intricate staging and lighting design. With so many ingredients thrown into the pot, not all flavours reach the tongue but the ones that do have a special quality.
The opening tableaux – a birthday party table strewn with cake and decorations – sets the scene with a quietly evocative moment of stillness. Lines from Rosen's autobiographical story about the death of his son appear on a screen behind, and we dive headlong into the lead character's grief. With the original book illustrated by Quentin Blake, the animators had much to live up to here but their work is engaging throughout, with images floating across the screen and onto the stage floor.
In fact imagery is not this show's problem, there are many photographable moments – umbrellas lit up in the darkness, water from a shower pouring down from above, candles flickering, and all backed by a beautiful score. Less present is a chance for the dancers to shine and, strangely, a genuine sense of sadness. Kelly Apter
Assembly Roxy (Venue 139), until 28 August
This show is "the circus interpretation of that feeling when you're at a party and you don't know anybody," explains its creator and sole performer Melon the Human, aka Australian sometime teacher and street performer Thomas Stewart. In it, we meet "the person I think I am, the person I want to be and the person I inevitably end up being because I've overthought the whole thing."
It's a subtle character piece as much as anything, in which Stewart's clowning skills come to the fore. Many parts of the show are deliberately slow and pretending to be unsteady; his awkward addresses at the mic and slow, conversational sharing of an ice cream with an invited audience member on a picnic blanket on the stage are sweet and funny, and build the impression of a character who is loveable but incapable of assured human contact.
In amid all this he performs a few circus tricks, and their calm assurance and often breath-taking execution sit at odds with the understated character he's developed. Neon striplights and balls juggled on invisible wire seem to float detached in space, Stewart's body not an obstacle to their movement, and his acrobatic physical dexterity is impressive. The showpiece finale, in which he spins a large, wireframe 3D cube on his forehead, would make its performer the talk of any party. David Pollock