Edinburgh Festival Fringe dance, physical theatre & circus reviews: Papillon | Taiwan Season: #Since1994 | Baklâ | Nomad
Our latest round-up of Fringe reviews includes some blistering contemporary dance solos, a female-led circus troupe with a feminist message, and a powerful one-man show.
A solo, by its very definition, takes place on its own. But this blistering show from Montréal-based company We All Fall Down, gifts us three dance solos all at the same time. Each one fuses elements of contemporary and street dance and has a free-flowing, almost improvisatory quality. Nindy Banks, Mecdy Jean-Pierre and Maude Laurin-Beaulieu are all compelling, so the first challenge is working out who to focus on.
But somehow, it's never really a problem. After you settle into the space, and allow these three solos to creep under your skin, they just co-exist.
Despite all three dancers pouring similar styles into their work, their output is distinctly different. Banks has a wonderful intensity that's sharp-edged and swift; Jean-Pierre's moves have an almost spiritual gentleness, punctuated by popping, locking and krumping; while Laurin-Beaulieu is flexible and earthy, bending fluidly into the music with her entire body.
Which brings us to the music itself, and the cast-iron grip it has on you. From a few solitary bleeps, the sound swells into a cacophony of rhythm and sound that has your foot tapping and head nodding.
Musicians Walid Moon, Roger White and Ted Yates build the soundtrack before our eyes on drums and synth, until we're hypnotised by the whole glorious unity of music and movement. All six of the performers look lost in the process (in the best possible way), swept up in a wave of creativity.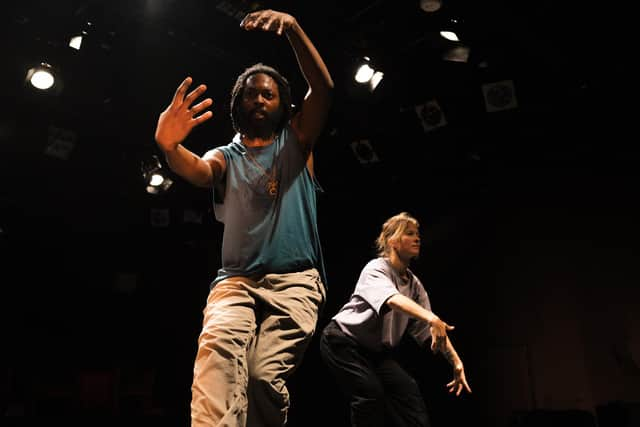 Yet surprisingly, this doesn't produce a chasm between artist and audience. Instead, they take us with them, the beat of the drums calling us inside the vortex. A few moments of synchronised connection between the dancers would have elevated Papillon into perfection. But regardless, rarely does individuality foster such a sense of community.
Assembly Roxy (Venue 139) until 27 August
Contemporary circus has no shortage of strong, empowered women, but rarely is the genre used to make a feminist statement. Enter Taiwan's Eye Catching Circus, a female-led troupe that could easily spend an hour just impressing us with their skill but aim to do more with their public platform.
Not everything hits as hard as it might, and there are some moments when the messaging is so subtle, it could easily get lost as 'filler' between more athletic tricks. But there's no mistaking the intention when they all stroll out in brightly coloured, lacy leotards, smiling at the audience and blowing kisses – then strip down to flesh-coloured, more serviceable underwear.
Climbing inside a large metal cage, they hang limply as if without autonomy, ready for the voyeurs' gaze. But then show just how capable they are, lifting each other high and executing a range of strong acrobatic manoeuvres. The most striking moment of all, however, is when one performer lies on her back and spins a table with her feet, balancing a single leg of the furniture precariously on her toes.
Summerhall (Venue 26) until 27 August
Like somebody packing for a holiday who can't decide what to bring, Max Percy stuffs items into every possible crevice of this powerful work. On the upside, it means there's much to explore – and all of it is delivered with poise and skill. On the downside, there's too much to sift through in one hour and consequently, some vignettes are cut short or not given enough oxygen to truly breathe.
Percy starts by explaining his show's title, which in the Filipino language of Tagalog means a gay or effeminate man. Asking the audience to throw out similar derogatory terms, he tells us "Don't worry, I've been called them all". From there, we take a deep dive into Percy's life: awkward encounters with his grandfather, racism endured while going about his daily life in London, and a sexual assault that slowly unfolds across the piece.
Running parallel is a fascinating history lesson taking us back 500 years and charting the colonisation of the Philippines. Text is interspersed with compelling physicality, in particular a powerful closing image using ropes.
Edited down, tightened up and with greater emphasis given to some of the more gripping anecdotes, this one-man show could be something very special indeed.
Summerhall (Venue 26) until 27 August
With a fake moustache and wig, Gözde Atalay prowls the queue, asking to see passports and putting us all in our place. It's a witty start that demonstrates Atalay's skill as a performer and her ability to work a crowd. Once inside the venue, however, the pace drops. Scenes that should be comedic are overly laboured, and this tale of a Turkish immigrant trying to find work in Europe is repetitive and lacks nuance.
Nomad should make us angry at the levels of bureaucracy and saddened by personal experience. But much stronger direction is needed to sharpen the humour and increase the pathos.