Edinburgh Festival Fringe dance, physical theatre & circus reviews: I'm Muslamic - Don't Panik | Tandava | Afrique en Cirque
Our latest reviews round-up includes a spirited antidote to hateful anti-Muslim rhetoric, a beautiful fusion of home-grown music and Indian dance, and some daredevil African acrobats.
I'm Muslamic - Don't Panik ****
theSpace @ Niddry Street (Venue 9) until 26 August
Assembly Hall (Venue 35) until 28 August
One of the most exciting aspects of the Edinburgh Festival Fringe, is the opportunity to dive into cultures you might never have the chance to visit. But although there are many hundreds of shows from around the world here this year, sometimes they just hail from the land, not represent it.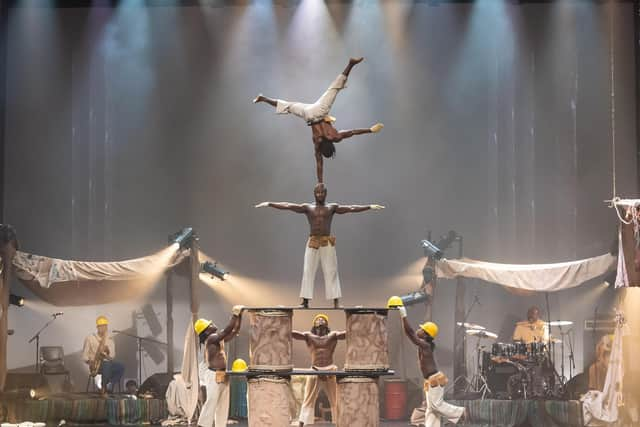 By the time you walk out of these three works, however, you feel just that bit closer to the often misrepresented (but also problematic) people and policies of Iran, the spiritual tales of India, and the musical exuberance and work-a-day busyness of Guinea.
An antidote to the hateful anti-Muslim rhetoric spouted by the likes of Donald Trump, I'm Muslamic - Don't Panik is so full of heart, it's brimming over. Bobak Champion's mother was born in Iran but it was years before that felt like a positive aspect of his life.
Growing up in Bristol with a racist family down the street that would vandalise his property, he felt the shame of difference being thrown at him. Even friends were kept at arm's length from the real Bobak, as he asked to be called 'Bob', and lied that he was going to Benidorm on holiday, rather than Tehran.
As the title suggests, however, this incredibly personal and honest one-man show also flaps a political wing. Aside from his childhood and adolescence, he also shares stories of Iran's first-ever marathon. Champion took part but local women, despite months of preparation, were excluded at the last minute.
He also shows two videos, which could not be further apart: one capturing the stunning physical landscape and majestic buildings of Iran (the kind of thing they don't show you on the news), the other an interview with members of a far-right group.
Champion jumps between time zones, geographical locations and languages as all this is imparted. He also dances, which is where the fundamental core of this show, and Champion himself, resides. It was the b-boy scene – both in Bristol and Tehran – that saved him and took away the shame. Joined on stage by guest dancers Iti Niaz and Shazad, we see Champion light up as he talks about finding his tribe.
There are also some very slick moves on display, injecting even more energy into an already spirited show. And as if the show wasn't gorgeous enough, Champion invites us all to stick around for tea and biscuits afterwards.
It's small wonder Tandava was chosen for the 2023 Made in Scotland showcase. Not only is the work of an exceptionally high standard, but it's international collaborations such as this that show what an outward-looking country Scotland is. A coming together of cultural excellence, where the sum is even greater than its parts, Tandava is a beautiful fusion of home-grown music and Indian dance.
Representing Scotland, is East Lothian-based guitarist Simon Thacker. A highly-respected instrumentalist, who can turn his hand to any genre, Thacker is so much more than a mere accompanist. The music generated by his fast fingerwork is inextricably linked to the choreography. Flicks, twists, turns and stamps are timed to such perfection, it's hard to know where movement ends and melody begins.
Indian dance is usually accompanied by traditional instruments (sitar, tabla etc.), so watching Piah Dance Company perform alongside Thacker is already a novelty. Added to that, this Bangalore-based group's philosophy is 'Traditional India with a modern twist'. Which isn't to say its output is avant-garde, far from it – but there is something ever so slightly different from the usual fare which makes it endlessly interesting to watch.
Choreographer Priya Kumar uses the well-known style of Bharatanatyam as the foundation for her moves. But then incorporates aspects of the free-flowing folk dances of Garba, much less viewed on these shores. Dressed in traditional costumes, but with wide, full-length skirts, Kumar and her two fellow dancers have an almost ethereal quality.
Brief introductions help us look out for natural and spiritual influences in the four pieces, from the circle of life, mountains and oceans, to the Hindu god Shiva. As they whirl around the stage, material billowing in the light, the dancers' intricate hand gestures, smiles and percussive beats are replete with tradition – but that 'modern twist' is evident in every step.
Every circus show in town is looking for a unique edge to draw you in, and Afrique en Cirque is no different. Depicting an average day in Guinea, both rural and urban, we start with fishermen shaking out their nets and hawkers plying their wares. But as the sun rises so too does the energy, and from here on the show is wall-to-wall athleticism.
The daredevil acrobats swap their traditional African garb for hard hats and tool belts during a sassy routine on a building site. Or grab some juggling clubs for a bout of good-natured rivalry and ribbing. While two female acrobats in vibrant catsuits fight to prove they're just as strong and talented as their male counterparts.
Some of you may want to watch the unfeasibly bendy contortionist from between your fingers. As he twists and folds himself into ever-more extreme positions, the gasps from the audience all translate to 'a body shouldn't be able to do that'. Much of which you can find in other circus troupes (although this troupe is especially fearless), but what feels special here, is the music.
Accompanying each body bend, flip and balance with a matching note, is a live three-piece band that is worth the ticket in its own right. In particular, the Kora player, whose mastery of this traditional African stringed instrument is superb. All of which is augmented by large drums, played by the multi-talented acrobats who prove they can bang out a rhythm just as flamboyantly as they can backflip across the stage.