Edinburgh Festival Fringe dance, physical theatre and circus reviews: You and Me | Exhale | A/lone | Right Here, Right Now | Stuck in Free Fall
Emotions runs high throughout the picks of our latest round-up of dance and physical theatre reviews.
Like all artforms, the dance world is always trying to re-invent itself and say something original. Rarely, however, does an entirely new subject matter come along – which is partly why You and Me is such a special work.
Choreographer, Amina Khayyam is known for giving voice to marginalised voices, in particular female ones. So although You and Me is a duet for two men, the show's starting point was the experience of women. In particular, those who find themselves married to gay men who felt unable to embrace their sexuality due to societal pressure.
Performers Shyam Dattani and Giacomo Pini also fed into the story, sharing their own stories of coming out to help deepen the story from a male perspective. And so, You and Me was born – a fusion of contemporary dance and the classical Indian dance form Kathak. As you might expect from a work of this nature, emotions run high and are close to the surface.
Dattani is filled with angst, torn between the man he has feelings for and his family life at home. Carrying a chair on his back like a heavy burden, he spins in despair, slams his ankle bells on the ground and looks like a broken man.
Meanwhile, sitting across the stage, Pini seems equally pensive. When the two men finally come together, it's as if a light has been turned on. Indecision and depression give way to joy and comfort – only to be dragged back to responsibility and cultural 'norms'.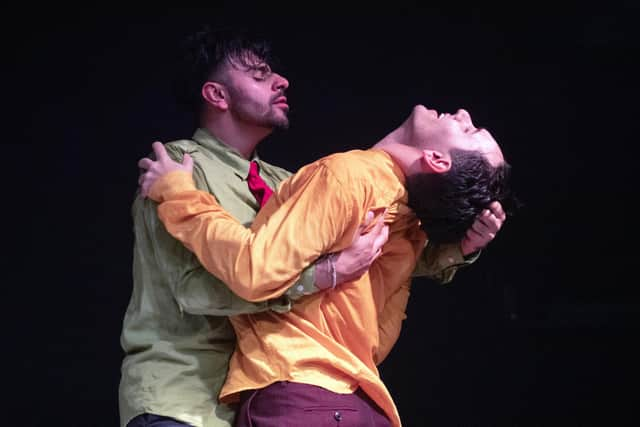 There is still work to be done here, to tighten up the moments of happiness (which feel a little thrown together) and introduce some more dynamic lighting design. The live music, however, is sublime throughout with three musicians on cello, sitar and tabla joining the dancers on stage to play Jonathan Mayer's emotive score.
Dance Base (Venue 22) until 13 August
Imagine meeting one half of a romantic partnership and getting to know them – their strengths, their frailties, their foibles. Then you meet the other half, and again learn who they are as an individual, without a partner embellishing or diminishing them with their presence.
Holding both people in mind as autonomous beings, you then watch them interact as a couple. This, in essence, is Exhale. Two solos and a duet introducing us to dancers Daniel Navarro Lorenzo and Anna Borràs Picó – first independently, then we witness the fascinating alchemy of their coming together.
The show opens with Daniel Navarro Lorenzo attempting to enjoy a summer's day. A long patch of grass stretches across the stage and plants are scattered around the edges. But none of it is real, nature has been replaced by synthetics. Navarro Lorenzo is a contemporary dancer known for his ability to imbue movement with genuine emotion, and this solo a fragile geography: PLACES is no exception.
The music is harsh and angular, and his response to the loss of our natural world and how we interact with its replacement, feels equally bruised.
Borràs Picó arrives next, a dancer for whom 'fast' is a default setting. Joined by guitarist Alex Paton, she is a whirlwind in white, traversing the stage as if time is not on her side. Her solo, Aryo, is inspired by the impact being in love with another person has on us.
Which sets the scene nicely for Exhale itself, a duet where Navarro Lorenzo and Borràs Picó finally share the same space. After 13 years working together, their bodies complement each other well and this powerful, shifting mix of tenderness, vulnerability, closeness, friction and indecision is both dynamic and moving.
Greenside @ Infirmary Street (Venue 236) until 12 August
Written and directed by Janine McKenzie, A/lone combines physical and verbatim theatre, and contemporary dance. Informed by interviews and testimonials, the piece explores the topic of loneliness, and of connection and disconnection in an increasingly digital age.
Performed by Stacey Carmichael and Xavier McGettigan, the pair establish a movement-language built on balance and trust - they hold each other, cradle each other, support each other - under pulsing blue lights. The spirit of each scene is heralded by a screen, and a simple but effective slideshow accompanies the action onstage.
With headers such as 'bliss' 'chaos' and 'the wee small hours', the story cycles between that of older and younger generations. It navigates the perils of overthinking, obsessional thinking, and mind-reading, as well as touching on the very peculiar, very particular, type of loneliness that can come with sleeping alone, or living with insomnia.
Complete with a live original score by Kirstin Honey, A/lone presents as remedial, and is realised with warmth and generosity, as it considers whether a greater engagement with the self might be a worthwhile and effective means of combatting loneliness, asking: If you are attending to, and investing in, your own company, are you ever really alone?
theSpace @ Niddry St (Venue 9) until 12 August
Right Here, Right Now reveals the working lives of three colleagues on what is, ostensibly, a regular day at the office. Their morning commute morphs into meetings, their work is repetitive and they clash often, causing numerous accidents.
Told through dance and movement, the narrative becomes increasingly abstract, shedding meaning and sense as it approaches its conclusion.
But the company succeeds in evoking the mood and the unrelenting forward-motion of the working week, often achieved through subtle use of gesture: a fleeting scene of shadow puppetry, objects that appear and disappear, the hunger for one's lunch hour.
Zoo Playground (Venue 186) until 12 August
Nicola Bullock is a dancer with considerable pedigree and obvious skill. And during this 45-minute piece, she comes across as a beautiful soul genuinely trying to connect with her audience.
But this show about 'nothing' (her words, not mine) relies predominantly on text – written and spoken – much of which feels impenetrable and deeply personal.
We're asked to join in on occasion, reading out lines from poems or offering suggestions, but the words never feel truly ours. As a gateway to contemporary dance it's inaccessible, and even for seasoned dance lovers Stuck in Free Fall is a hard sell.