Edinburgh Festival Fringe dance, physical theatre and circus reviews: IMA | Circa's Peepshow (Club Remix) | Harvest | Ageless | Aloft Presents Sanctuary | Insomniac's Fable | Groovicle
A five-star visual and aural feast leads our latest pack of Fringe dance, physical theatre and circus reviews, also including another jaw-dropper from Circa and the flamenco thunder of Harvest
From the outside, everything looks the same as ever. Ordinary-looking doors leading to the foyer of Murrayfield Ice Rink. But just a few steps later, we enter another realm. A 'holding zone' of soft walls and delicate lighting, where we're encouraged to tie a small grey ribbon to a giant net (along with hundreds of others) and make a wish.
It's the perfect halfway house to spend a few minutes and leave everything behind – a buffer between the outside world and the immersive space IMA takes place in. Then we're taken down a short tunnel and into a star-covered universe. A purpose-built dome so sparkly and peaceful, even if nothing happened it would be an enjoyable place to spend time. But something very much does happen and for the next 40 minutes, we are transported.
Budapest-based Recirquel Cirque Danse comes with a fine pedigree, having wowed Fringe crowds with previous hits Paris de Nuitand My Land. But this is new territory for them and perhaps their most memorable show to date. Translated to mean 'prayer', IMAis – in its most basic sense – a solo aerial show. A single performer on a trapeze swing, gliding through the air like a celestial being above our heads. It's a circus act most troupes employ, and you'll see several examples of it in Edinburgh this August – but none of them look like this. A different artist performs each of the four daily shows, so no namecheck here, but their brilliance is only half the story.
What helps makes IMA so special is the surroundings, both visual and aural. Light pours into the space like sun through a cathedral window, beautiful rays casting a spell on everyone. As we watch the aerialist spin, stretch and fly to Szirtes Edina Mókus's wondrous score, it feels almost spiritual. Kelly Apter
Circa's Peepshow (Club Remix) ****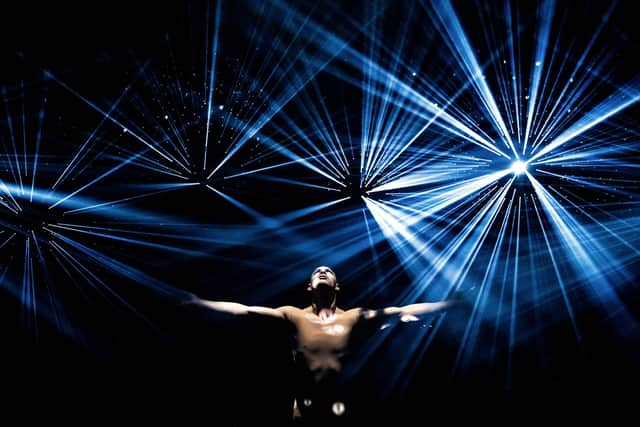 Underbelly's Circus Hub on the Meadows (Venue 360) until 26 August
For almost 20 years, Circa has been at the top of the circus game. It was one of the first companies to bring contemporary circus to the Edinburgh Festival Fringe, and each visit brings a new vision but the same show of class. The tricks get trickier and the acrobatics more athletic, but Circa is also a past master at building a theatrical world around that skill.
This latest venture, Peepshow (Club Remix) sees the Brisbane-based company getting hot and steamy. A DJ at his mixing desk has the big top jumping before a single performer has been flipped or thrown, and when the troupe arrives on stage, they look ready for a night on the town. But it's not long before they've stripped down to the bare essentials, to give them room to move and us a chance to see just what these bodies are capable of.
Building breath-taking human towers is Circa's particular strong suit, and they do that multiple times here – each more precarious and gravity-defying than the last. Hand and head balances are in plentiful supply and never fail to impress with their rigid assuredness. Likewise the almost cavalier way they throw each other around, or turn themselves into human skipping ropes. Changing the pace slightly, two routines of aerial silk work are beautifully executed – but again, artistic director Yaron Lifschitz thinks outside the box as to how the performers get up there.
A lesser-known routine with brick-shaped blocks is also a welcome addition to the usual circus fare. Starting with just four, the performer builds up to ten, trapping and manipulating each brick at speed. Incredibly, nothing drops – except our jaws. Kelly Apter
Zoo Southside (Venue 82) until 19 August
What impact does our working life have on our physical body? That's the central question posed in Harvest, a piece for two dancers and a whole heap of mud and grass. Having spoken to farmers in her native Denmark, choreographer Tina Tarpgaard found that their bodies are shaped and defined by their toil, in much the same way as a dancer's.
Which is an interesting starting point, and one that could have had a universality we could all connect to. But Harvest feels too personal to foster a real connection. Contemporary dancer Hilde Sandvoldandneo and flamenco-trained Jossette Reilly are both highly skilled, and watching them dance delivers moments of intricacy and beauty. But one of the best things about abstract dance is its ability to create a blank page for us to draw on in our minds. The spoken dialogue here is so inward-looking, there's no room for us to really feel.
The large container of soil and greenery also feels underused, simply toyed with rather than fully incorporated into the choreography. But when Reilly pulls on her hard shoes and steps onto a wooden board, her flamenco heels thunder and we can't take our eyes off them. Kelly Apter
Dance Base (Venue 22) until 13 August
When people are referred to as being in their 'prime', it's usually at the younger end of the scale. So hats off to this group of older dancers who not only call themselves PRIME but say it in uppercase to boot. With 13 dancers aged 64–80, the company may not have the speed and flexibility of youth, but their enthusiasm shines bright and despite lengthy routines, they don't drop a single step.
The show opens with Abendsegen, which translates as 'evening prayer' – the perfect title for a work as gentle as quiet contemplation. Originally created as a cool-down for the group's weekly class, the work has taken on deeper meaning following the death of a group member (to whom the piece is now dedicated).
The choreographer behind it, Steinvor Palsson, is also PRIME's artistic director and as such, she knows these dancers inside out, both in terms of movement style and personality. Which is why her new piece Toeing the Line? fits them a little more snugly than closing number, The Infinite Life Journey. Both works are executed with poise and assuredness, but the witty reflections on modern life that shine out of Palsson's piece capture the group's spirit perfectly. Kelly Apter
Aloft Presents Sanctuary ***
Underbelly's Circus Hub on the Meadows (Venue 360) until 26 August
It's never too early to introduce kids to the joys of circus skills so why not the more intimate, bespoke world of circus cabaret? From the Chicago-based makers of 2022 Fringe hit Brave Space comes a family-friendly show in the fabulous Spiegeltent, featuring a bunch of PG acts introduced by slightly shrieky MC Shayna, who has no shortage of small volunteers willing to act as glamorous assistants.
Just as the younger members of the audience are learning the ropes – and silks and hula hoops and juggling balls – so some of the acts appear to still have their training wheels on with a couple of slips, misses and drops along the way. The individual acts are elegantly honed but their manoeuvres are at the tamer end of the circus skills spectrum, while the live music interludes from a showgirl-fronted trio are strictly vanilla covers territory.
The show-stopping exception is aerial artist Elena Brocade who executes an impressive rope trick to go out on a 30ft high and sprinkles a little fairy dust on this otherwise decent introduction to the artistry, athleticism and humour of circus cabaret for newcomers of all ages. Fiona Shepherd
Summerhall (Venue 26) until 27 August
The promise of a subverted love story will no doubt lure some people into this two-hander from Finnish company Agit-Cirk. What you'll find, however, is a whole lot of sound and beauty, signifying nothing. Erin O'Toole is a wonderfully graceful dancer, Sakari Männistö a highly competent juggler but they make for strange bedfellows. Neither abstract enough to let us find our own emotional way, nor with sufficient narrative to tell a compelling tale, Insomniac's Fable favours enchantment (charming woodcuts, delicate lighting design) over substance. Kelly Apter
Zoo Southside (Venue 82) until 27 August
Watching Elliot Minogue-Stone's show is like opening an old trunk in the attic, and finding a hotchpotch of keepsakes that bear no connection to each other but bring a smile to your face. It's also a bit like hanging out at a friend's house and watching them dance around, sing silly songs (beautiful voice!), bounce from one idea to the next and make you laugh. Minogue-Stone is utterly adorable, his interactions with the audience warm and funny, but Groovicle is not a 'show' as such. It's a collection of behind-the-scenes ideas that feel more like a starting point than an endgame. Kelly Apter