Underbelly's Circus Hub on the Meadows (Venue 360), until 26 August
In the increasingly crowded contemporary circus market it pays to not only have a niche, but one with its own individual appeal. Enter Rebel, part circus show, part tribute act celebrating the music of the late, great David Bowie. So a word to the wise, if you're not a fan of Bowie's music, this is not the show for you (also, check your musical taste buds).
Opening with Suffragette City, we're greeted by Stewart Reeve our host for the evening whose look and vibe give more than a passing nod to Bowie circa the Let's Dance era. Reeve's vocals are strong, his long patterned coat and high heels sufficiently Ziggy-esque enough to conjure up the great man himself, and his desire to show us a good time is boundless.
With such a stellar back catalogue to choose from, the show's producers had to think wisely – which songs lend themselves to circus and which simply need to be played and enjoyed. And so we have gorgeous aerial silk work set to Space Oddity, nifty juggling to Hallo Space Boy, a fashionably dressed bottle trick performed to, you guessed it, Fashion and some strong-armed Chinese poll to Bowie's denouement, Lazarus. Other songs, such as Ziggy Stardust, are given room to breathe on their own.
The show packs in a number of fine skills but what impresses most, is the fact most of the band members are also the circus artistes. One minute they're knocking out a cracking riff on lead guitar, or running up a scale on the saxophone – the next they're pushing their instrument aside to demonstrate strength and agility centre-stage. Throughout, Reeve's vocals power on, reminding us of Bowie's genius and providing a rocking soundtrack to the superb hula-hooping, chair balancing and aerial work he serenades. Kelly Apter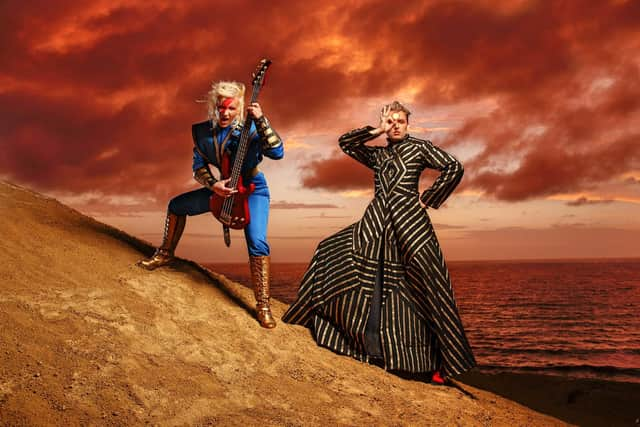 Underbelly's Circus Hub on the Meadows (Venue 360), until 27 August
How much fun you'll have at this intimate show depends, to a certain extent, on where you position yourself. To view most of it, audiences need to crawl inside a delicate white tent, squeeze up tight to fellow audience members and try to avoid the mechanics taking place around them. In the world of Brave Space, all vantage points are most definitely not equal.
Discomfort aside, the show itself has an ethereal quality with the all-female cast dressed, like their surroundings, entirely in white. They smile beatifically at one another before executing each manoeuvre, gently instructing us where to wriggle ourselves next. Often this involves sitting down or standing up, but on one occasion – by far the highlight of the show – we're asked to lie down and peer up, "as if watching the stars". Space is tight, but as you lay your head back and relax, looking at the two acrobats on the swing above, it's truly magical. Rarely, if ever, are we afforded this view of aerial circus work and this brief but beautiful moment is unforgettable.
Elsewhere, the women show their strength and agility with Chinese pole work, hoop juggling, balancing and a gorgeous aerial display on gathered ropes. Occasionally, they pluck helpers from the crowd to hold the artists in place – not so much to say 'you could do this too' (we know we can't) but to generate a feeling of communal support.
United States-based circus company Aloft has worked hard to give Brave Space a unique edge in a genre where everyone is fighting for attention. With all its logistical and comfort challenges, the tent serves that purpose well. The acrobatics on display can be enjoyed elsewhere, but the sense of place is all their own. Kelly Apter
Dreams of the Small Gods ***
Summerhall (Venue 26), until 28 August
Performer Zinnia Oberski disappears so deeply inside her character in this show, that for the first 20 minutes, we don't even see her face. Hanging from a high swing, her long brown hair covers it entirely, leaving her body to do the talking. And, as she's entirely naked, it speaks volumes. Regularly shifting position, Oberski lays herself bare before us, vulnerable yet strong, human yet with undeniable animal qualities.
Described as 'the story of the awakening of Wild Woman', Dreams of the Small Gods was inspired by ancient myths and legends but feels very grounded in the here and now. Climbing down from her swing, Oberski lies on the mud-strewn floor, covers her skin in dirt and stretches out in an act of pure empowerment – move along male gaze, there's no place for you here.
At times, the piece feels overly measured and a little too inward-looking (the empowerment is all hers, not necessarily shared with the audience) but Oberski has a real stage presence and the slowness only makes you wonder where she's going next. Kelly Apter
Assembly Checkpoint (Venue 322), until 28 August
Come on in! The girls have been waiting all day! Phluxus2's Angel Monster is a hyper-femme, hyper-feminist dance-installation built on a bedrock of Shania Twain, trauma, and empowerment. Sugary girly-girl energy quickly derails into something more sinister, sparking conversations around emotional labour and the pressure on women to be hospitable at all costs, whatever that means. One of the five athletic dancers drags herself along the floor, grinning up at the audience: "Am I what you expected?"
Dressed in beige Kim Kardashian-esque shapewear, the Brisbane-based company are constantly reforming themselves. Hanging orbs of meaty fabric spew out discarded clothes and then dangle from the ceiling like wilted flowers, while the piles of brightly patterned fast fashion become both set and costume.
Founder and director Nerida Matthaei's repetitive, uncanny choreography tackles sex, sexual violence, beauty standards and consumerism, spinning the dancers into isolated, disjointed orbits. Best of all is the violent, tender exchange between the five performers and how they each wear the show differently across their faces, flickering from deep anger to manic joy and glassy-eyed surrender. Angel Monster isn't a fresh take on the Madonna-whore complex, but these crises bear repeating. Katie Hawthorne