Edinburgh Festival Fringe comedy reviews: Laura Ramoso: FRANCES | James Nokise - Right About Now | Stuart McPherson: Love That For Me | Katy Berry: Diamond Goddess Crystal Pussy | Dane Baptiste: Bapsquire
In our latest batch of comedy reviews, you'll find a phenomenally well-observed and striking Fringe debut, an effortlessly accomplished show about being a 30-year-old adrift, and a compelling view on migrant and trans "othering" from the perspective of a Welsh-Samoan.
Laura Ramoso: FRANCES ****
Pleasance Dome (JackDome) (Venue 23)
Parlaying her tried and tested, hit online sketches into a break-up narrative, Laura Ramoso's Fringe debut has a bit of a contrived, cut and shunt feel but it's a wonderful calling card for her striking stage presence and varied talents.
Having inherited a larger room mid-run, the Canada-based comic luxuriates in the space, revelling in bringing her big, bold characters to audiences both fresh and – judging from many whoops of recognition – familiar with her creations.
The impetus for her hour is that her long-term boyfriend, the Frank alluded to in the show title, has broken up with her and wants to talk. What can he want? Why do men do this? Racked with insecurity, the animated, expressive performer sucks you into her frantic thoughts, her brain racing at a mile a minute.
As befits someone raised internationally, the show has a superficially cosmopolitan sheen that Ramoso takes great delight in playing with. Her most popular character is unquestionably her severe, wine swishing German mother, a Teutonic force-of-nature thoroughly offended by her daughter's unsmiling portrayal of her, protesting even as she exhibits her controlling behaviour.
The counterpoint to this, in a show that structurally mirrors just about every sketch from the opposite perspective, is Ramoso's Italian father, his quiet, seething need for everything to be properly prepared, on time and just-so, sent up with a running commentary.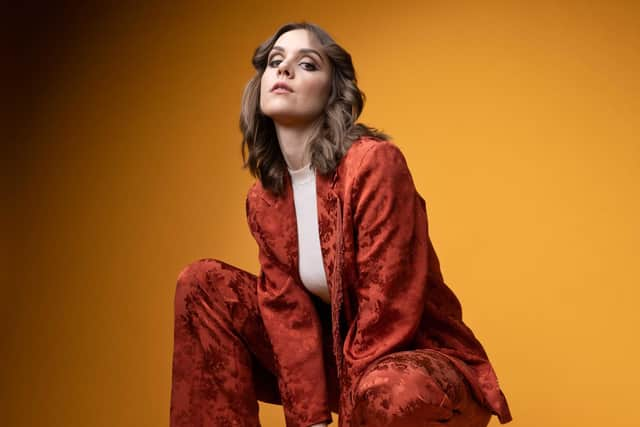 Considerably more tangential to the main plot but enjoyable diversions nonetheless, are the Three Girls Who Just Got Back From Europe, North American pseuds engaging in swooning one-uppersonship about their experiences, and an impassioned song where Ramoso laments the difficulties of being a 6'1 woman.
The repeating framework and audience interaction elements that don't fly means that FRANCES never truly flows. But in isolation, Ramoso's sketches are phenomenally well-observed and executed, her characters memorably brought to life.
James Nokise – Right About Now ***
The Stand Comedy Club 3 & 4 (Stand 4) (Venue 12) until 27 August
A relaxed, amiable raconteur in total command of his fact-backed opinions, Kiwi stand-up James Nokise offers a compelling view on migrant and trans "othering" from the perspective of a Welsh-Samoan.
Capably drawing examples from his own life, he shares the bigotry that he, his family and other minorities have experienced, as he detects patterns being repeated again.
Particularly instructive is his account of the anti-Trans activist Posier Parker being told in no unceremonious terms to sling her hook down under, thanks to New Zealand and the Pacific Islands' progressive history of embracing the third sex. Not that Nokise is blind to the faults of his Samoan upbringing, but he brings a rich, full appreciation of how it's shaped his worldview, his insecurities and how it nurtures him still.
If his tales have the authoritative backing of hard-earned folk wisdom and he's clearly inspired by the indomitable spirit of his redoubtable mother, Nokise brings a light, satirical accessibility and universality to his stories and observations, never too long from punctuating a routine about a particular injustice or latent prejudice with an account of idiotic behaviour or a sly, witty quip.
He may be preaching to the choir somewhat at the Fringe, but this is a welcome, thoughtful and consistently funny perspective on these issues.
Stuart McPherson: Love That For Me ****
Monkey Barrel Comedy (Monkey Barrel 2) (Venue 515) until 27 August
Stuart McPherson's show last year was a scrambling affair, as he struggled to incorporate having just been dumped by his comedian girlfriend, for another, more famous, comedian.
As in 2022, he's fairly circumspect and careful not to identify anyone. But getting over the break-up was difficult. At the time, he and his ex were making a Channel 4 pilot together and McPherson found himself taking a meeting with an agent who innocently raved about his cuckold.
With a bit of time now to process the split, the Scottish comic and serial romantic partner has been trying to learn to love themselves as a singleton, producing this effortlessly wry, accomplished show about being a 30-year-old adrift.
Suppression comes naturally to him. Outlining the example of his father's emotional reticence, he drolly expands it to the Scottish psyche more generally, marvelling at a nation that has produced so many inventors and innovators as a result of being told not to get above oneself. Whether in his former, short-lived job as a cafe barista, or simply struggling to get into his venue, usually a Harry Potter-themed escape room that he used to work in, McPherson comes across as an inherently passive individual, whom things happen to rather than making them happen.
Encouraged to go on a trip alone by his therapist, he only books the trip under the influence of narcotics and comes unstuck anyway. While in his hot summer of dating and sex, he's often a scared or inhibited participant, more of an observer rather than actively go-getting.
Fortunately, he retains a strong eye for the ridiculousness of these situations and has contrived some detached, amusingly indirect ways to run through both his romantic escapades and the ways in which his failed relationship was rubbed in for him, summarising the coincidences and body blows with ironic casualness. For all he's still finding himself as a person, McPherson is flourishing as a storytelling act.
Katy Berry: Diamond Goddess Crystal Pussy ***
Just The Tonic at The Mash House (venue 288) until 27 August
It's hard to live up to one of the most arresting titles in the Fringe programme, but Katy Berry just about delivers in an entertainingly shambolic combination of comedy and New Age mysticism.
There's no slow buildup from the teal-haired demigod (it turns out her father is Poseidon - one of the more usual early reveals this August), who launches straight into a show-stopping improvised song based on the audience's guilty pleasures. Berry won her first talent competition in second grade and she's clearly continued to impress on stage ever since.
What follows is a fairly straightforward series of recollections of growing up in small town Long Island, from an embarrassing pubescent incident to a doomed college romance. They are interspersed with the impressive improv songs that have become an Edinburgh staple - ably assisted by the cheery Adrien Pellerin on keyboard and Billy Joel impressions.
What sets Berry apart - for better or for worse - are the more esoteric sections where the audience hop aboard a wave of self-discovery and cosmic ordering, where time is measured by the phases of the moon and magic unfurls "like slow release ADHD medication".
It doesn't all mesh together perfectly but it's a fun journey with no shortage of memorable spells.
Dane Baptiste: Bapsquire ***
Monkey Barrel Comedy @ The Hive (venue 313) until 27 August
It's been almost a decade since Dane Baptiste became the first black British act to be shortlisted for the Edinburgh Comedy Awards, and a full five years since he last played the Fringe. Now in his 40s, the relentless passage of time hangs over his most recent musings.
Most people of a certain age will sympathise with his shock at Oscar-ruining actor Will Smith now being the same age as the actor who played his Uncle Phil in 'The Fresh Prince of Bel-Air'. It's one of several references that may fly over the head of younger audience members. This is a show where a quote from the 1986 film 'Crocodile Dundee' is used as a punchline.
Amidst the pleasant "smooth as silk" observational fluff there's more than a hint of anger, not least during a shocking story about his false arrest by nine police officers. It's dealt with far too hastily, leaving more questions than answers. The sections on the insidious racism still prevalent in Britain today and fresh takes on the treatment of Meghan Markle also impress.
Alongside such passionate material the more rudimentary parts of the set (gym culture, rappers playing police officers, going bald) feel pedestrian, no matter how well delivered they are.