Edinburgh Festival Fringe comedy reviews: Carl Donnelly | Al Porter | AI Jesus | How to Write a Eulogy That Kills | Sian Docksey | Sam's Scriptz
Our latest batch of Fringe comedy reviews includes an enthralling journey through the fundamental mystery of life and death, an abrasive eulogy, and some masterfully curbed enthusiasm.
Carl Donnelly - The Dead Dad Show ****
BlundaGardens: Blundabus and Magical Spiegelyurt (Venue 212) until 27 August
We are in a yurt with Carl Donnelly and he is telling us about the worst few weeks of his life. Not only did Donnelly's dad die, his death was an anti-climax, an unemotional, undramatic, very ordinary death.
Death is, at its heart, a very ordinary event, and this was an ordinary death after an ordinary life. Donnelly's gift is to take these mundane details and spin them into an enthralling story full of silly twists and turns and plentiful laughter. He loved his Dad, but it was a life of emotional and material poverty. Donnelly is glad he managed to skip away on the wind, and become a teller of stories and a bringer of delight.
By his own account Donnelly's childhood home was a cold place, where emotion was not easily expressed. When he has to return to take care of his parents he looks in vain for secrets and hidden meanings. He delves into his Dad's spate as a minor south London criminal to find nothing particularly interesting, and when clearing out his family's council flat he finds no treasure or mystery.
The moment of his father's death is told with reverence, but there is nothing remarkable about it beyond the fundamental mystery of life and death.
Donnelly is something of a magician to take such an everyday catalogue of unhappy and unexceptional events and turn them into such a thoroughly enjoyable hour. He has a wonderfully light touch, which gladdens the heart.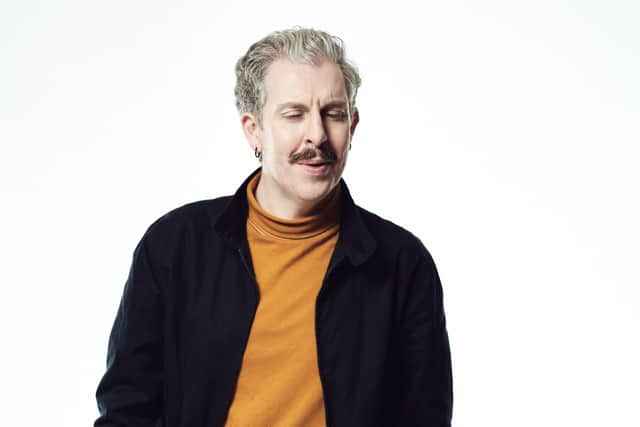 Maybe life is utterly grim and meaningless, but we can still enjoy ourselves. And we do, laughing all the way. It makes you glad to be alive.
Al Porter: A Work In Progress ****Just the Tonic Nucleus (Venue 393) until 27 AugustAl Porter was a weird little boy from a council estate in Dublin who was supposed to grow up to become a priest but became a comic instead. He arrived at the Edinburgh Fringe in 2016 as a seemingly fully formed showbiz creature, but behind the scenes he was still, in his own words, an eejit. This is the story of how he crashed and burned, became the scourge of the tabloids and was cancelled for drink, drugs and sexual misconduct.And now he's back. He's still only 30 years old. And hooray, he's still the brilliant comic he was destined to be. There's a strong religious element in Al Porter's account of redemption –and the presence of charms, superstitions and holy relics adds an extra layer of drama to this extraordinary story.
He doesn't hold back with his descriptions of despair, how having seemingly ruined his life he found himself confined to an upstairs room in his parents' house. He tells us he was suicidal but always finds a way to play the story not for sympathy but for laughs. Porter is unflinchingly hard on himself and apologetic about those he hurt. But he makes you laugh so hard you are willing him to succeed.He has a dazzling flair for comic detail. He conjures up the friends and neighbours who witnessed his decline and uses them as a Greek chorus, making apt, devastating and often wildly inappropriate comments on his tragic fall. By the end of the hour, he has everyone on his side. And he pulls the whole story together with a stunning and powerful twist that is a perfect little miracle.
Porter deserves to be on stage. He is where he needs to be. And with this brilliant, beautiful and very funny true story, he is back where he belongs.Claire Smith
Laughing Horse @ The Three Sisters (Venue 272) until 27 August
Peter Bazely is keen to lower any expectations, but this evening is playing to a packed house – albeit one of the smallest on the Fringe. You may be expecting some AI. Or Jesus. Fear not, despite being burdened by smart jokes, Peter is committed to keeping us disappointed in a way that's oddly funny.
A subtly self-knowing misanthrope, who's either playing a part or very good at being himself, he occasionally checks in with the audience to see if anyone fancies him. The answer is always no. But if anyone was too enthusiastic it would spoil the whole premise – something that Peter is clearly aware of as he masterfully ensures that no one, including himself, gets too enthusiastic.
As audiences for other shows traipse by outside and smile through the window -- "always happy", Peter tells us – there are brilliant moments where the show teeters on the edge of becoming a full-scale exploration of the desire to compete in comedy, or put on "a show" at the Fringe when it used to be about just trying things out.
Needless to say, these ideas aren't developed. That would really defeat the point, but despite this it would be a good to see him try. Although obviously not too hard.
How to Write a Eulogy That Kills ***
Gilded Balloon Patter Hoose (Venue 24) until 27 August
"It's a funeral. Be quiet," she says at the start, with an abrasive attitude that feels both invigorating and edgy for what is essentially part of that almost-genre: the dead mom show.
In it, Angela Beevers attempts to write her mother's eulogy by enacting scenes that – aided by the inherited, sometimes quite personal items – that she soon realises she definitely shouldn't include.
Abrasive, straight talking, gallows humour fills the defiant narration, with Angela stomping about in her black dressing gown: a "cold, harsh, calculating Hollywood bitch" defiantly able to control her emotions.
She's very impressive and there's something both cathartic and inspiring about the way she's chosen to tell the story of the dynamic force of life that her mom clearly was: a belly dancer, professional psychic, and author of an ongoing series of 'Dragon Lady and the Orloff Box' musicals.
Shifting between a confiding conversational tone and louder shouts, this at times creates an uneven tone, but Angela, who works in TV production in Hollywood, is largely a thrill to spend an hour with.
"Be weirder, freer, unique and less afraid about what people think" the final message – that can be few better role models for that than Angela's mom, her wider family and, indeed, Angela herself.
Sian Docksey - Pole Yourself Together! ***
Pleasance Courtyard (Venue 33) until 27 August
Sian Docksey is clever. She has a First from Cambridge. Having turned to stand up comedy after a career in stripping, everything was going well until she was troubled by an unmanageable sense of existential dread, which she chose to manage by learning to pole dance. So now we, her audience, get a unique hour of stand up/pole danced comedy.
Sian is certainly not at a place in her comedy where she could sustain an hour. But she is smart, and the addition of the pole is absolutely brilliant, makes her lessons tax-deductible, and offers up a chance to make her hour 'more'. Impressions anyone ? No 1 The Nutribullet.
The hour ranges far, from the anti-bisexual bias at a Pride march, through wool as the way forward for the world, to a thoughtful section on not being defined by your job. It never gets stale, never becomes static. We learn about cleaning the pole, we get a costume change, we question why astrology is like football and hear about a pole dancing funeral. Oh yes. Please try not to leave Edinburgh without witnessing a pole dancing seagull.
This is fun. And funny. And, despite what Sian says, she is very much NOT Hannah Gadsby.
Laughing Horse @ The Counting House (Venue 170) until 27 August
Sam Jacobsen tells us he's known for writing award-wining scripts for the three Ss: stage, screen and school assemblies.
Now, he's here, at the Free Fringe trying out some new ideas. They're currently in sketch form, in what turns out to be the kind of anarchic one-man sketch-based comedy, with lots of costumes, props and audience participation, that constitute a classic Fringe show delivered at the top of a winding staircase – a bit rough around the edges, but the kind of silly fun that you can't really experience anywhere else.
Loosely structured around surreal pastiches of popular TV shows, where the familiar genres of daytime, gameshow and film criticism are mashed together with daily life elsewhere – Wilkos, Weatherspoons, BBC cuts – it provides occasional commentary on life and inequalities in 2020s Britain.
Sam, who's perhaps more confident as a writer than a performer, but is nevertheless giving it a good go, has the air of a young Noel Fielding, as well as a similar taste for weird juxtapositions. Jason Protractorfingers is a highlight. "I think you liked it," Sam says speculatively at the end of it. "Some of you looked confused, but that's how I like it."