Edinburgh Festival Fringe comedy reviews: BriTANick | Andrew White | Jordan Brookes | Josh Jones
Sketch comedy is alive and well while explorations of sexuality provide several new stand-up shows with a gently provocative edge, finds Jay Richardson
If sketch comedy is dead, then no-one's told BriTANick, their spooky opening bit emblematic of the smart silliness about to unfold, the American duo's hour a succession of frustrated characters trapped in situations they can barely comprehend. Brian McElhaney and Nick Kocher have the attuned ease of a long-time double act and each skit is a self-contained gem in itself, with not a bum note among them. But the pair increasingly let their personas define the show, as it's disrupted by, and to an extent, powered by Kocher's pent-up sexual frustration – his fiancee's insistence on abstinence before their Covid-postponed marriage giving him a mania that upsets McElhaney's pretensions to artistry. These external, running threads are introduced just as a sketch has concluded, ensuring that there's no lulls between them, sustaining momentum, even as they increasingly bleed into the individual skits too. One about a short term memory loss clinic is knowingly Pythonian and there's amusing luxuriance in language in their Shakespearean pastiche.
Elsewhere, though, they're winningly contemporary: a gay date conducted without mobile phones for intimacy is undermined by pigheaded ignorance, one of a few examples in which the pair elicit laughs by overtly acknowledging the optics of two straight white males depicting minorities. Just when you think they've peaked in their daft New-York-tour-guides-extolling-local-hostelries bit (featuring increasingly inappropriate gestures of recommendation), BriTANick add a whole other level of outré darkness. Similarly, Kocher's crazed, hallucinatory horniness ultimately threatens to consume both McElhaney and the audience, a primal wildness that satisfyingly runs contrary to the precisely executed, gag-studded set-pieces that have suppressed it. With this deliriously funny introduction, BriTANick are offering something a little bit unique in the depleted field of sketch. And for the good of the genre, it's to be ardently hoped that they'll now become Fringe fixtures.
Andrew White (But Not in a Gay Way) ***
Just the Tonic at The Caves (Just the Wee One), until 28 August
Andrew White's first explicitly gay show has plenty to recommend it, from the openly stated immediacy of someone still finding his place in gay culture, and defining themselves before your eyes, to the endearingly warm, welcoming way he draws you into a tale that's both ridiculous and addresses serious points about lingering prejudice. With a repeated insistence that his actions were "the only logical thing" he could have done, he recalls moving from Salisbury to Bournemouth, neither a Mecca for man-on-man activity, but enjoying a hook-up nonetheless. Unfortunately, the guy then started ghosting him, with White deflecting his pain onto outrage that he'd kept some of his clothing, conceiving a tongue-in-cheek plan to track his target down through acquiring celebrity, with all its attendant power. Appreciating that he'd need to get more comfortable with himself for fame first, but accustomed to the small town vibes of charity shop couture, White found himself unprepared for a gay urban nightclub experience and getting treated differently by the NHS since coming out. Enthused by the growing visibility of Pride in mainstream culture though, the course of true love, or even stalking, doesn't run completely smooth. Yet White relates his yarn with a cheery, puckish wit and effortless amiability that keeps the pathos to a minimum.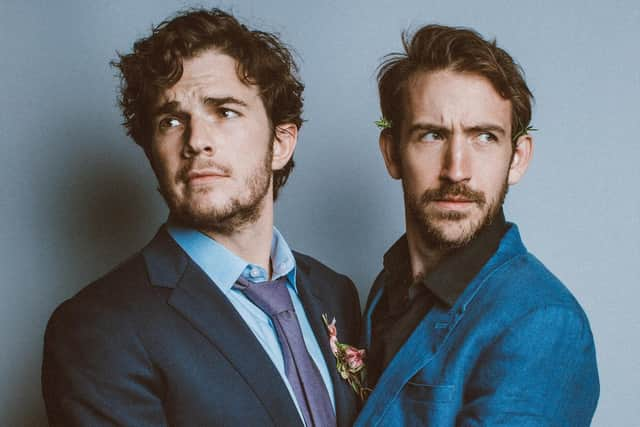 Jordan Brookes: This Is Just What Happens ****
Monkey Barrel Comedy (Monkey Barrel 3), until 28 August
Although This Is Just What Happens is, by any metric, Jordan Brookes' most accessible hour to date, that's still within the relative parameters of his challenging, ambiguous comedy. Coming out smiling, the 2019 Edinburgh Comedy Award winner indulges in some sustained crowd work, striving to assert that he's a "nice guy", only an occasional blurted aside or unsuppressed violent bark confirming that he's not had a personality transplant. It soon becomes evident, though, that he's going out of his way to counter any perceptions of himself as a "slimeball", an assessment he received three years ago that has dogged him ever since.
That wounding remark underpins a scathing self-analysis, in which Brookes dissects his personal relationships, his feelings about his body, his internal well-being and his sexuality. Veering from his belatedly lost virginity to more recent, regular trips to "fucktown" after long periods of monogamy, Brookes lays his vulnerabilities bare, yet in such a knowing, calculated manner that the mask of casual conversation and good humour repeatedly drops. With sly amorality, he also notes that any behaviour can be justified these days with recourse to mental health issues, the whole show a response to his anxiety. Affording some sense of the mindgames he's playing with the crowd and the shifts in tension he's initiating, at one point he directly enquires: "Do you believe that I believe that?"
Suggesting that nobody's irreproachable, he raises questions about late national treasure Captain Tom and conjures an inappropriate fantasy about his uncle, disturbing little touches that keep the show feeling edgy and never fully fathomable, all the while reiterating its dark, confessional nature. As ever, Brookes' shipwrecked-like appearance, lank limbed physicality and expressive face evoke a performer teetering on the brink of sanity, tugging at the threads of his psyche to see what unravels. All richly entertaining and gently provocative too.
Josh Jones: Waste of Space ***
Pleasance Courtyard (Bunker Three), until 28 August
Coming up in the working men's clubs of the north-west of England, Josh Jones maintains he got away with murder, evolving an ultra-camp persona that he periodically breaks with sudden, thuggish threats of violence, lest you think he's all mouth and no trousers. Reliably funny, in his debut show, the 29-year-old nevertheless presents a slightly more rounded character, principally as an accident-prone disaster. Recalled with only a sliver of shame, representing as they do a significant well of anecdotes to draw upon, Jones is breezily mortified about the repeated episodes of self-inflicted injury and his cringing, social embarrassment, some of the consequences still visible on his body and listenable on BBC radio. As a dyslexic who struggled at school, he's only now applying himself to education. And having come out at 19, he's still very much on a voyage of self-discovery, his preference for nerdy men he can intimidate, flipped on its head by the serial killer manqués that pursue him online. Encountering class, regional and sexual stereotyping in the entertainment industry and beyond, he gets to lord it over the straights in his forthright closing routine, having earned the right to nourish himself on their clumsy, fumbling shame by asserting his superior sexual technique.