Edinburgh Festival Fringe Comedy Reviews: Attack of the 36 Triple-G Woman | Olga Koch: Prawn Cocktail | Robin Tran: Don't Look At Me | Sid Singh: Table for One
Natalie Perlin and her "gloriously appalling comedy brain" gets the five star treatment in our latest round-up of Fringe comedy reviews.
Attack of the 36 Triple-G Woman *****
TheSpace @ Symposium Hall (venue 43) until 19 August; TheSpace @ Surgeons Hall, 21-26 August
Move over Jerry Sadowitz, your nemesis is here and she is one of a kind. Natalie Perlin is an absolute revelation, plunging deep into comedy's darkest depths with a delight and relish I have not seen in a stand up since we 'woke'.
The little girl voice and the Big Girl Boobs are an unforgettable front for a breathtakingly, gloriously appalling comedy brain. This is oestrogen-powered funny and it is fabulous, albeit not for the faint-hearted. Now, strap in people because your laughing parts have never had a ride like this.
Standing in skin tight leopardskin, cleverly designed to barely take the strain, she spreads giggles across guffaws and gasps through her hour. It is packed like a 36-GGG bra with her love of pissing and ice cream, her thoughts on transactional sex and Jewish Camp, her Daddy issues, her OnlyFans fame (with a touching side meditation on the forgotton butthole), and then, with the sweetest of smiles, she sashays us down to a place where laughter almost never goes (and certainly not in skintight leopardskin and kitten heels) - Nazi Germany.
She terminally bitches Anne Frank for starters before dropping the funniest fantasy bomb of any Fringe I can remember. As it explodes over our funny bones, I will just say, fans of Hitler are in for a hilarious surprise. Also, fans of sex talk, time travel and creative ways to have prevented the Holocaust.
In a Fringe where so very much of the comedy is, this year, trotting down the same couple of paths, Natalie Perlin is a glorious burst of fearless female funny. This is what we used to call 'bad boy' comedy reborn. And this bad boy has 36-GGG breasts.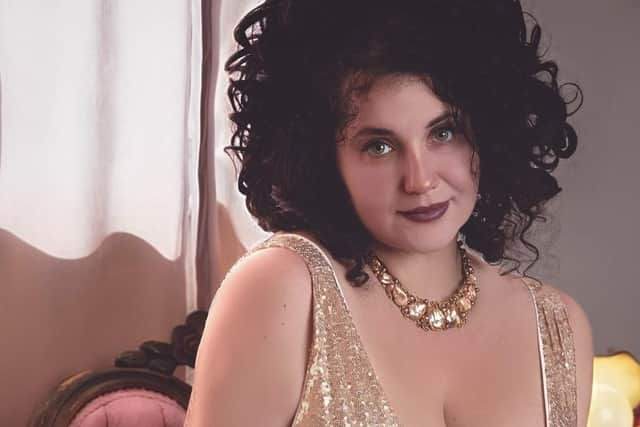 Olga Koch: Prawn Cocktail ****
Monkey Barrel Comedy (Venue 515) until 27 August
As one of the most boundary-free, vivaciously charismatic stand-ups currently plying their trade in UK comedy, Olga Koch has brought increasingly interesting shows to the Fringe, with her latest, Prawn Cocktail, blurring her personal, professional and even academic lives together. The worldly performer has lately been studying parasocial relationships and the phenomenon of "reply guys" on the internet, essentially random men jumping onto the social media of female celebrities and being inappropriate because part of them believes they have a relationship, even if their rational selves know that isn't true. As a comic of some standing with a reputation for uninhibited material about her personal life, Koch has been her own test subject, with all the messy consequences and inspiration for this show that you might predict.
Straddling the sexual spectrum of nerd and libertine, a one-night liaison at a wedding inspires the cosmopolitan, bisexual Koch to plan an intimate reunion with her conquest months in the future in Tokyo, the remote couple's lengthy foreplay chiefly consisting of travel admin and spreadsheets. An experienced woman in her 30s, Koch nevertheless recreates her girlish excitement, the daring, romantic nature of the rendezvous bringing an energy that's a great vessel for her quippy wit, alternately full of bravado and self-mockery as hindsight can't help but brought into play.
Suffice to say, not everything turned out as planned. And Koch realised that she may not have kept the requisite firebreak from her studies that she probably should have. That she also brought a narrative denouement worthy of a carefully structured Fringe show to her sex life, while her relationship status remained chaotic and in flux, suggests that she no longer retains any boundaries whatsoever, which is more power to her comedy at least.
Jay RichardsonRobin Tran: Don't Look At Me ***
Assembly George Square (Venue 8) until 27 August
Robin Tran is not here in Edinburgh to represent anyone except herself. She takes the stage in a long floaty dress with a little pink bow in her hair and tells her story of how she grew up in a Vietnamese neighbourhood of San Francisco with parents who barely spoke English.
It's been a long road. Tran gets a lot of mileage sending up stereotypes, both of transgender people and of Asians. Vietnam war movies look quite different from her perspective. And white straight people ask moronically obvious questions – about her race, her gender and her orientation.
Tran confounds expectations, flipping other people's assumptions with neat elegant humour. She's not mouthing any cliches or pursuing an agenda – she's just trying to be herself and wants to tell us how she got here. She's resolutely upfront, about mental health, masturbation and her own sexual preferences. And her account of all of these is refreshingly uninhibited and down to earth. At the heart and soul of this story is self-acceptance and hope. Tran explains how she resolved her own internal conflicts through a journey of self discovery. The tale of how her parents came to their own understanding and acceptance is both surprising and genuinely moving.
Sid Singh: Table for One ****
Laughing Horse @ Cabaret Voltaire (Venue 338) until 27 August
It should be pointed out that this hour in the Cabaret Voltaire is not just about thinking and laughing and enjoying a great show (it is all that) but that 50% of the bucket is going to the Centre for Gender and Refugee Studies, so you will be laughing and doing something good.
And you will laugh. Sid Singh has been a pretty good, smart comic for a while now, but in this show, it somehow all clicks. He owns the stage, but he is relaxed. And the hour is rammed with good stuff. He is Indian American and has enjoyed a chequered history involving homelessness, visa problems, sibling envy, law school, a degree that never was, time at Oxford and a mantra for living a life on the side of the good buys that I think we can all get behind.
The show flies by and the fairly disparate parts of Sid's hour somehow have a cohesion that you might not expect. BTW, look out for Sid's friend Jeff (quite the character) and Sid's family (also probably a show on their own) popping up to break up the political stuff. But this is a man (Sid, not Jeff) who helped defeat Trump twice in court (using money from Fringe buckets), who has stood up to the threat of jail for doing political comedy where it is no longer permitted, who knows the difference between a New York Liberal and a California Liberal, has interesting thought on non-binary pronouns and who knows his Refugee Law.
You will get Beyonce, Covid and stupid judges from Sid, and I will let him share his advice for the real way forward with you. But he is, quite possibly right. He is also very, very funny.