Edinburgh Festival Fringe cabaret & variety reviews:  Laurie Black | Amber Topaz | Magic Faraway Cabaret with Mr Meredith
Amid the speak-easy like glamour of the Voodoo Rooms critic Ben Walters finds much to enjoy in cabaret shows packed with jokes and inventive musicality
Laurie Black: Dystopiano ****
PBH's Free Fringe @ Voodoo Rooms (French Quarter), until 28 August
For many years, the Voodoo Rooms in New Town have been a key site for cabaret at the Fringe, especially musical comedy and magic. It's a warren of small and medium-sized spaces, not all necessarily equipped with the most sophisticated technical set-ups to be found at the festival but all benefiting from the venue's vintage speakeasy glamour and charm. The site actually houses two programmes – an in-house paid season, programmed in collaboration with Blond Ambition, and a collection of shows presented by PBH's Free Fringe. It's therefore easy, and very pleasurable, to lose many hours moving between cocktails and shows.
In 2019, rockabilly goth punk synth-rock cabaret act Laurie Black presented a set here about how we've all screwed up the planet so much that she wanted to blast off and live on the moon. As you'll have noticed, things haven't exactly improved since then. Black's new Free Fringe set, Dystopiano, doubles down on the pessimistic prognostication, taking thoroughly justified swipes at macho space capitalists, grotesque deep-sea mining concerns and the worst thing about the internet (the answer may shock you!). Black's preferred psychological coping mechanisms are existentially bracing – think post-human and post-hope – but delivered with an agreeably laidback, nonchalant vibe that keeps things amusing and upbeat even when the most alarming aspects of the wider world are up for consideration. That said, there are moments of sheer outrage and frustration too – call it 80 percent shrug, 20 percent scream.
Black's musical prowess and dry sensibility are complemented by plenty of jokes. Her inventive musicality is what gives the show its distinctive formal edge, and earned her a spot supporting Adam Ant on a recent tour. You can feel the love for her craft: in one number, Black serenades her instrument, hailing a romance that's "more tape and wires than chocolate and flowers". Combining assured synth skills with real-time drum loops and sampler work, the songs span jaunty, ethereal and rocked-out registers, from space dream to grunge pastiche. Indeed, there's a Nirvana-inspired number about PMT that brings to mind a comparable parody from The Day Today.
Amber Topaz: Greying Still Slaying ***
The Voodoo Rooms (The Ballroom), until 28 August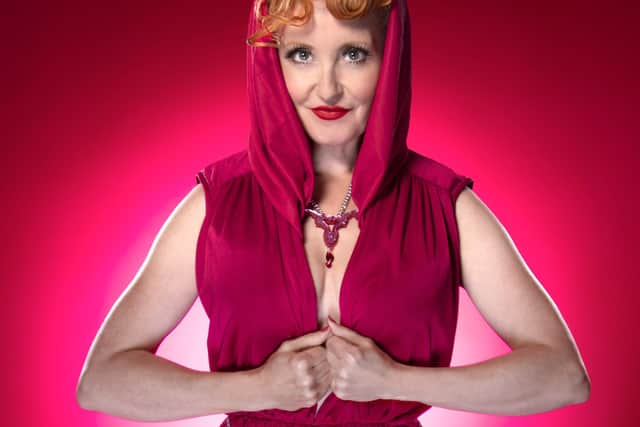 Across the venue, in the paid programme, Amber Topaz has plenty of material on menstrual themes too. Greying Still Slaying is an impassioned show from the award-winning cabaret artist about sex positivity, feminism and getting better with age. Clad in a scarlet harem pantsuit she appreciates for its resemblance to a giant vulva, Topaz leads us through a wide range of subjects, including the shortcomings of sex education at school, the frustrations of online dating and the dubious values of self-care rhetoric. There's some audience participation too, including a version of pin the tail on the donkey that would not be suitable for children's parties.
Topaz has a rich, melodious voice that she puts to strong use in a range of tongue-in-cheek ditties, from Kate Bush to country music. Aside from the musical chops and some fun clowning, other aspects of the show feel underdeveloped, such as the characterisation of comedy personae and the expansion of politically charged facts and personal experiences into sustained arguments and stories. But Topaz's sincerity and passion are never in doubt, and once you've heard Hot Stuff reworked as a perimenopausal anthem, it will never sound the same again.
Magic Faraway Cabaret with Mr Meredith ****
PBH's Free Fringe @ Voodoo Rooms (Speakeasy), until 28 August
The Free Fringe at the Voodoo Rooms also offers a couple of long-running nightly mixed bills presenting spots from different cabaret acts from around the Fringe. The Magic Faraway Cabaret is a festival stalwart, notable for its range of eclectic acts who watch the show from the back of the room, often helping or hindering one another to jovial effect. It's hosted by masterful doyen of the singalong, Mister Meredith, though the night I went he was very capably covered by savvy chanteuse Elsie Diamond. On the bill were the charmingly outré Ada Campe, who brought the house down with her musical recollections of a night gone intercontinentally awry, and the slickly self-deprecating illusionists Griffin and Jones, who have their own show at the venue too. They also host an even later-night mixed bill there, the Lock-In Cabaret, if you're tempted to stay on at the Voodoo Rooms into the wee small hours.