Edinburgh Festival Fringe cabaret reviews: Jinkx Monsoon: She's Still Got It! (With Major Scales) | Life is Soft
In our latest round of cabaret reviews, a dynamite blast of punk rock attitude from a Ru Paul's Drag Race queen, and some fuzzy musical philosophising from a Turner Prize winner. Words by Claire Smith and Fiona Shepherd.
Jinkx Monsoon: She's Still Got It! (With Major Scales) ****
Assembly George Square Gardens (venue 3)
One of the great joys of this show is the genuine double act between over the top, hyper glamorous, highly strung Jinkx Monsoon and their pianist Major Scales. Monsoon is a riot of red hair, outrageous curves and glittering jewellery. Scales, who bears a resemblance to John Waters, is a repressed bundle of nerves in a checked suit.
Musically they are dynamite together, belting out show tunes, rock and roll and ballads - all with a punk rock attitude. Scales reproves Jinkx for their drinking, steers them away from a tendency to wallow in depression and goads them into creating an upbeat show - despite their drug and alcohol induced paranoia.
The inter song squabbling gives Monsoon plenty of opportunity to be outrageous, petulant, decadent and very very funny. Monsoon, style a la Lucille Ball, is now drag royalty - having won the fifth season of Ru Paul's Drag Race and the most recent season of Ru Paul's Drag Race All Stars.
Their fame has packed the Spiegeltent, but Monsoon barely mentions television - instead treating the audience to a glorious evening of real, full-blooded live cabaret.Monsoon belts out big numbers like the biggest star on Broadway, a funny, quirky, larger than life diva who lights up the room from the moment they step on stage.
While their favoured voice is squeaky old fashioned Southern belle they occasionally lose patience and snarl in an absurdly deep voice. Monsoon's politically charged wit acknowledges environmental disaster, economic strife, mental ill health and prejudice, while at the same time offering us a big irresistible glittery escape route. .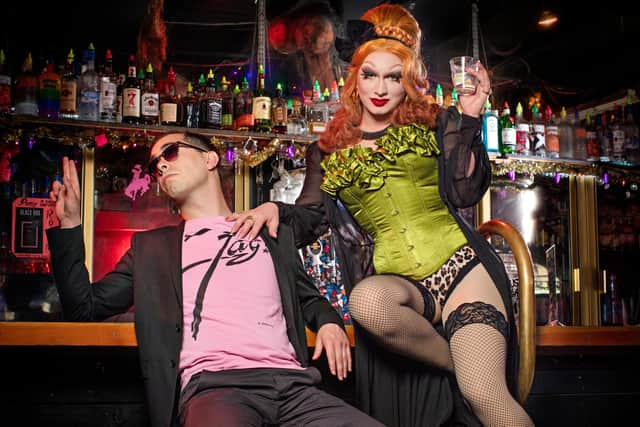 For the rousing emotional finale Monsoon and Major Scales deliver a stunning version of David Bowie's Life on Mars. At the end the audience leaps to its feet as one, for a well-deserved standing ovation. Claire Smith
Artist Martin Creed famously won the Turner Prize in 2001 for an installation involving lights switching on and off. He subsequently created the more tangible marble Scotsman Steps in Edinburgh, neon signage for the Scottish National Gallery of Modern Art and a minimalist ballet for the Traverse.
Over the past decade he has gravitated towards wordplay and music as a means of expressing his fuzzy philosophising. Actually, every word of his mixed media meander Life Is Soft is carefully considered, even though Creed would never convey anything as absolutist as certitude, moral or otherwise.
Instead, he enjoys being the mad professor in Summerhall's atmospheric Anatomy Lecture Theatre, wearing customised clothes, homemade hats and rubber gloves – for a glove song – using the blackboard to illustrate the shape of love and demonstrating bum piano and vague guitar.
His songs are naïve yet wise, like a less surreal Ivor Cutler (who would probably have approved of his prototype Covid earmask), and his winning humility and preference for posing questions rather than delivering answers is refreshing in a culture of braying pronouncements and stalemate debate. Creed might even set the world to rights if that wasn't too precise a mission. Fiona Shepherd