Edinburgh Book Festival reviews: Jan Carson, Fergal Keane & Aoife Moore | Anna Funder
David Robinson learns a lot about Ireland North and South, and the partner of a literary great
Two panellists I'd never heard of, a subject – basically, whither Northern Ireland? – that too easily slips into obvious tribal tracks: the first event of the day in the Baillie Gifford Sculpture Court might have sounded a bit of a hard grind, a worthy but hardly enjoyable chat about identities and loyalties.
In the event, it was my third excellent Book Festival event on the trot. For a start, there was Fergal Keane, and no-one who heard his spellbinding event with his friend Allan Little on Thursday night about his struggles with PTSD and alcoholism will need any reminder about his openness and eloquence.
In it, he made a point that also applied in yesterday's nuanced and lively discussion: that violence can be transmitted across generations (a fact that may be borne out by the atrocious Northern Ireland suicide rates) and that we are all readily capable of it.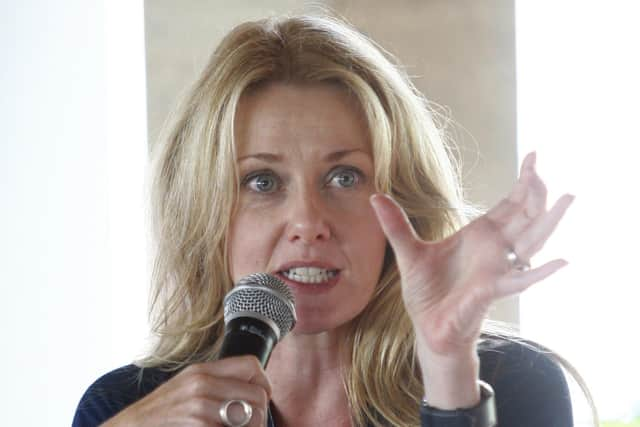 From Northern Ireland itself were novelist Jan Carson, her Ballymena background every bit as Protestant as her surname, and Derry-born journalist Aoife Moore, whose uncle was killed on Bloody Sunday, and whose book about Sinn Fein is coming out next month. Both were sharp-witted and engaging, as indeed was Glasgow's own Ruth Wishart, who steered the chat away from predictability with her customary adroitness.
While Keane fessed up to the smugness and insincerity of his Southern Irish compatriots, and Moore admitted that "my mum would love a United Ireland but she's not paying to go to the doctor's", Carson highlighted the work the arts (five times better funded in the South than the North) can play in breaking down sectarian barriers – a massive task when, as she pointed out, Northern Ireland spends £600,000 a day "keeping our schools segregated".
Asked whether we'll ever see a United Ireland, Keane said he just didn't know. If it does, he said, people will have to be far more empathetic: only then will real change come. That, said Carson, was the lesson of her own life.
"The first time I came to the Edinburgh Festival I was with an evangelical Protestant mission. I was telling you that you were all going to hell. How I changed is that people accepted me – even though they knew I was a fundamentalist bigot."
I bet all of the panelists will have read a fair chunk of Orwell, but surely none can have done so with the forensic feminism of Anna Funder. To many, Orwell is Saint George, as good a chap as any old Etonian can be expected to be, a clear, brave writer fully deserving the six – six! – major biographies about him.
Funder's Orwell is a portrait of the artist as seen through the eyes of his wife, Eileen O'Shaughnessy, who was largely written out of Orwell studies until the discovery of a small cache of letters in 2005. These, though, clearly entranced Funder, and it's easy to see why: the woman in the letters is bright, funny and engaging.
Here, for example, she is apologising to a university friend for not writing to her for so long: "I lost my habit of punctual correspondence during the first few weeks of marriage, because we quarrelled so continuously & really bitterly that I thought I'd save time & just write one letter to everyone when the murder or separation had been accomplished."
Yet look for Eileen in Orwell's writing and you don't find her. He doesn't mention her by name in Homage To Catalonia even though she saved his life and played a more important role. Afterwards, she persuaded him not to write a full-on attack on Stalin but something more like the fables she'd been taught by Tolkien while studying at Oxford. Result? Animal Farm, which even Orwell's publisher Fredric Warburg realised was in a different league to his "rather grey novels".
Funder trained as a human rights lawyer and marshals her arguments convincingly: the misogyny of Orwell's writers' notebooks; his affairs after marriage; his inaccuracies; his biographers' neglect not only of Eileen but also of Orwell's own suffragette relatives; above all, the way in which everything Eileen did to help him is ignored, minimised or taken for granted.
Her book, she insists, isn't an attempt to overturn Orwell's reputation, just an attempt to "enrich the picture of the man behind the work – and the woman behind him".