Edinburgh Book Festival reviews: Alan Warner and David Greig | Colson Whitehead | William Letford | Jen Calleja
Two weel-kent Scottish writers enthused about their respective experiences of reworking moments from Scotland's history into novellas, while a double Pulitzer prize winner transported the audience to another world
MAKING old stories new was the focus of a superb event at the Book Festival yesterday [Wednesday] featuring Alan Warner and David Greig. They are the latest writers to be invited to contribute to Polygon's Dark Land Tales series of novellas reworking moments from Scotland's history for a contemporary audience. The first two were Denise Mina's Rizzio and Jenni Fagan's Hex.
Nothing Left to Fear from Hell, an account of Bonnie Prince Charlie's flight following the defeat at Culloden, is Warner's first historical novel, while Columba's Bones (out in October), the story of a Viking left behind after a raid on 9th century Iona, is Greig's first novel of any kind. Both enthused about their respective experiences.
Warner said he enjoyed applying his characteristically visceral writing style to the 18th century, aiming for "hard-edged realism" in his depiction of "demoralised men trekking across midge-infested bogs". "It's very easy to cast the past into myth, but this crazy stuff really happened, so what was it like? I wanted to find a fidelity to something called truth."
Greig, meanwhile, said he had been "enjoying the past as illumination". "In their time, these were the most modern people who ever existed, their ideas were the most cutting edge. The way they saw their world can inform the way we see our world."
Both writers enjoyed the restrictions of being asked to write about a specific period in a relatively short form. Greig, an acclaimed playwright and the artistic director of the Lyceum Theatre, said he had long hoped to write a novel, and had occasionally begun one, but the specific requirements of the Polygon project "suddenly opened the doors". What started out as a "Scandi noir novel set in the ninth century" became more contemplative as he grew to enjoy the company of the Iona monks and their world.
Warner felt grateful for the precise historical timeline of Charles Edward Stuart's movements after Culloden, but also for the "gaps where imagination can take over". We know very little about the 25-year-old Prince's own thoughts, and he deliberately chose not to imagine them, prefering to leave this famous, infamous, mercurial man as an enigma.
Book festivals, at their best, take us to other worlds, and the previous evening double Pulitzer prize winner Colson Whitehead took us to the Harlem of the 1970s with his new novel Crook Manifesto, the second part of the trilogy which began with 2021's Harlem Shuffle.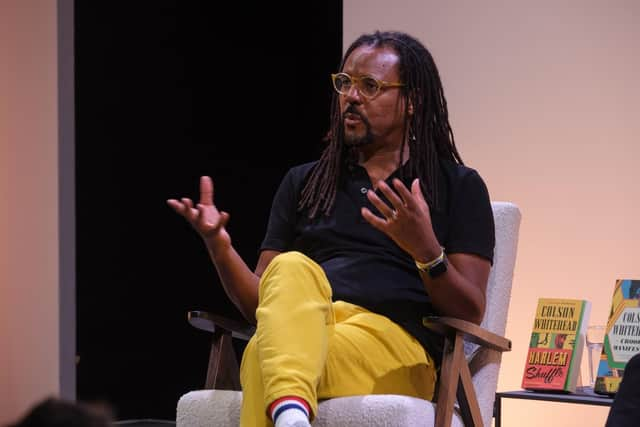 He picks up with his protagonist, furniture dealer and fence Ray Carney, seven years on from the first book in a nearly bankrupted New York where crime is at an all time high. Harlem Shuffle began as a heist novel, a chance to write with pace and humour after two heavyweight books, The Underground Railroad and The Nickel Boys. But it wasn't long before the project began to take on its own epic proportions. Pulling back, Whitehead sees the trilogy as "a 1200-page story of a character and a city".
Many in the sell-out crowd at the Book Festival had clearly devoured the first two books of the trilogy already and wanted to discuss characters they had come to know and love. That's the thing about the best fictional worlds: not only do they become so real they merge into our own world, they also create communities of readers who feel the same way.
Some of the most intriguing fictional worlds are those which speculate about the future. Poet William Letford read from his long awaited new book, From Our Own Fire, which alternates poems with short pieces of prose, and combines stories from his family with a speculative AI component. He shared the stage with writer, translator and publisher Jen Calleja, whose dystopian verse novel, Vehicle, is set in a the mid-21st century, in a society where researching and writing about the past is forbidden.