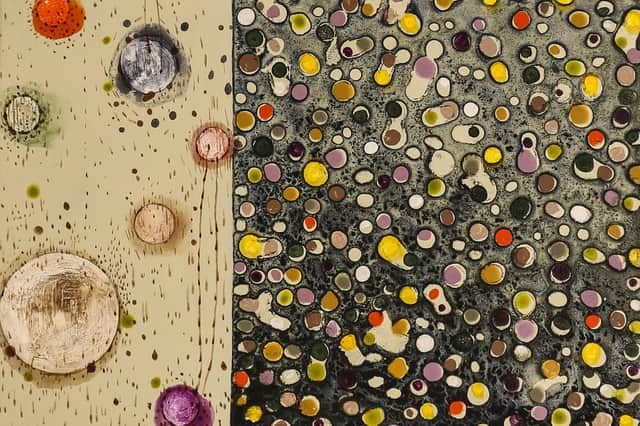 Nothing's Guaranteed: Exhibition of Bosno-Futurism ***
No Callback: Diana Zwibach ****
Balance: Iain Patterson ****
Ecologies of Displacement: Farrukh Addnan and Michele Marcoux ****
All at Summerhall, Edinburgh
The guiding spirit of Richard Demarco presides over the summer art programme this year at Summerhall. It is as if the legacy of the Demarco Gallery has leaked out of the rooms where the archive is stored and wound its way along the corridors to keep the gallery's spirit of innovation and connection alive and well.
Nothing's Guaranteed: Exhibition of Bosno-Futurism, in the Basement Galleries, is the first exhibition of contemporary art from Bosnia in Scotland since Bosnia and Herzegovina became an independent country in 1992, but Bosnian artists have shown in Edinburgh before as part of the Demarco Gallery's presentations of art from Yugoslavia in the 1970s and 1980s.
Bosnia has little infrastructure to support artists – of the six artists in this show, most have a base elsewhere. Also, art in Bosnia is still shaped by the war of 1990s, either addressing it directly or struggling with the expectation that it should address it. Here, Aberdeen-based curator Jon Blackwood adopts an approach inspired by Afro-futurism: sidestepping a difficult history by imagining a future in which that history is not significant.
Aiming for "commonalities" across the cultural divide, Blackwood takes a minimal approach on interpretive information which makes this a tricky show to absorb. The most accessible work is Mladen Bundalo's Uncertainty Principle: BYINTEK Projector, which gives a voice (and a personality) to a low cost video projector from China bought by the artist online. The story of the purchase, the artist's subsequent complaint and its (partial) resolution seems all too familiar, a deconstruction of our globalised online economy.
Igor Bosnjak's animation simulates drone footage of a ruined landscape featuring the forms of "spomenici", post-war monuments to the Yugoslav Communist struggle now fetished online. Lala Rascic's film is a version of the Arachne myth which is (perhaps appropriately) difficult to disentangle. Maja Zeco's installation is a place of throbbing sound and strobe lights, Yugoslav-made lace and UNHCR aid sacks, suggesting a difficult past and an uncomfortable present.
Lana Cmajcanin's Anatomy of Speech addresses issues of language, and how it has been complicated in the post-Yugoslav space, breaking down communication between people who previously shared a common language. Sasha Tatic's photographs of a raw clay "heart" held close to a human heart communicate something direct about attachment to place. However, in general, these works speak more to the specificity of the Bosnian situation than to shared concerns.
Diana Zwibach was born in Serbia, and now lives in the UK, and her exhibition, No Callback, in the War Memorial and Sciennes Galleries, is one that would not have been out of place in the Demarco Gallery in its heyday. Her expressive figurative work – painting, drawing, printmaking – leans in to a tradition of European modernism led by Chagall and Soutine.
The body of work here, however, has a very specific genesis. The loss of Zwibach's husband shortly before the trauma and bewilderment of the pandemic brought about a mental and physical collapse. Returning to her work, she began to tear up previously complete paintings, drawing and prints and collage them together in new ways, adding new marks, figures, words.
These 59 works show how her energy earthed itself in a new way of working. Figures are grouped anew, sometimes with a silhouette distanced from the others, yet attached. Words, phrases and cut-out newspaper headlines all find their way into the work. Some of the collages are three-dimensional, like the group of tall cylindrical columns; others were used to make fabric which covers a grand, throne-like chair. There is an energy here which speaks of work made in the direst of circumstances, destruction which becomes a new kind of creativity.
Iain Patterson, an Edinburgh-based artist who taught painting and drawing at Edinburgh College of Art for some 30 years, had his first exhibition at the Demarco Gallery in 1971. He would go on to forge important connections in Poland, Yugoslavia, Hungary and Czechoslovakia in the 1970s which continue to this day: the publication for this show is in four languages.
His show in the Lab Gallery is a major collection of work, an oeuvre built up over decades. The paintings are not dated, so it's not about tracing a chronology. What comes across most clearly from these works, which range from postcard-size up to large-scale, is the consistency and distinctiveness of the style.
They are abstract works, inspired perhaps by landscapes and weather, stones and constellations, as well as intangibles like mood and music. However, like many abstractionists, he works within a series of self-constructed rules: a limited palette of black, grey, white, ochre and sometimes blue; a lexicon of forms and techniques, compositions and gestures.
They are works which balance different qualities: freedom and formality, simplicity and detail, spontaneity and craft. They are product of the hand and eye of mature artist. Drawing on precise and thoughtful ways of seeing, they have their own distinctive beauty and repay time spent looking.
In the Meadows and Corner Galleries, two contrasting artists come together in Ecologies of Displacement. Farrukh Addnan, based in Lahore, and Edinburgh-based Michele Marcoux met during an online residency in lockdown funded by Creative Scotland and the British Council. Though their work could scarcely be more different, both are drawn to look back at childhood homes, Addnan's in Tulamba, an ancient archaeological site in the Punjab, and Marcoux's in Cleveland, Ohio.
Addnan makes tiny, ultra-controlled marks on paper with a fine architectural drafting pen, sometimes so small they are barely visible, creating abstract patterns which reflect elements of changing urban landscape. Marcoux makes impressive multi-layered paintings on the pages of newspapers, drawing on childhood memories placed within domestic settings. They recall moments which have been important, personally or politically, including the day the Cuyahoga River caught fire in 1960s, pointing up the dangers of toxic industrial waste, and the day protesters against the war in Vietnam were shot at Ohio's Kent State university.
Both artists include work on a large scale: Addnan's impressive River is a canvas which "flows" from floor to ceiling, nevertheless bearing laboriously detailed marks in ink and wash, while Marcoux fixes together an entire edition of the Financial Times to create a kind of wall hanging. The larger her works, the more expressive they become.
Despite – perhaps even because of – the contrasts between them, in this show curated by Sana Bilgrami, the two bodies of work circle around one another making a stimulating conversation about a common theme.
All exhibitions until 25 September