Edinburgh Art Festival review: Ten Artists
There's no official Edinburgh Art Festival this year, but that doesn't mean there's nothing to see as you roam around the capital, writes Susan Mansfield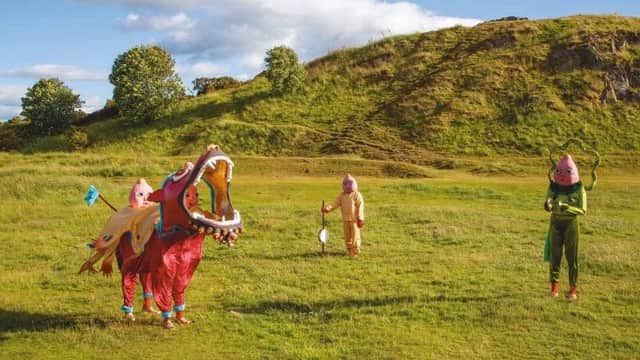 There's got to be an explanation!" The words come from behind me, from a small group of people scrutinising Tam Joseph's Hand Made Map of the World, now displayed on a billboard on Edinburgh's Middle Meadow Walk. The Caribbean-born artist has replicated the world map, swapping the names of countries: America becomes China, Greenland becomes Australia, the UK becomes Cuba, Mexico becomes Saudi Arabia.
It's both playful and pointed, a comment on the meaningless ways parts of the world get carved up due to the territorial ambitions of others, and how that map comes to be regarded as an authority in itself.
Of the various billboard commissions around the city to mark the dates of this year's Edinburgh Art Festival, this one is arguably the most successful. Next to a footpath on the Meadows, it is situated in a place where people can stop and look. They do and they are quickly fascinated. Works beside busy roads face a tougher challenge: can they make their impact in the time it takes to thunder past on a bus?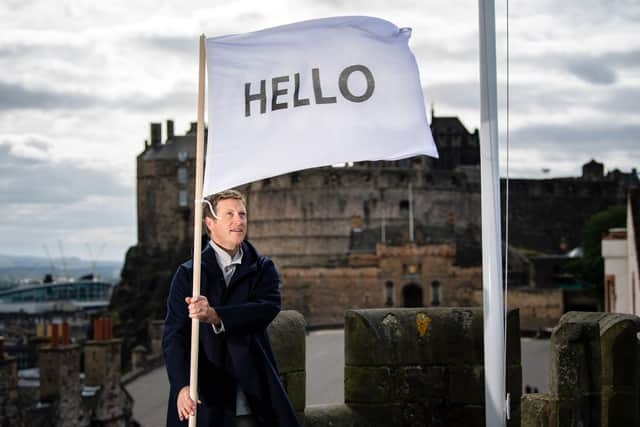 Ellie Harrison's poster, Tonnes of carbon produced by the personal transportation of a "professional artist" needs more time than the bus test allows. The table shows the artist's annual carbon footprint for 15 years. As lockdown has given us all a taste of staying put, and a sense of the obvious environmental benefits, Harrison hopes to reignite the debate about reducing our carbon footprint. It's all important stuff but, on the hoardings at Meadowbank, it risks having its message drowned out by (ironically) the traffic rushing past.
Of the ten artists commissioned by EAF in this strangest of years to make outdoor or web-based work, some address the times directly, while others present archival work on which the circumstances cast a new light.
In 2014, Peter Liversidge flew white flags above a range of public buildings in Edinburgh emblazoned with the word "Hello." In these very different times, and on more buildings than previously, the flags illustrate how much the mood of an artwork is shaped by the viewer. In this post-lockdown moment, the city is a patchwork, some businesses cheerfully open, others still cautiously shuttered. The public mood vacillates day by day between optimistic recovery and fearful speculation about a second wave. On good days, Liversidge's flags are a bright greeting, welcoming people back into the public realm. On other days, they are questioning, like heads thrust above the parapet, checking to see if anyone else is still there.
Glasgow-based Tamara MacArthur addresses isolation and intimacy directly in new work It's All Over But the Dreaming. In this one-off performance (a film of which will be on the EAF website from 10 August) she sits in a storybook set of a storm-tossed island, cradling an adult doll. Close-up (in a break-out room on Zoom) we can hear her desperate words of reassurance, crooning snatches of songs and stories to create a web of comforting fantasy, all the more poignant because she clearly doesn't believe it herself.
Calvin Z Laing's new film, Calvin & Jogging (on the EAF website on Thursdays at 7pm and Saturdays at 11am) also addresses the lockdown experience. Using his characteristic piece-to-camera storytelling format, Laing embarks on a long tale about forgetting his locker code at the gym, while walking the streets of the Edinburgh suburb where he grew up.
But the film was written on 28 March, at the height of lockdown, and it is the mood of this time which seeps in: of avoiding others in the street, disinfecting shopping, wondering if your reaction is over-anxious or not anxious enough. There are hints of the simple challenge of staying sane in an unreal time.
In 2015, Hanna Tuulikki and collaborator Daniel Padden performed Sing Sign: A Close Duet in the closes of Edinburgh's Old Town. The song is a "hocket," a melody sung by two voices in a constant alternation, baroque in flavour (with splendid baroque costumes) and taking its rhythm in part from a map of the area. The two-screen film shows Tuulikki and Padden pulling off this difficult feat brilliantly, but the film also speaks to isolation and fragmentation. The artist is planning a new online performance for EAF (see website for details), in which she and Padden each sing from their homes, exploring the limits of the web-based communication we have all become so used to.
Other artists use the opportunity to extend existing bodies of work. Rae-Yen Song continues Song Dynasty, an ongoing archive of family portraits, with a poster at the former Odeon Cinema in South Clerk Street and an online film (the EAF website redirects to songdynasty.life, to the first work in the artist's online archive). Song maintains a strong aesthetic across costume, animation and film, and the endless looped procession enacted by people in semi-traditional costume seems to speak to the difficulty of the diasporic journey.
Ruth Ewan created Sympathetic Magick for the 2018 festival, recruiting magicians to join the throng of festival street performers with politically inspired tricks. Her poster series returns to a slogan from that project, but the posters (at various locations around the city) are arguably too small to pass the bus test, unless through a series of cumulative sightings. Her short film for the EAF website, made with magician Billy Reid and with music by Dick Gaughan is, on the other hand, succinct, clever and moving.
Finally, there is a chance to see two outstanding film works again: Rosalind Nashashibi's duo of films shown at Modern One last year, and Shannon Te Ao's two-screen work With the sun aglow I have my pensive moods, part of the 2017 festival. It is possible to find new significance in these works in the light of Covid-19: Nashashibi's film is about family and community, weaving deft footage of a trip with children and friends to a Lithuanian beach house with a story about space travel and non-linear time. Te Ao's work is a meditation on intimacy, loss and landscape, shot near his tribal lands in New Zealand.
But, as with Liversidge's flags, we know this comes from us. The works stand on their own merits: their maturity of vision, their marrying of craft and insight. If we see them again in five years time, they might look different again. For now, it is simply a privilege to revisit them.
A message from the Editor
Thank you for reading this story on our website. While I have your attention, I also have an important request to make of you.
With the coronavirus lockdown having a major impact on many of our advertisers - and consequently the revenue we receive - we are more reliant than ever on you taking out a digital subscription.
Subscribe to scotsman.com and enjoy unlimited access to Scottish news and information online and on our app. With a digital subscription, you can read more than 5 articles, see fewer ads, enjoy faster load times, and get access to exclusive newsletters and content. Visit https://www.scotsman.com/subscriptions now to sign up