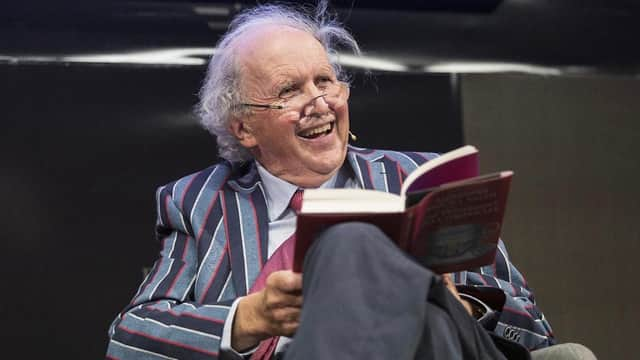 One of Edinburgh's most celebrated authors has warned the city could be destroyed if those leading it turn it into a 12-month festival city.
Alexander McCall Smith, the novelist behind the No. 1 Ladies Detective Agency, 44 Scotland Street and the Sunday Philosophy Club said that the Capital is suffering from a oversupply of tourists.
Speaking at the Edinburgh International Book Festival, in conversation with former Scottish Conservative leader and current Edinburgh Central MSP, Ruth Davidson, Mr McCall Smith said it would be "rather nice" for the city to get a break from the festivals.
The question of overtourism in Edinburgh has dominated discussions about the future of the city centre, particularly in relation to the size of the Edinburgh Fringe and the winter festivals including the Christmas Market and Hogmanay events.
In an online event streamed by the festival, Davidson asked: "Do you think not having not just the book festival in Edinburgh but the international festival and the fringe is something that will allow the city to have a sigh of relief or something that we'll miss terribly?"
McCall Smith replied: "I think probably a bit of both. There certainly will be some people in Edinburgh who have felt that the city has been overcome by tourism and will say well it would be rather nice for us to have a bit of a break from that.
"I think that there is a problem in Edinburgh with excessive tourism. There's a limit to which any city can actually take vast hordes of visitors, Venice understands that pretty well and there are other places where that issue has become quite acute and Edinburgh is one of them where we've seen how tourism actually can bring certain benefits but it can actually also destroy the very thing that people come to see.
"So communities and inner city communities in these popular, beautiful cities have actually in many cases been destroyed by tourism through Airbnb and so the people move out, the people can't afford to live in the city, etc.
"There's a bit of that in Edinburgh.
"I hope that we get back to the festival and the Fringe but I think that we must realise that we can't have a 12 month of the year festival in Edinburgh.
"There are people trying to do that by saying well we've finished the Edinburgh festival then we move on to the Winter Festival and so on.
"I think that is unsustainable and that will actually kill the city centre."