Wigtown Book Festival review: "Sometimes it takes a plague year to appreciate the good things in life"
This year's Wigtown Book Festival has taken audiences to some very dark places, but it has also been a celebration of life's beauty and goodness, writes David Robinson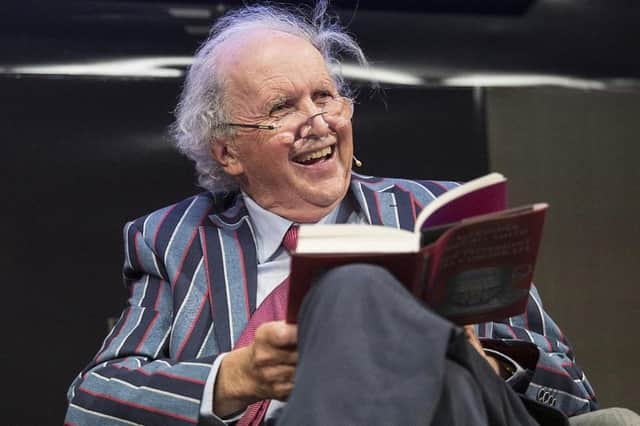 I don't know about you, but I'm a complete stranger to the Hindu goddess Durga. She first came into being, Neil MacGregor told the Wigtown Book Festival on Saturday, because the male gods were making such a hash of getting rid of human evil.
She visits earth once a year (round about now, actually) but won't come until a statue of her has been made, using wicker to bind earth specially picked from every part of the village. Symbols are placed at her feet of everything that is worrying the locals. At the end of Durga's festival, her statue is taken to the Ganges, where it dissolves in the holy river.
As MacGregor pointed out, this is not only a "a beautiful bit of theological poetry", but it involves the whole community: Durga will only come if everyone is involved, from lowborn to high, and from all parts of the village. And although there's no comparison between a religious festival in northeastern India and a non-religious one in south-western Scotland, they both presumably have different fears to exorcise each year. What – apart from Coronavirus – would Wigtown's be?
Intolerance would, I think, be near the top of the list. MacGregor elegantly made the case for polytheism as an effective historic bulwark against it: accepting other people's gods enriched India's culture and was the reason the Roman Empire lasted so long. But what about the present? How, asked AL Kennedy in a searing 15-minute poem prompted by Black Lives Matter, can whites – not least the "cleared and the clearing" Scots, "underfoot and then treading down", "the victimising victims" – face up to the consequences of their racism? Or, to put it another way, as Anne Applebaum did, will the intolerance brought about by fake news doom democracy?
Misogyny emerged as an unexpectedly strong theme in not just in criminologist David Wilson's talk (two women a week, he pointed out, die in the UK because of male violence) but also that of former BBC China editor Carrie Gracie (who has given the £361K she won in her equal pay case to the Fawcett Society to fight similar cases). Alastair Campbell, meanwhile, took aim at the stigma still attached to mental illness. His event with Sarah Smith - check it out, along with everything else, on the festival's excellent website - was informative (Martin Luther King was bipolar: who knew?), practical, and full of good ideas, like the Friendship Benches project in Zimbabwe, where widows trained to spot mental health issues offer help to those in need.
But a proper festival is a celebration of life's beauty and goodness too, the local as well as the international. Both the performance of Ninian's Gift by Alexander McCall Smith and Tom Cunningham, and Patrick Laurie's talk on farming close to nature would come into that category. Even Shaun Bythell, Wigtown's bestselling bookseller and occasional curmudgeon, had to admit that he'd seen a better side of human nature this year. One day in lockdown, a complete stranger, reading about the plight of bookshops, sent him a cheque for £300 with no strings attached. Sometimes it takes a plague year to appreciate the good things in life. Not just bookshops, but book festivals too.
A message from the Editor:
Thank you for reading this story on our website. While I have your attention, I also have an important request to make of you.
The dramatic events of 2020 are having a major impact on many of our advertisers - and consequently the revenue we receive. We are now more reliant than ever on you taking out a digital subscription to support our journalism.
Joy Yates, Editorial Director