What You Call Free, part three: 'His name was the vicious slash of a knife through her flesh'
In the third extract from What You Call Free, by Flora Johnston, things go from bad to worse for Jonet.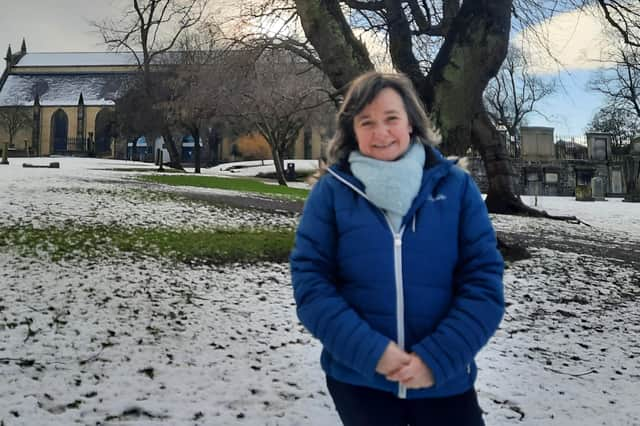 Flora Johnston in Greyfriars' Kirkyard which features in the novel What You Call Free
Chapter Two Sunday 30th October 1687
This is the second Sabbath of Jonet Gothskirk's appearance in Sackcloth in the place of public repentance... they made her stand by the door before the service. It was a heavy, dreich morning, with a persistent dampness which clung to her bare head and seeped into the rough cloth of the gown. It was so much harder to shut them out, those folks she knew, when they were walking right past her, some staring, others looking away. Murmured comments, just loud enough for her to hear. Foul language they'd do well to keep from the ears of the elders. Och, and she'd often enough done the very same thing herself.
Whispering and giggling with Kirstie at some poor soul on show, never thinking that one day it might be her. But here was Davy coming past now, glowering with mortified fury. Self-righteous gowk that he was. Looking away from him, she found herself face to face with a man she didn't know, an older man with thinning curly hair and a belly that hung over his breeks. The look he gave her was laden with lust, and she dropped her eyes at once. She would see no more.
When they were all in, the beadle jerked his head and she tried to walk through the centre of the kirk. But the chilling dampness of the ground had stolen into her bare soles, and she'd have been as well trying to lift the weight of the flagstone threshold as lift her own feet. Small shuffling steps. Even so, she trod on the edge of the material, stumbled, nearly fell. No one helped her. Of course.
And then she was at the front once more, below his pulpit, perched awkwardly on the stool. She could feel him, Mr Mackenzie, glaring down at her. The service opened with a reading from Scripture, and they mumbled through a psalm. And when the minister cleared his throat, she waited for it to begin again. She curled her fingers, half-closed her eyes, and prepared to slide back into emptiness.
But no. This week, it seemed, Mr Mackenzie had something else on his mind. It wasn't her sin at all. His voice boomed out a warning, spit flying dangerously close to her.
'Do you believe it's just a wee thing to go hear those so-called preachers in the fields? You foolish, sinful folk, I have heard of the gatherings near to this very place.
'Dinna think you can dabble light in fanaticism. This wickedness is the scourge of Scotland and it will bring you to the scaffold, aye, and to the eternal fire of judgement.'
But his voice softened, and she wondered what was coming next. 'If you have any knowledge of these scandalous gatherings, and most particular of the whereabouts of that damned traitor, James Renwick, it is your solemn duty to reveal it. King James has this week offered a very generous reward of 100 pounds for his capture. Folks like you canna go straight to the justices, mind. Tell me what you ken and I'll make sure you get your share. There will soon be no place in Scotland safe for that dog Renwick to hide.'
Jonet risked a glance at the huddle of faces before her. Bored, mostly. He was wasting his breath. Those of the Society, those of whom he spoke, they would not hear his warnings, for they had refused to enter the kirk ever since their own preacher had been thrown out and Mr Mackenzie had been appointed. As for families like her own, they appeared in the kirk each Sabbath to keep on the right side of the Lord and of the laird, but they cared little for the religious factions which divided their land.
She shifted a little. She'd barely slept since last time she sat here, a week past. Night after night she tried to rest, tried to welcome the mercy of a few hours of comforting darkness, with no eyes to follow her, no lips to speak against her. But the voices inside her own head were loud enough to keep her awake. And it felt so strange to be back here, back home in bed with her sister, instead of sleeping alongside the girls in the dairy loft, where all was whispered conversations and petty quarrels. But Mistress Dalguise on the farm, she'd summoned her in just as soon as she'd heard the rumours.
'What's this I'm hearing from Mr Dalguise, Jonet?'
Aye, it was the night after she'd appeared before the elders. He was one of them, her husband, the tenant farmer. She'd stood, fingers twisting the cord of her apron...
'He tells me you'll be appearing afore the kirk on the Sabbath morn.'
'Will Murdoch, eh? Yon groom who was with us ower the summer?'
But the sound of his name was the vicious slash of a knife through her flesh.
'And him a married man with bairns of his ain.'
She'd looked up at that, quick and fierce. 'I didna ken.'
Jonet couldn't tell if she thought her a fool or a liar, or maybe both. Then she'd continued, her eyes narrowed.
'And you are with child?'
'Well Jonet, you must collect your belongings and be gone. I'll see you get what's owed.'
She'd tried to argue then, to plead for another few weeks even, just until she started to show. And it was then that Mistress Dalguise laughed.
'To show? What's the difference of that, lass? All the world kens of this bairn. No, I willna have your shame brought upon a godly household. You.'
'Godly!' Mam said when she told her. And then not another word.
Tomorrow: He was false, she was broken
A message from the Editor:
Thank you for reading this article. We're more reliant on your support than ever as the shift in consumer habits brought about by coronavirus impacts our advertisers.
If you haven't already, please consider supporting our trusted, fact-checked journalism by taking out a digital subscription
Want to join the conversation? Please or to comment on this article.