The simple image of a park bench proved the ideal way to reflect on the Covid-19 pandemic for poet Jim Carruth. Jim, who has been Poet Laureate of Glasgow since 2014, wrote "The Long Bench" in the early weeks of lockdown, anticipating the time ahead in which the length of a park bench would represent the separation we are all experiencing from family and friends.
Jim says: "Glasgow is very much a city of parks. An image came into my head of bench. Two people could sit at either end, but would that be far enough to keep the necessary social distance? Could I use that as an initial image to express that longing to meet up again, wishing for everyone to stay safe while looking forward to the time when it's over?"
In this film, he reads the poem along with "There is time enough" – a poem from an earlier collection, about a shepherd who wakes to find his fields covered in snow. Although he is a city laureate, following in the footsteps of Edwin Morgan and Liz Lochhead, and works in Glasgow for the NHS, Carruth's poetry is often rooted in the rural landscapes of Lanarkshire.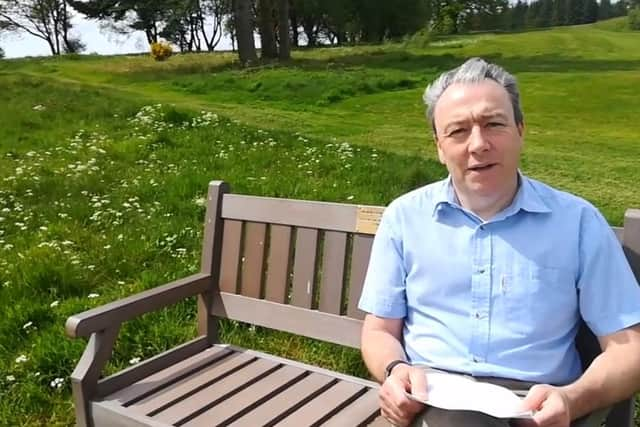 He grew up on the family dairy farm near Kilbarchan, which informed his first poetry pamphlet, Bovine Pastoral (2004). His work often explores the changes in farming, telling the stories of those who work the land as well as describing the landscape. He is credited with helping to revive "pastoral" poetry in Scotland, making work about rural life which is both a celebration and an elegy.
His verse novella Killochries, published in 2015 and winning several prizes including the Saltire Scottish Poetry Book of the Year, tells the story of two very different men working a remote sheep farm for the duration of a year. His most recent collections, Black Cart (2017) and Bale Fire (2019), are the first two parts of a farming trilogy. He is currently working on the third book, Far Field.