The Scotsman Sessions #372: Ellen Renton
Welcome to the Scotsman Sessions, a series of short video performances from artists all around the country introduced by our critics. Here, Edinburgh-based poet and photographer Ellen Renton reads a selection of her poems ahead of the launch of her multimedia exhibition, And Who's She When She's At Home, at Craigmillar Castle
Ellen Renton says poetry is at the core of everything she does, but she also loves to take poetry with her on adventures in other art forms. This spring, her first photography exhibition, If You've Seen It, You Haven't Seen It, at Edinburgh's Agitate Gallery, put poetry alongside photography. She is currently writing and helping to direct a theatre piece featuring poetry and movement with Stellar Quines.
"Poetry is quite a vague thing to define," she says, thoughtfully. "It's fun to take advantage of that and see what it looks like beside other things. I love to work with people who work in other forms, to see how they work, what we can bring out of each other's work."
Raised in Edinburgh, Renton began her poetry career in the vibrant spoken word scene in Glasgow in 2015 and 2016. She was one of the co-founders of poetry theatre company In The Works, which "opened me up to the different things poetry can exist beside: visual art, theatre, music".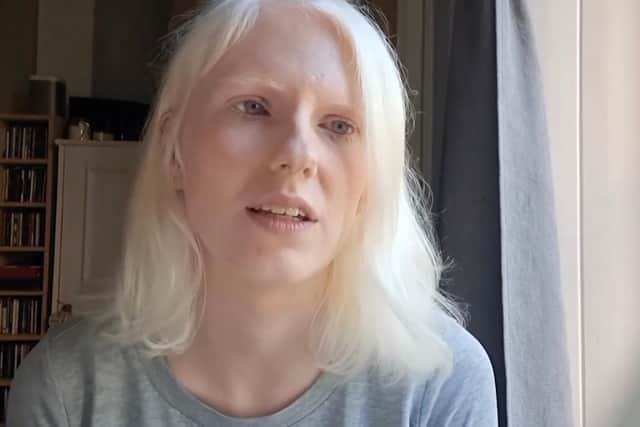 For In The Works, she wrote and performed her own show, Within Sight, about a runner with albinism, which premiered at the Scottish Storytelling Centre in October 2019 and was due to tour Scotland in 2020, before plans were halted by the pandemic. It was later developed as a film.
As a visually impaired artist, she makes work which thoughtfully questions common assumptions about sight. "Being visually impaired, I always felt that I see differently to everyone else, rather than acknowledging that no one's sight is infallible, and maybe what is seen should not be equated to truth in the way our culture assumes.
"There are a lot of concepts that sighted people take for granted: beauty looks very different if you're visually impaired, trust is very different. I'm still exploring what all these things mean for me."
Her debut poetry pamphlet, An Eye for An Eye for An Eye, was published by Stewed Rhubarb Press in 2021, and she continues to write poetry for the page and for performance. "I still love that feeling of live performance, having that direct feedback from the audience is very special, but I enjoy both sides of it – if there are separate sides."
Renton has been the recipient of a Scottish Emerging Writer Residency, and the photography exhibition was the result of a project between Disability Arts Online and the Edwin Morgan Trust. She says she loved exploring Morgan's archive, and describes his endlessly inventive work as "a helpful reminder than you've never tried everything".
This summer brings the unveiling – at Craigmillar Castle – of another collaboration, And Who's She When She's At Home, with visual artist Megan Rudden, inspired by Renton's great-great grandmother's time in domestic service, and bringing together poetry, sculpture and music.
And October brings the premiere of Disciples, with Stellar Quines, a show about faith and community which combines poetry and movement, performed by a cast of five disabled women and non-binary people. Renton says: "Sometimes poetry can be an alienating thing, depending on how you encounter it growing up. Putting it alongside other things creates other windows where people can access it."