The Scotsman Sessions #37: Michael Pedersen
Welcome to The Scotsman Sessions. With the performing arts world shutting down for the foreseeable future, we are commissioning a series of short video performances from artists all around the country and releasing them on scotsman.com, with introductions from our critics. Here, Michael Pedersen reads his poem When You Came to Me in Grez-sur-Loing, inspired by a writing residency in the titular French village
Everyone is missing their social life, of course, but poet Michael Pedersen - who, alongside Rebel Inc founder Kevin Williamson, runs Edinburgh's infamous spoken word, music and film gathering Neu! Reekie! - is in what he calls "the curatorial game." Getting out in the evening is much of what he does, checking out new artists' work for possible inclusion on Neu! Reekie! bills.
"I'm in the West End of Glasgow, so the closest I've got to seeing a friend was when I was walking past Eugene Kelly's house," says Pedersen. "I got a wave out the window as he was staring out into the abyss." Instead, he's been working out online Neu! Reekie! broadcasts, like last month's Edwin Morgan tribute, and setting up their Voices funding opportunity for poets and spoken word artists.
Of his Scotsman Session, Pedersen says: "I've chosen a poem from Oyster [his 2017 collection, with illustrations by his friend, the late Frightened Rabbit singer Scott Hutchison] about the time I did the Robert Louis Stevenson Fellowship at Grez-sur-Loing in France. It was its own little capsule in time; Paris felt like it was an hour and a year away. On these residencies you sit at your desk, and that's quite visually uninspiring, but then you go out on a long walk, and this is where all your ideas percolate through as you're reminded there's a world out there."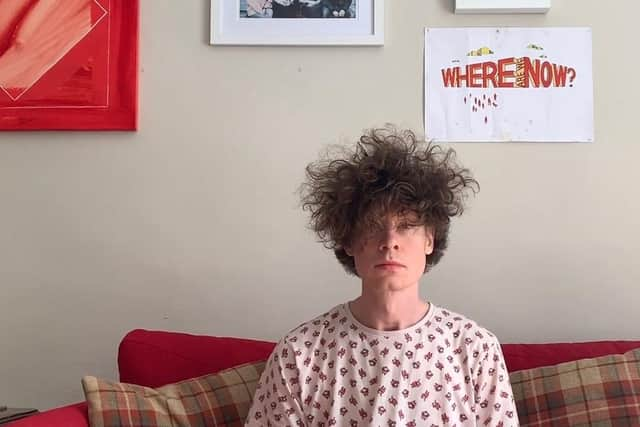 Pedersen's film mimics this sense of indoor and outdoor creation; he says lockdown reminds him of the isolation of a writing residency, and he's moved the furniture around in his flat to trick himself into thinking he's somewhere new. Those who love his wry but delicate poetry will be interested to hear he's working on a debut novel and a script for a prospective television series, a collaboration with Scottish director Robert McKillop (Guilt, Clique) titled Deek & Liane.
"The script is a road trip movie without the road trip," he says, "about two lost youths in a correctional facility in the Highlands of Scotland who break out with wild ambitions of changing the world." For the moment, it sounds like a fantasy.
The application deadline for Neu! Reekie!'s Voices Commissions for poetry and spoken word is midnight on 31 May. See www.neureekie.scot/blog/neuvoicescommission for more information, and the main Neu! Reekie! site for upcoming online and (hopefully) live events.