Marcas Mac an Tuairneir describes himself as "Scotland's only Gaelic-speaking poetry-writing Yorkshireman," and it's hard to dispute the claim. At 36, Mac an Tuairneir is already a highly recognisable figure on the Scottish poetry scene, with his dark bushy beard and unmistakeable Yorkshire accent; and he has just finished a stint as a board member of the Scottish Poetry Library, after a highly successful decade of writing during which he has published three poetry collections, including the latest, Dùileach (Elemental), from which this specially-recorded session is drawn.
Mac an Tuairneir was born in York in 1984, into a family with strong Irish roots. As a child, he grew to love the Irish traditional music and storytelling that filled his family home, and in his teenage years tried to teach himself some Irish Gaelic, to go alongside the French and Spanish he was learning at school; then after school, he chose to go to Aberdeen University, where he was able to take a combined degree in Hispanic languages and Gaelic, graduating in 2008, before studying for an M.Litt on the Gaelic poetry of Christopher Whyte. Mac an Tuairneir had always written poetry, even as a young child; and during his time in Aberdeen, as he became more fluent in the language, he began to write poems in Gaelic. Today, Mac an Tuairneir lives in Edinburgh with his partner Joshua Wilson, who is also the other half of their visual arts partnership Lupus & Leo. He usually publishes his poems in both Gaelic and English; and Dùileach also includes translations into Irish Gaelic, by Mac an Tuairneir's Donegal-based friend and collaborator, the poet Sam Ó Fearraigh.
Mac an Tuairneir is also a singer and musician, and a member of the Gaelic vocal ensemble Trosg, which has appeared at Celtic Connections and the Belladrum Festival, among many other events; and this week, he learned that he has won Creative Scotland support for his first vocal album, which will challenge stereotypes of Gaelic music by creating original pop songs in Gaelic. For this Scotsman Session, though, he returns to the lyrical poetry that is the heart of his creative life, performing two poems from his new collection in both Gaelic and English. The first, Neòineanan or Daisies, is a hymn to the simple beauty of urban green spaces, and a reclaiming of those spaces by the people who live in the city; and the second, accompanied by beautiful images by Kerry Mitchell of the Northern Irish coast near Portrush, is a complex meditation on the modern meanings of the legend of the Maighdean-ròin, the Seal-Wife or Selkie.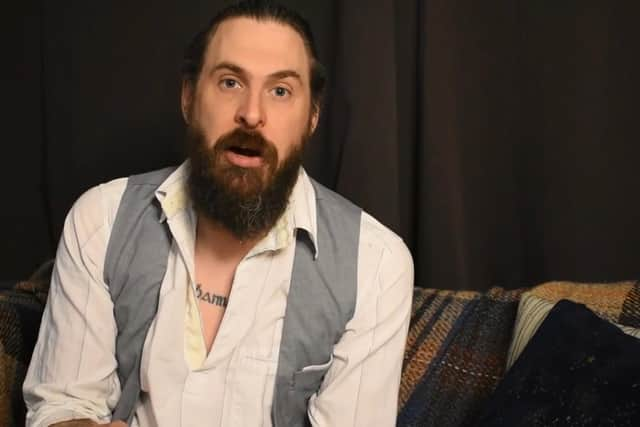 "It's been a tough and complicated few years for gender politics in Scotland," says Mac an Tuairneir, "particularly in the poetry community. As a gay man, I felt the need to withdraw into myself a bit, in recent months, and to meditate on where we are, now; and I guess this collection is partly the result of that."
A message from the Editor:
Thank you for reading this article. We're more reliant on your support than ever as the shift in consumer habits brought about by coronavirus impacts our advertisers.