There's something strangely repetitive about the history of the Scots language in modern Scotland In every generation, it seems that some Scots begin to grasp the truth that the working-class language they hear around them is not just an incorrect and sloppy form of English, but the fragmented legacy of a Scots tongue that was once, 500 years ago, the proud language of the entire Scottish state, reflecting the whole range of human affairs from law, religion, philosophy and romance, to the flyting (arguing) and comedy we now tend to associate with it.
Yet in every generation it seems that that recognition flickers, only to fade again; and to talk to the young Scots-language poet Len Pennie about her work, is to realise that some of the old dismissive myths and assumptions about the Scots tongue have barely shifted in half a century.
Pennie was born in Lanarkshire 21 years ago, and grew up with her Scots-speaking parents and grandparents in Airdrie, and then in Dunblane. When she went to school, though, she soon realised – like Liz Lochhead, 50 years earlier – that a different language was spoken there; and that for reasons of class, the language she had learned from her grandparents was often despised. She always wanted to be a writer, though; and began putting together poems and "wee novels" in her mother tongue, almost as soon as she could write.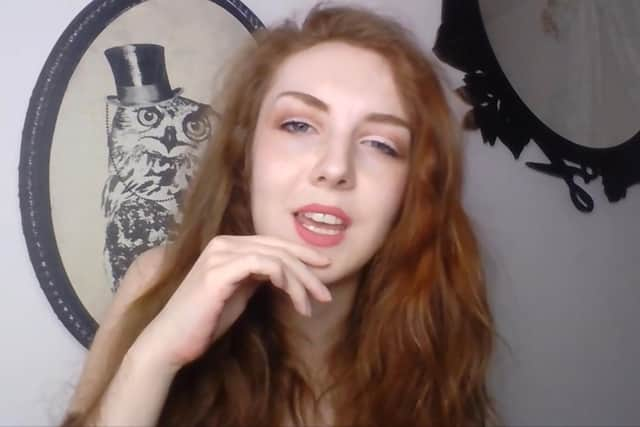 When she was 18, she went to university in St Andrews, where she is set to complete an honours degree in Spanish this year; but in recent years, as the "warrior poet" Miss Punny Pennie, she has also built up an 88,000-strong following on Twitter for her "Scots word a day" series, and for recordings of her poems. Pennie is a strikingly charismatic performer, with a beautiful Scots voice and an avalanche of red hair; and so far she has not sought print publication of her work, feeling that it needs to be performed rather than read. "It might be a bit of control-freak thing," she says, "but I like to be the one controlling how the poems sound, and how people experience them."
It's difficult to imagine, though, that print publishers won't soon want to see such a gifted young poet on their list of authors. In this poem, Storytime, recorded for the Scotsman Sessions, Pennie tells the story of a love affair gone wrong, brilliantly deploying metaphors about who gets to control our narratives in a soft and powerful contemporary Scots, and with a sadness, wit and wisdom that seems both timeless, and fiercely contemporary.
Because of her high social media profile, Pennie has suffered severely from the attention of internet trolls and misogynists, who are still, in 2021, rolling out the old myths about how Scots is not a real language, and is all "made up", or only fit for "neds." Pennie has made no secret of her struggles with poor mental health; and of the strength she draws from other Scots speakers such as Janey Godley, who issued a strong message of support for her after one online incident last year.
For Pennie, though, the positive aspects of her work hugely outweigh the negatives. "All I ever wanted was to be a writer," she says, "and sometimes I just canna believe that I'm already beginning to get commissions and start a working life at it. When I was a wee girl writing my first poems, I never, ever imagined that that would be possible. But now I find myself part of this amazing Scots writing community, all so passionate about the leid [the Scots tongue] and its future; and in that sense, it's already a bit of a dream come true."
Follow Len Pennie on twitter @Lenniesaurus.
A message from the Editor:
Thank you for reading this article. We're more reliant on your support than ever as the shift in consumer habits brought about by coronavirus impacts our advertisers.