In the biographies of most writers, the books come one by one, often separated by an interval of two or three years; over a writing lifetime, there may be half a dozen, or ten, or at most some 20 or 30. When it comes to the literary biography of Alexander McCall Smith, though, the rhythm is very different. Since his life as a writer of fiction for adults began to pick up pace in the late 1990s, his novels have come in great swathes and series, and now – including the children's books he wrote in the 1980s and 90s – total more than 120.
At the top of the list stand McCall Smith's two dozen global best-selling novels set in and around The No.1 Ladies' Detective Agency, a small business in Botswana run by its wise and wonderful owner, Mma Ramotswe; but there are also the 44 Scotland Street series, set in Edinburgh's New Town and still published as a daily novel in this newspaper, the Sunday Philosophy Club series, starring lady detective Isabel Dalhousie, five other shorter series, at least six individual novels, and 37 children's books. McCall Smith has sold scores of millions of copies of his novels worldwide, and has been showered with honours and awards, including a CBE in 2006, and a National Arts Club of America Medal of Honour. And all this is is to say nothing of his academic writing, which involves more than a dozen books on aspects of medical law, written between 1983 and 2004. Before his retirement from academic life in 2005, McCall Smith was for many years Professor of Medical Law at the University of Edinburgh
To list all these achievements, though – and to recognise McCall Smith's extraordinary work rate – is also to say nothing of his much more private life as a poet, which has always run alongside his fiction writing and academic work, and occasionally found expression in opera librettos and song cycles. Last year, McCall Smith published his first poetry collection, In A Time Of Distance, partly inspired by the experience of lockdown; and now, to mark our 200th Scotsman Session since the start of the pandemic, he has not only recorded a reading of the poem Household Gods, from that collection, but has also written and recorded a brand new poem called Daily Paper – a love song to The Scotsman, and a celebration of the ideal, perhaps now fading from our internet-driven world, of a daily paper that forms a reliable and trusted part of the furniture of our everyday lives.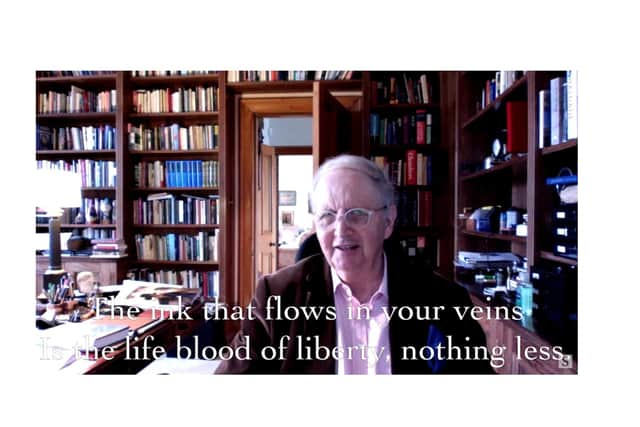 "What I wanted to do, in the poem, was to capture that feeling of becoming accustomed to a newspaper as a feature of your everyday world," says McCall Smith, from his home in Edinburgh. "I think what the last year has done, for many of us, is to emphasise the importance of the habitual, the local and familiar. We've just lived through an age of very rapid globalisation, which has brought huge benefits to some, of course. But our sense of local belonging has been weakened by those conditions; and a great deal of the tension and unhappiness we see at the moment is perhaps attributable to the pace of that progress.
"And of course among those changes is a growing threat to the local and national press as we once knew it, as people increasingly seek their news from the internet. That saddens me very much; and I thought I would like to write a poem about what The Scotsman has meant to me, as my daily newspaper for the last three decades, and more."
McCall Smith's love for the local and the everyday does not, of course, mean that he has led a life defined by the boundaries of any one city or country. Born in Zimbabwe (then Rhodesia) in 1948, at what he calls "the tail end of Empire," he came to Edinburgh only at the age of 17, to study law. McCall Smith completed his first degree and doctorate in Edinburgh, and then taught at Queen's University, Belfast, where he began to write his first children's stories; but in 1981, he returned to Africa to help co-found the law school at the University of Botswana, meeting many of the characters he would later celebrate in the No. 1 Ladies' Detective Agency novels.
In 1984, though, McCall Smith and his wife Elizabeth settled back in Edinburgh, where they raised their daughters Lucy and Emily; and they have lived in the city ever since. For him, his daily Scotsman is a vital part of the Edinburgh landscape; and although in today's world of intensely polarised political debate – in which the media often become pawns, players and targets – this kind of easy relationship with a daily printed paper is becoming increasingly rare, McCall Smith still believes that it enshrines some values well worth defending. "No demagogue likes a newspaper," writes McCall Smith, "unless he writes most of it himself."
"I don't know, any more than anyone else, whether print journalism will survive," says McCall Smith. "I do know that when e-books first appeared, people predicted the end of book publishing; but that just hasn't come to pass, because people still want and love printed books. I know that young people under 40 now generally don't buy newspapers; but I wonder if it's something into which one grows, as one gets older, and which might have more staying power than people imagine.
"So I suppose I am at least a little optimistic about that, as I am about many things. People sometimes say that I am a Utopian writer, because I tend to dwell more on the positive than on the pathological. But literature is a broad church. It should have a place for strength and humour and hope, as well as despair; and if my characters help to embody those qualities, in a time when we need them, then I am just delighted that so many people enjoy spending time with them, and entering into their world." And with that, Sandy McCall Smith dons his cycle clips, and heads off for a bicycle ride at Dalmeny; enjoying the miraculous everyday with the same rare and wonderful zest for life that pervades his books, and brings joy to tens of millions of readers, around the world.
Alexander McCall Smith's poetry collection In A Time of Distance is published by Polygon, price £12.99
A message from the Editor
Thank you for reading this article. We're more reliant on your support than ever as the shift in consumer habits brought about by coronavirus impacts our advertisers.