The first time I saw Jenny Lindsay in full performance mode, she was in the Counting House in West Nicolson Street, Edinburgh – an ancient set of first-floor rooms that must have hosted many such gatherings over the centuries – co-hosting one of the extraordinary evenings of music and poetry presented, between 2012 and 2016, by Rally & Broad, aka Lindsay, and her fellow host Rachel McCrum. Both women were young and outstandingly gifted poets, whose work helped light up the evening; equally thrilling, though, was the generosity and brilliance with which they assembled other writers and musicians to appear alongside them.
At the time, Lindsay was still a full-time schoolteacher, teaching modern studies in Edinburgh; but in 2014, she decided to give up the day job, and forge a life as a freelance writer, mentor and events organiser. When McCrum left for Canada in 2016, Lindsay launched her own company Flint & Pitch, and presented evenings of music and poetry at the Lyceum Theatre and elsewhere. Her first full collection of poetry, The Things You Leave Behind, had been published by Red Squirrel Press in 2011, and was followed by pamphlet-length collections The Eejit Pit (2012) and Ire & Salt (2015); and her second full collection This Script, published by Stewed Rhubarb Press in 2019, was conceived as both a poetry collection and a play script, performed by Lindsay in 2019 both at the Glad Cafe in Glasgow, and as an acclaimed Edinburgh Fringe show, before the Covid epidemic temporarily halted further plans to develop and perform the piece.
Lindsay was born in Ayrshire 39 years ago, and arrived in Edinburgh at the turn of the millennium as a 17-year-old student. She has written passionately about the city and its famous ambiguities, its claims to enlightenment, its darker aspects; but early last year, her 22-year love affair with Edinburgh came to a gruelling end, when a series of false internet allegations came close to destroying her freelance career. Lindsay responded with an eloquent 8,000 word essay in The Dark Horse magazine, Anatomy Of A Hounding, exploring the experience and its meanings; and is now settled back in Ayrshire, where she is working on a series of film-poems connected to This Script, as well as on a play about the character of Julia in George Orwell's 1984, and on her third collection of poems, titled All Of This Is Ordinary.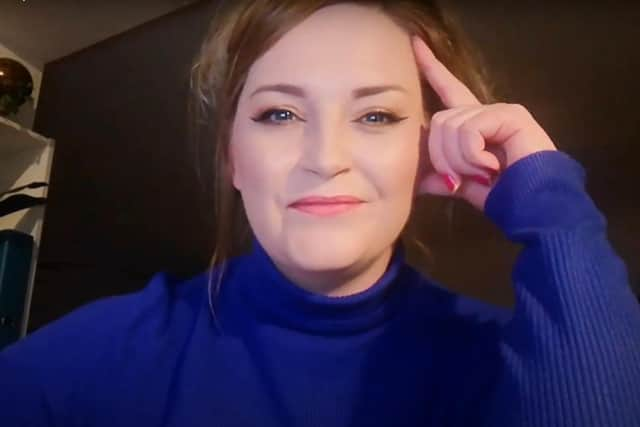 Lindsay is a courageous writer, in other words, who describes the physical and emotional experience of being a woman with a rare openness and honesty, and combines fierce sensuality with a searing intellect in ways that some still find unsettling. In this short film – recorded for Scotsman Sessions at home in Ayr – Lindsay performs two hard-hitting poems from This Script about the experience of being a childless woman in her late thirties. In An Invite To Your Baby Shower Or Your Child's Birthday Party, she expresses the pain and questioning of a perennial outsider at those events; in Have A Kid, she takes a more satirical view of the pressure to become a parent exerted by parents who themselves often seem less than thrilled by the experience. Both poems are brave, complex, and beautifully performed, in Lindsay's uniquely vivid style; and they capture some of the essence of one of the greatest talents in contemporary Scottish poetry – emotional, lyrical, perceptive, and always piercingly and unforgettably intelligent.
This Script is currently out of print, although some copies remain available online. A new edition will appear in 2022. Jenny Lindsay is on Twitter @msjlindsay
A message from the Editor:
Thank you for reading this article. We're more reliant on your support than ever as the shift in consumer habits brought about by coronavirus impacts our advertisers.