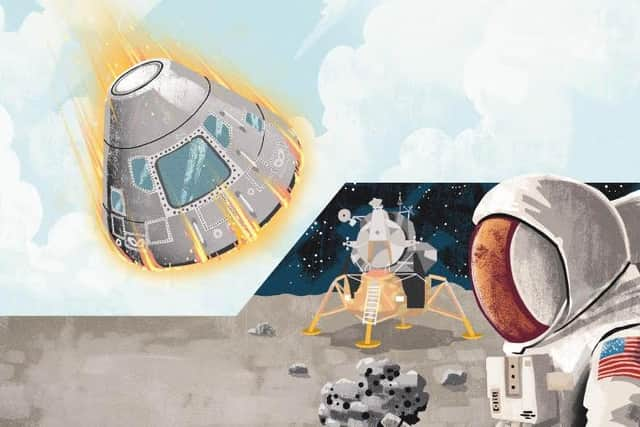 An illustration from Amazing Treasures
Ages 0-5: Meet the Oceans by Caryl Hart and Bethan Woollvin (Bloomsbury, £12.99) is a bright and friendly look at the wonders of the deep sea. From the freezing depths of the Artic with narwhals and walrus, to the balmy Caribbean teeming with shiny fish and graceful stingrays. The scourge of plastic is gently explored and we are reminded how beautiful the oceans are and of the need to take care of them. Woollvin's distinctive illustrative style and Hart's superb rhyming text combine to make a standout picture book.
Omar, the Bees and Me by Helen Mortimer and Katie Cottle (Owlet Press, £7.99) is a heart-warming tale about friendship and understanding. Omar is new at school and struggling to fit in until Maisie realises they both share a love of bees. With help from their teacher, they make a bee corridor, and with patience and some growing skills, their local park is soon full of wild flowers and bees. This book explores the joy of nature, and finding a shared experience when home is far away.
Where's Brian's Bottom? by Rob Jones (Pavillion, £6.99) is a hilarious, double sided fold-out book about a very, very, very long sausage dog. He's so long, in fact, that he's lost his bottom! This fantastic interactive book is lots of fun for young and curious readers.
Can Bears Ski? by Raymond Antrobus and Polly Dunbar (Walker, £12.99) is a question that Little Bear hears a lot, but is that what everyone is really asking him? This smart and poetic picture book explores how Little Bear feels sound – the tremble of a radiator and the crunch of snow – but it is only later that we realise he is struggling to hear. We share in Bear's confusion as he wonders if bears can really ski, until he sees an aud-i-olo-gist and discovers the question all along has been "can you hear me?!" This multi-layered, skilfully woven story provides a brilliant insight into how children make sense of their experience when they don't have the words to describe it. – ED
Ages 6-9: Fun, imagination and wonder lie in store for children in Daydreams and Jellybeans (Firefly Press, £5.99) by Alex Wharton. This short collection of poems captures the perspective of a curious child who sees magic and mystery everywhere, from the white lines that seem to appear on the road overnight to the clouds in the sky. These playful poems, with charming illustrations from Katy Riddell, make an enchanting read to share together as a family.
Another book guaranteed to capture children's imaginations, and have them laughing out loud, is Monster Max and the Bobble Hat of Forgetting (Firefly Press, £5.99). Max is an ordinary boy, but he can turn into a huge monster at the most inconvenient times. Can he use his monstrous strength to help his local community and avoid being discovered by his nemesis Peregrine? You can find out in the first instalment of this hilarious new series, written by Robin Bennett and illustrated by Tom Tinn-Disbury.
Space Detectives (Bloomsbury, £6.99) is another new series for fans of adventure and mystery to explore. Connor and Ethan are spending their summer holiday selling ice cream on board Starville, the world's first orbiting city, when they end up at the heart of a dangerous plot putting everyone on board in danger. Author Mark Powers and illustrator Dapo Adeola serve up a thrilling intergalactic adventure with plenty of twists and turns.
Family and community are at the heart of Too Small Tola and the Three Fine Girls (Walker Books, £6.99) by Atinuke and Onyinye Iwu. Tola's determination, resilience and warmth shine through in each of the three short, Nigeria-set stories included, but Tola Takes Control is particularly inspiring as she steps in to help her family while Grandmummy is ill. Sure to raise your spirits. – SM
Ages 9-12: Gill Lewis returns with another strong novella showing the healing power of nature in Swan Song (Barrington Stoke, £6.99). When Dylan is excluded from school and doesn't know where to turn, he and his mum move to the Welsh countryside to stay with his granddad. This alien environment seems an unlikely place for him to find his way, but opposing a threat to the local wildlife offers him a new sense of purpose and hope.
Wildlife also plays an important role in The Boy who Met a Whale (Nosy Crow, £7.99) by Nizrana Farook. Siblings Razi and Shifa live on the beautiful island of Serendib where their lives are thrown into chaos by the arrival of Zheng, who claims to be on the run after escaping a shipwreck. His tall tales seem far-fetched at first, but the children are soon in a race against time to find hidden treasure before it falls into the wrong hands. This is a thrilling and fast-paced read which will leave you breathless.
Children can find out more about the history and variety of treasures found in our world in Amazing Treasures: 100+ Objects and Places that will Boggle your Mind (What on Earth Books, £14.99). This fascinating non-fiction title, written by David Long and illustrated by MUTI, is a treasure trove packed with information on everything from natural wonders and ancient tombs to famous paintings and historical manuscripts. The range of topics included, rich illustrations and captivating facts will have young readers returning to this book again and again.
Edgar & Adolf (Oxford University Press, £7.99) shows the potential for combining fact and fiction to create a memorable and moving story. It imagines the friendship of two real amateur footballers, Adolf Jäger and Edgar Kail, who played on opposing teams amidst rising tensions before World War II. Authors Phil Earle and Michael Wagg weave together their stories with great skill and care to produce a novel that speaks powerfully about the potential of sport to bring us together. – SM
A message from the Editor:
Thank you for reading this article. We're more reliant on your support than ever as the shift in consumer habits brought about by coronavirus impacts our advertisers.