When I speak to Professor David Wilson he's slightly flustered. The 65,000 word manuscript that he's written for the forthcoming release to follow-up this month's publication, Murder At Home, has vanished from his computer.
"People keep saying it's there and you'll find it," says this 65-year-old Sauchie-born criminologist, sounding unconvinced.
It's surprising that anything fazes this professor emeritus of criminology, former prison governor, author of over 15 books and broadcaster, considering he's spent much of his career interviewing and studying murderers, including the notorious serial killer, Dennis Nilsen.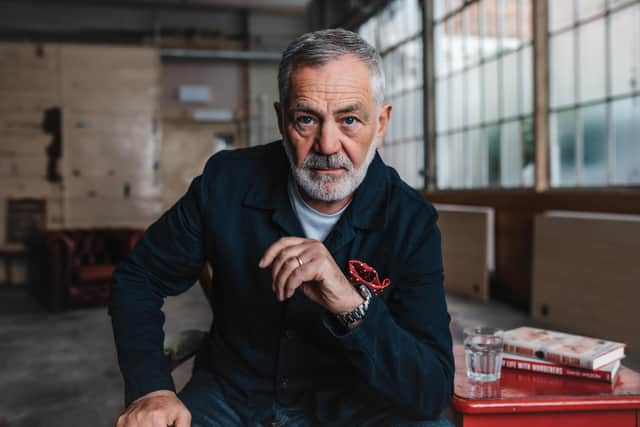 Computers are obviously an exception.
He's certainly not worried about getting on stage to talk to a Glasgow audience as part of his My Life with Murderers tour, which will come to The Old Fruitmarket on May 2. After all, he's been giving public lectures as an academic for years.
The show will draw from University of Glasgow graduate Wilson's four-decade-long career, including his time as a BBC Scotland presenter of David Wilson's Crime Files, and he'll discuss his studies.
"I'm really excited at the prospect of being able to share my academic and applied knowledge about murder in all its various and deadly guises," he says. "I want to persuade the audience that an interest in true crime is not just normal but necessary and, above all, to offer hope about how we can reduce the incidence of murder and serial murder in our culture."
It seems that crime and killings aren't inevitable. Evidence of that has been seen in the Scottish city he'll be touring to.
"The interesting thing about Glasgow is that in 2006 it was the murder capital of Europe and 10 years later, it was one of the safest places in Europe, because it reduced murder rates by 60 per cent", says Wilson. "That you can really challenge and reduce murder, if you have the will to do so and the insight, is an interesting phenomenon".
In the spirit of understanding criminal motivations, the tour will present three true murder stories, and examine them from Wilson's experienced perspective.
"I want people who come to the tour to go away thinking that they don't need to be a forensic psychologist, a criminologist, or a police officer, to do something about reducing the incidence of murder in our culture," he says.
The one thing that the tour won't be is sensationalist.
Wilson wasn't a fan of the recent biopic on Netflix, DAHMER - The Monster: The Jeffrey Dahmer Story, as he says "there was little or nothing about the people he killed". He doesn't want to glorify the criminals and their actions. He's not averse to publicly discussing, say, Nilsen, who was at HMP Wormwood Scrubs while Wilson worked there as assistant governor in the Eighties, but only because the serial killer is dead and can't revel in any fame and notoriety. However, this criminologist will always include the victims' stories, including as part of the Glasgow appearance.
"Often what people want me to talk about are the extreme phenomenon, which would be serial murder, as opposed to the other end, which is murder that's often committed in what I describe as five minutes of madness," he says. "I never really like to talk about the killers. I usually talk about the people who've been killed. There's a lot of wanting to glamorise murder, and I won't do that".
Wilson says it's important to recognise that two women a week in the UK will die at the hands of partners or ex-partners. However, though he did write Mary Ann Cotton: Britain's First Female Serial Killer back in 2013, his talk will focus on male-on-male violence, and the fact that 93 per cent of killers are men.
Despite this, he always attracts a mixed demographic.
"I find a lot of my audience and students are women. That as a phenomenon is something that needs to be better understood and explained and one of the ways I try to is through evolutionary psychology, because so often they have to deal with the violence of men", says Wilson, who teaches at Birmingham City University. "If you understand when men are going to be violent then you can better avoid those situations and, indeed, those men. I often think women are particularly interested because of that. Ironically, despite the fact you're more likely to be murdered if you're a man".
This expert originally became interested in criminology after, as a youth, punching a fellow rugby player in the nose. "We both got sent off the pitch and shook hands", he says. However, he soon realised that the outcome could have been very different, and became fascinated by his subject matter.
However, it isn't the cheeriest topic, even if you might be inured to some of it. In order to decompress, Wilson walks around 50 miles a week. Most recently, he and his wife tackled the Fife Coastal Trail, paying the obligatory visits to Anstruther Fish Bar and Crail Pottery along the way.
"I loved going in and had a nice chat with the person who recognised me from the telly", he says.
It sounds like the sort of activity you might do post retirement. Will he ever quit?
"I'd find it very difficult. I'm still teaching, I'm still writing, I'm still presenting on television, and BBC Scotland's Crime Files is coming back for another series. That excites me as well. I don't know what I would do with the time if I stopped".
•David Wilson - My Life with Murderers is at The Old Fruitmarket, Glasgow on May 2, 7.30pm, tickets £32.50. Murder At Home (£22) is published by Little Brown Book