Outlander's Sam Heughan and co-star Graham McTavish are releasing a book - everything you need to know
The book is described as a "confessional, meets a road trip, meets a death defying experience" by Sam Heughan's co-writer Graham McTavish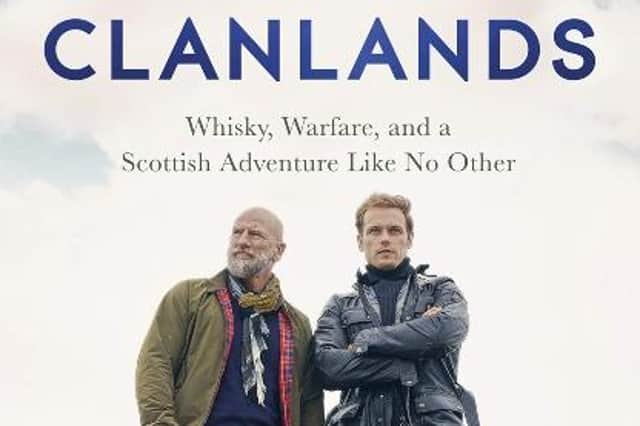 Outlander co-stars Sam Heughan and Graham McTavish have teamed up to write a book about the adventures of their roadtrip across Scotland.
The book is called Clanlands: Whisky, Warfare, and a Scottish Adventure Like No Other, and is set to be released on Tuesday 3 November - this is everything you need to know about it.
Clanlands: Whisky, Warfare, and a Scottish Adventure Like No Other follows friends and Outlander co-stars, Sam Heughan and Graham McTavish, as they make their way around Scotland, learning all about the land, the history, the culture - and, of course, whisky.
They begin their journey in the heart of Scotland, at Glencoe, and make their way all the way to Inverness and Culloden battlefield, where they "experience adventure and a cast of highland characters", according to the blurb.
McTavish described the book as a "confessional, meets a road trip, meets a death defying experience" in the video announcement which was released earlier this year.
Discussing how the idea behind the book came around in an interview with Metro, McTavish explained that it was actually Heughan's idea.
"I'd spoke to [Heughan] about doing something on Scotland, maybe a documentary. He suggested a podcast - I didn't even know what a podcast was - then that expanded to walking around with GoPros, and then that turned into going by van," McTavish explained.
Heughan said, "I wanted to do this because one of the biggest draws of Outlander is, of course, Scotland and its clans - they really captured people's imagination.
"Graham and I are both very interested in our home country and its history. The idea was to travel around, meet interesting characters and learn more about the culture."
Talking about their favourite places they had visited in their Scottish travels, Heughan highlighted "an incredible loch called Loch Awe. There's a ruined castle on it, Kilchurn, which is spectacular. I went kayaking around it, which was amazing."
McTavish said, "I'd say Loch Leven. We motorbikes along next to it. A lot of people stop on that road, to Balquhidder, to look at Rob Roy's grave although there's a huge dispute about whether it actually is his or not.
"But if you keep going for a few more miles, it's just as stunning. Hopefully people who've never been to Scotland before will be inspired by our journey."
The book also features a foreword by Diana Gabaldon, the writer behind the original Outlander book series.
Heughan and McTavish also starred in a TV show together called Men in Kilts, which saw the two embarking on a road trip throughout Scotland together, learning all about the history and the culture that the country has to offer.
Where can I pre-order the book?
There are a number of places that you can pre-order the book from prior to its publication on 3 November.
In the UK, you can order it from Waterstones - a signed edition of the book was available for pre-order. However, that is now sold out, so only unsigned editions are available, for £17.99.
You can also order it from Amazon as well, for £15.29 on Prime.
Is there an audio version?
For those looking to get the audio version of the book, you can also preorder it from Audible. You can get the audiobook for free as part of the Audible trial.
Heughan tweeted that he and McTavish "had a blast recording it."