Ones to watch in 2021: Jenni Fagan, author
Jenni Fagan's new novel, Luckenbooth, is about an Edinburgh tenement and the curse that haunts it. She tells Malcolm Jack about the forces that shaped it – and about the memoir she wrote last year after contracting Covid-19 which may never see the light of day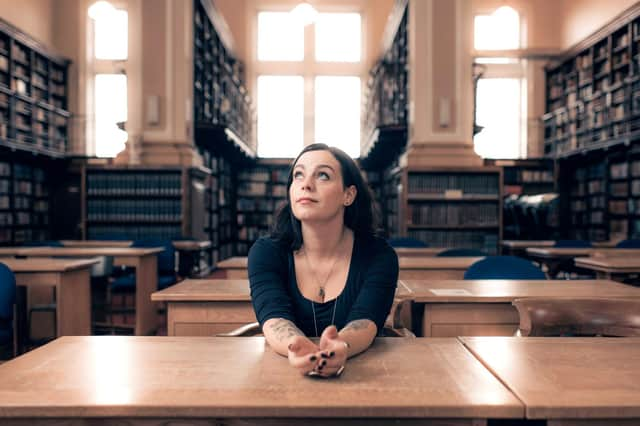 Whether she's writing a PhD thesis using Kafka as a prism for examining the individual's place within societal institutions, or doing up and selling derelict houses to help fund her writing career and support her young son, structures and structuralism obsess Jenni Fagan. Those obsessions intertwine spectacularly in Luckenbooth, her third novel, about an Edinburgh tenement and the curse that haunts it, infecting the lives of all who live across the building's nine floors over nine decades of mystery and uproarious change.
Fagan began the book by literally drawing on her bedroom wall a sprawling plan from ceiling to floor of 10 Luckenbooth Close – the fictional structure at the heart of the book, situated down a dank, dark alleyway off the Royal Mile.
"The whole wall next to my bed," Fagan explains, "had every decade, every character mapped out. What their jobs were, what was going on culturally, what was going on politically, how their lives interacted with each other, what the theme was of each decade, whether it was anger or love or revenge. And then I would work out, between all these decades, who was who and what was what and how their stories all locked into each other."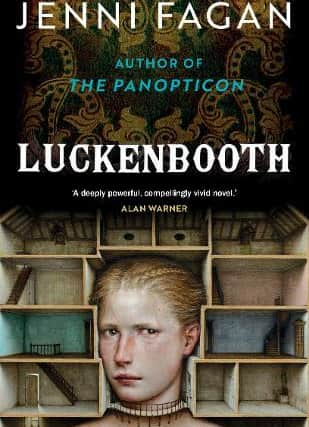 Beginning in 1910 with the Devil's daughter rowing ashore to the Water of Leith in her own coffin, before making her way up into town to bear a child for a rich man and his fiancée – the root of the tenement's curse – Luckenbooth's extravagant cast from throughout the ages includes a famous madam, a spy, a psychic, a Beat poet and a nyctophobic coal miner. Each of them touched in different ways by the "melancholy in the bones and marrow of the building," as Fagan puts it.
Their psychosis seemed to almost rise up from the page and take over the writer as she worked. "It got completely out of control at one point when I decided that the novel was going to be in three parts, and each part would have three decades, and each decade would be revisited three times. And each chapter would be 3,333 words long."
That version was scrapped in the end, but not until after she'd written a draft in that form. "It took me ages. An act of madness. My publishers were like 'we can't believe you've actually done that'."
Fagan, as you can probably tell, doesn't tend to do things by halves – and the results speak for themselves. Melding the poetic, the esoteric and the occult with the grit and grime of a real life lived on the edge, she writes unlike any other author of her generation, in no small part because she has lived a life unlike any other author.
Raised within the Scottish Local Authority care system, as a child Fagan moved home 28 times and was thrown out of school with no qualifications aged 15 after, she says, "falling spectacularly off the rails". She lived in homeless accommodation as a young adult, and spent her twenties doing menial jobs, performing poetry and signing in punk and grunge bands, before eventually going to university aged 30. Her debut novel The Panopticon was published in 2012, to international acclaim. In a December 2020 tweet that ended up going viral, Fagan shared an image of her recently received Degree of Doctor of Philosophy from the University of Edinburgh, together with the inspiring words "don't give up on things you want to do, no matter what stands against you".
Becoming Dr Fagan made for a positive end to a tough year which, back in March, had seen her diagnosed with Covid-19. "I was sick as hell, for about 24 days," Fagan reveals. "I seriously thought I was gonna die. I thought 'what book should I leave?' And I decided – my memoir. So that's why I've written it, basically."
Fagan just completed a first draft of said memoir, telling the tumultuous, painful and largely untold story of growing up in care, and a youth spent being passed around the system. She'd love to say that it was a cathartic experience. "It was really, really hard," she says. "It wasn't pleasant to live through those experiences and it wasn't pleasant to write them either. It's the least cathartic thing I've ever done. But I've survived it."
As very private person, she's unsure whether she could bear to see it published within her lifetime, but she knows it's a story that one day needs to be shared. "I know it would be an important book," she accepts. "I know it would be a useful book for lots of people."
In both The Panopticon, which in 2019 was adapted for the stage by the National Theatre of Scotland, and her second novel 2016's The Sunlight Pilgrims, Fagan drew heavily in different ways from aspects of her own experience – life in the care system in the former's case, and six years spent living on a caravan park in the latter. Where does her own experience fit within the structure of Luckenbooth?
"I used to live in a tenement building that I knew one day would inspire something I write," she responds. "It was the tiniest flat in the world. My bedroom was so narrow I had to hammer the bed down on the skirting board to get it to fit in. It was an old housing association tenement and there was a lot of drug use. When they eventually evacuated the building apparently there were so many needles in the basement that none of the cleaning companies would touch the place.
"When you're walking up the steps of a tenement like that, and they're all worn by the footsteps of people over hundreds of years, you realise – we're all passing each other by, the past, the present, the future."
Another very personal aspect of the novel for Fagan originates in the here and now, and witnessing the figurative structures in society that for generations have profoundly shaped our lives, particularly the lives of women, begin to creak. Structures built by wealthy, narcissistic, sociopathic men not unlike he who, at the start of Luckenbooth, makes a pact with the daughter of the Devil herself.
"For me a big thing was looking at the patriarchy," says Fagan, "looking at the elite, looking at the ties that bind us, and how people live their ordinary lives within those structures. If there's something that's very dominantly coming from me in this book, it's my response to those things. It's my response to those kinds of men in power."
Luckenbooth is published by William Heinemann on 14 January
A message from the Editor
Thank you for reading this story on our website. While I have your attention, I also have an important request to make of you.
The dramatic events of 2020 are having a major impact on many of our advertisers - and consequently the revenue we receive. We are now more reliant than ever on you taking out a digital subscription to support our journalism.
Joy Yates, Editorial Director