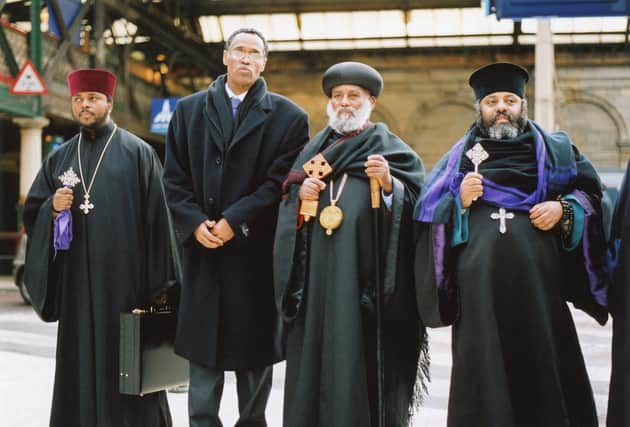 Close behind came diplomats, officials, a delegation of Rastafarians from the Ethiopian World Federation and representatives of Ethiopian Orthodox Christian congregations from across Britain, dressed in white, red, gold and green. This was my first contact with Ethiopia and, to use a technical term, it blew my mind. They had come to Scotland's capital in January 2002 to receive a treasure. We were there to give it to them.
A few months earlier, the aptly named priest the Rev John McLuckie had been bored one day and started looking through cupboards in his church, St John's, on the west end of Princes Street, at the foot of Edinburgh Castle. At the back of one cupboard he found a battered Victorian case and inside that he found something that we can't really describe. On the edge of the case, there were some words stamped into the leather: "Taken from Magdala, 1868".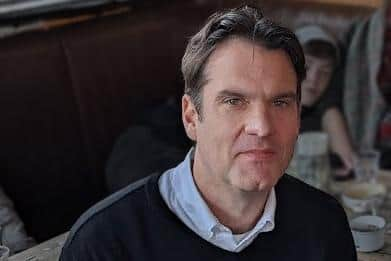 By luck, John had spent some time in the east African country of Ethiopia when he was a student, and the object inside the case together with the word "Magdala" stirred a few memories. The label on the box referred to a battle that had taken place about 130 years earlier, when soldiers from Britain and British India had stormed Magdala – or more accurately Maqdala – the mountain fortress of Ethiopia's King of Kings, Tewodros II.
Tewodros is a towering figure in African history who, through the power of his character and military prowess, had forced his country to unite after decades of chaos. As he fought to secure his base, he looked around him for allies, for peers among the world's other great Christian powers. Among them was Britain's Queen Victoria. "Now you are the child of Christ and I am the child of Christ. For the love of Christ I want friendship," he wrote to her in November 1857, one monarch to another.
For a few years things looked promising and there were dreams of a great British-Ethiopian alliance. But then Tewodros sent another passionate, personal letter to Victoria offering an exchange of ambassadors, more friendship, more alliance. That letter made its way to London where it hit the great wall of British bureaucracy, shuttled between desks and finally lay on a shelf, unanswered. Increasingly offended by this apparent spurning of his offer, and provoked by a string of other unfortunate events and misunderstandings on the ground, Tewodros started falling out with the few Europeans in his territory – missionaries, adventurers and officials – and began imprisoning them. Finally, he threw Britain's consul in chains, a desperate act to press London to reply to his letter.
This was an insult too far for Britain, which eventually gathered a huge military force to climb up into Tewodros's mountain kingdom. Armed with superior weapons, they wiped out the bulk of his force in a matter of hours on 10 April 1868, destroyed his fortress and grabbed piles of plunder – all the hundreds of illuminated manuscripts and crowns and sacred and royal regalia that the monarch had been collecting there in his efforts to form a national library and national treasure for his newly reunified country.
To European eyes, some of the least spectacular pieces of plunder were a number of carved wooden and stone tablets. They went for a few shillings a piece when the British gathered all the loot together on a plain near Maqdala and auctioned it off to officers – and the British Museum's representative on the expedition – to raise prize money for the troops.
To Ethiopian eyes, those tablets were among the most precious items there. They were Tabots – sacred artefacts that should typically spend most of the time wrapped away out of sight in the Holy of Holies in the centre of an Ethiopian Orthodox Church. They are closely associated with the Ark of the Covenant, and with the Tablets of the Ten Commandments that the ancient Israelites carried around in the Ark (Ethiopian Christians believe they still have the original Ark in Axum). Tabots represent the presence of God, in a way they embody the presence of God.
You can read all the encyclopaedia articles you want, but to fully understand what a Tabot is, you really have to be an Ethiopian Orthodox Christian. If you are not a priest, you should not handle them or even look at them, hence the lack of a detailed description in this article.
At least one of these Tabots was bought by Captain William Arbuthnot of the 14th Hussars, who brought it back home with him and presented it to St John's Church in Edinburgh. Perhaps a little bemused and unsure as to what to do with it, the clergy put it in a cupboard, where it waited for more than 100 years for the day when a bored young priest opened the cupboard door again and found it.
After consulting with the congregation, John McLuckie decided that the only thing to do was return the Tabot to Ethiopia. His first thought was to contact the Ethiopian Embassy in London and send it back in the post. But after a few phone calls it soon became clear that that would not do at all. More phone calls were made, plane tickets booked and in January 2002 the Ethiopian delegation walked out into the main concourse in Edinburgh's Waverly Station. I was on a break from journalism at the time, working as the communications officer for the Scottish Episcopal Church and was helping with the organisation and publicity around the event.
The Ethiopian priests quickly headed to St John's to confirm that it was indeed a Tabot – a horrible doubt had remained in John's mind that he had brought them all up to Edinburgh on a wild goose chase.
But all those fears cleared when he opened the church's safe, showed them the object, and the priests burst into song.
When its identity was confirmed, preparations started for the handover ceremony – a six-hour cross-cultural service at St John's – part party, part Eucharist – that kicked off at 6am and stretched on through the morning.
The world's media looked on from an upper gallery as the chants of the ancient Ethiopian liturgy merged with the hymns of the Anglican tradition and incense filled the air.
Debates around the repatriation of imperial loot and plunder and other disputed objects – from the Elgin Marbles to the Rosetta Stone to the Benin Bronzes – are often such angry affairs. But this return of a sacred artefact, freely given and graciously received, was a moment of unalloyed joy, a life-changing event.
There were civic receptions in Edinburgh and another big celebration and Orthodox church service attended by more than 2,000 people when the archbishop brought the Tabot down to London.
Then he got on a plane and flew back to Ethiopia's capital, Addis. The government declared a public holiday and hundreds of thousands of people packed the streets to welcome the Tabot back home.
A few months after that, a much smaller event. I handed in my resignation at the church and headed off to Ethiopia to try my luck as a journalist.
There, there were images of Tewodros everywhere scrawled on school buildings, printed on T-shirts, reproduced endlessly on cards stuck on car windows in the modern capital, Addis Ababa, in the old city of Gondar and in his base in Debre Tabor, east of the inland sea of Lake Tana. Those pictures showed a stern, muscular man with long braided hair, staring into the distance with lions lying at his feet and flags or cannon in the background.
A super-sized statue of Tewodros with a giant spear loomed over tourists and travellers at Gondar Airport, also known as Atse Tewodros Airport. In some parts of Addis and in the Rastafarian neighbourhoods of Shashamane, his face was daubed on walls next to other global icons of Black power and dignity, among them Emperor Haile Selassie, Martin Luther King and Bob Marley.
This was Tewodros as African giant, the man who had taken on the growing imperial force of Great Britain and, in the words of the historian Bahru Zewde, "inaugurated the modern history of Ethiopia". He had taken his own life after the battle, rather than face capture and defeat, and remained an all-powerful symbol of defiance.
We visited Maqdala, met the disparate group of academics and politicians and campaigners calling for Britain to return the loot – "Ethiopia's Elgin marbles". As we read more and more about the battle and the plunder, it soon became clear that there was a footnote, an unexplored subplot, a tragic "and finally" to the story of Tewodros.
Along with all the treasures, the British soldiers had also picked up the monarch's six-year-old son, Prince Alamayu, and brought him back to the cold shores of Great Britain.
A boy prince who had spent the first third of his life living on top of a mountain in the highlands of Abyssinia had been wrenched thousands of miles away to spend the rest of his life moving between Plymouth, the Isle of Wight, Windsor, Cheltenham, Rugby and a cold house on the outskirts of Leeds.
It took me another 20 years, acres of research and scores of discussions and repeated dead ends to realise that, when it came to telling this whole story, the prince might be the best place to start.