From spooky stories to a musical history of the world - the best teen reading for Autumn
A collection of scary stores chosen by Amy McCaw and Mia Kuzniar is perfect for Halloween and the long dark nights ahead, writes Maggie Still, while a history of the last three centuries told through key pieces of music is perfectly tuned
Ven is performing with her dance group at a TV audition in Sing If You Can't Dance by Alexia Casale (Faber & Faber, £8.99) when a cruel disease hidden in her body reveals itself, ending her normal life for ever. Her story is told through her diary, as she shares how she takes control of her life after feeling as if she had lost everything. Suddenly disabled and in pain, her determination to have an exciting life drives her. You can't help being inspired by her tenacity as she finds friendship, love and joy through singing, rooting for her at every hurdle. This book is an emotional coming-of-age story which shows that there is always hope if you fight for it.
Musical World: Modern World History As You've Never Heard It Before by Jeffrey Boakye, illustrated by Ngadi Smart, (Faber & Faber, £8.99) is a playlist of songs perfectly tuned to pivotal moments in history. From the 1740s right up to 2022, Boakye has selected songs relating to wars, feminism, antisemitism, HIV, equality and more. The lyrics and melodies reflect the feelings and political fights of their time. This book is for anyone who has ever listened to the radio, whistled a song or watched an advert. You may recognise the tunes, but do you know which song allowed people to dance alone for the first time? Or which protest song led to terrible retribution by the state? Or why we should respect Wannabe by The Spice Girls? Musical World is a fascinating record of social histories, and a tribute to the musicians who were brave enough to call out injustice.
Lads by Alan Bissett (Wren & Rook, £9.99) is an instruction manual for how to be a "good guy" instead of "that guy". It's an honest, insightful and funny read, yet it hits hard on subjects that adults often struggle to discuss with young people. It's a tool kit for young men to help them navigate the peer influences and dark paths they get dragged along, helping them make the right choices when it's easy to fall into bad habits. Poor behaviour around women, leering, dodgy comments, and consent aren't easy to call out in a crowd, but this book is the mate that backs you up and gives you the confidence to speak up for what's right, building the foundations for healthy, respectful relationships.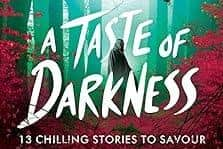 Grapefruit Moon by Shirley-Anne McMillan (Little Island Books, £8.99) is a gripping and believable story about friendship, betrayal, misogyny and blackmail. Cooke's Academy is a top school, where an elite group of boys called the Stewards have privilege and power. Charlotte is popular and rich – but when she dumps the head Steward he becomes her worst nightmare. Meanwhile, Drew has won a scholarship to the school and his future depends on his time there being a success, but the school rules don't align with his life or reality. When Charlotte faces a distressing threat, she doesn't ask for help. You completely understand her choices and you can't help feeling empathy for the two friends as they navigate the minefield of social rules and expectations. A brilliant read, reflecting some of the real difficulties faced by young people in today's world.
A Taste of Darkness, curated by Amy McCaw and Mia Kuzniar (Scholastic, £8.99), is a collection of scary stores that's perfect for Halloween and the long dark nights ahead. Thirteen frighteningly good female authors serve up a diverse range of short stories that will scare, delight and thrill any reader. It's the perfect book if you like your horror over with quickly (though the fear might linger on). There are legends, monsters and modern tales of terror to keep you on the edge of your seat. Are your brave enough to discover what forgotten creatures lie in the shadows?