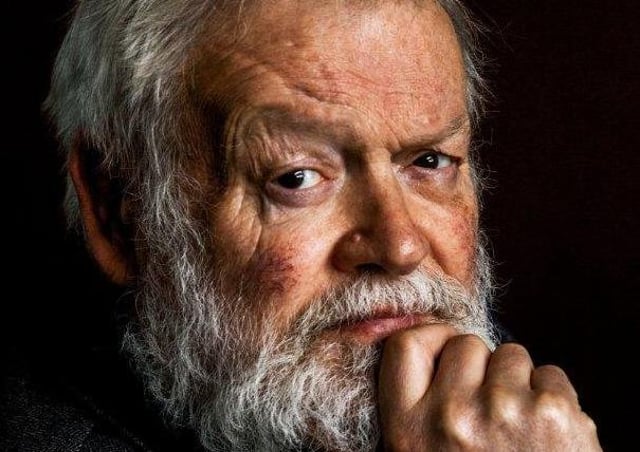 Michael Longley PIC: Bobbie Hanvey
Poems like these demonstrate not only that poetry can handle difficult material but that it can open it up in a way which is subtle and deceptively powerful. In making us think about the nature of home and of journeys, it can make a host of issues come alive without the need of a political sledgehammer.

These and other important stories have been brought together over the past four days at StAnza, Scotland's international poetry festival, now in its 23rd year. Continuing to gain in reputation internationally, StAnza brings together poets from Scotland and around the world in more than 70 events, from readings and performances to walks, exhibitions and workshops.

This year, spoken-word performers formed a particularly strong strand of the programme, perhaps demonstrating that what was once a firm dividing line between performance poetry and published poetry is becoming increasingly permeable. Joelle Taylor, a spoken-word veteran, gave a searing, moving, inspiring performance of Songs My Enemy Taught Me, her own account of surviving sexual assault (poetry aficiandos might like to note it is written entirely in cantos). Jay Bernard, one of the younger poets she helped mentor, gave another of the festival's stand-out readings.

A feature of Bernard's poetry, as of many at this year's festival, is the ability to write in other voices, conjuring the voice of a young victim of the Grenfell Tower fire, as Tony Walsh brought us the voice of a teenage mum from Manchester. The poetic imagination goes further: DA Powell brought us the voice of St John the Divine; Jen Hadfield, that of a standing stone; Nancy Campbell, a Greenlandic ice core.

Campbell's time in Greenland brought valuable insights to the discussion of one of the themes of this year's festival, Due North. Both she and Pauli Tapio, from northern Finland, countered the romantic view of the north as sublime wilderness, pointing out that it is a place of communities standing at the forefront of climate change and fought over, politically and commercially, because of its mineral resources.

Some of the festival highlights were from poets who read work from across long careers. Northern Irish poet Michael Longley, who celebrated his 80th birthday last year, read a selection of poems which demonstrated the "obsessions which have occupied me for 60 years" – love, war, the natural world, the landscape of his beloved County Mayo. Carolyn Forché, a human rights activist as well as a poet and teacher, took us on a journey from the civil war in El Salvador to Prague in the days after the Velvet Revolution, via Vietnam, Russia and the refugee camps of southern Europe. Powell, a first-time guest at StAnza from San Francisco, brought a richness of imagery and freedom of association which conjured the spirit of John Ashberry, while the calm, finely structured sonnets of Mimi Khalvati recall moments in her life beginning with her journey to the UK from Iran as a child.

Anna Crowe, one of the co-founders of StAnza and well known as a translator, was given a welcome change to showcase her own work. Shetland-based Jen Hadfield, who was the youngest winner of the T S Eliot Prize in 2008, previewed her forthcoming, much anticipated collection which explores neurodiversity. And, at a contentious moment in Scottish poetry, particularly on social media, Alec Finlay brought a gentle call for parley and agreement.

There is poetry to be found everywhere, it turns out. An online terms-and-conditions agreement becomes a poetic form in the hands of Swedish poet Ida Borjel. In a lecture on modernist women poets, Matthew Caley began with unexpectedly profound lyrics by country singer Jimmy Buffett. And Scottish spoken-word artist Colin Bramwell pushed the envelope still further with a verbatim monologue from Love Island.

Eloquent arguments were made for reconsideration of poets from the past: Emma Sutton, professor of English at St Andrews, argued that Robert Louis Stevenson's verse, sometimes felt to be childlike and limpid, might also be "proto-modernist, complex and disturbing". And Martin Malone made a powerful case for Hugh MacDiarmid, a thorny character with a talent for making enemies whose "cussedness" in holding to his principles and speaking truths to power might have much to teach us in contemporary life.

What did I learn at StAnza? That the human body is on average 60 per cent water; that Shetland is the centre of the world and the North Pole is not a fixed point; that the Irish- American modernist Lola Ridge is deserving of rediscovery and that there is poetry everywhere, but especially in St Andrews at the beginning of March.