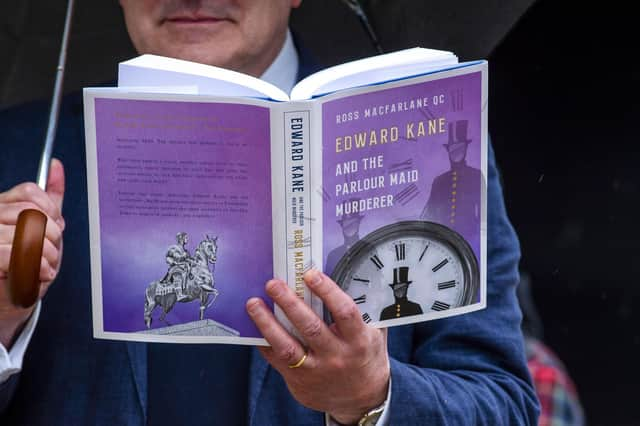 The would-be Advocate (the 'Devil') would, once qualified, likely receive a measure of pass-on work from his master or 'Devilmaster'.
Kane frowned: 'I regret to say that matters between my Devilmaster and myself have somewhat soured... but let us not dwell on that... Fortunately, he has restricted himself to The Law Room and so I seldom encounter him.'The friends' conversation was interrupted when they realised that they had been come upon silently by Manville, the Head Faculty Servant.The Faculty Servants performed many functions for their busy Counsel, carrying messages, transporting papers, easing the Advocate's life from the demands of the public. And Manville ruled over them all.Manville himself was, in the last analysis, something of a mysterious figure. He had served with her Majesty's Navy for a considerable period of his long life, and by consequence preferred the martial appellation 'Manville' to the more genteel 'Mr Manville'. As Faculty Servant, his duty to the interests of the Faculty was paramount. Nothing should interfere with the operation or reputation of that great institution.
A young Advocate with his neck-tie improperly secured would be taken into a corner and entirely appropriately - if somewhat traumatically - rebuked by Manville. A Senior Member of Faculty being found semi-conscious and lying in a public street after an enthusiastic and liquid social event would invariably find Manville at his side, Hansom cab at the ready, declaring loudly, 'It must be the influenza, sir'. And of the senior judges, Manville was a breathing encyclopaedia of those covert peccadillos and near-criminal events that can characterise the conduct of The Great.Manville now stood at the table of the two young Advocates, waiting to be addressed. Kane looked up: 'Manville?'The Faculty Servant leaned into them conspiratorially: 'Begging your pardon, gentlemen...''Yes?''...but, Mr Kane, I wonder if the Dean of Faculty could have a word.'
Kane shrugged: 'With me?''With your good self, sir.'The Dean of Faculty, Robert 'Rab' Lennox, was perhaps the greatest Advocate of his generation. Kane had had very few dealings with the leader of that great institution since passing Advocate and being called to the Bar two years previously. But for all his great powers of persuasion to jury and judge alike, the Dean was not known to be a warm individual. Not quite that he did not suffer fools gladly, rather that he did not suffer them at all.
A remote figure, best appreciated from a distance. Being called into the Dean's Room was akin to being asked to attend at Mount Olympus. And the usual request for such an audience commonly meant one thing: a complaint had been lodged against an Advocate.
Kane looked up again: 'Yes. Well, thank you, Manville.'Despite the obvious message to depart, Manville stood stock still.'Manville?''The Dean would like to speak to you, sir.''Yes, thank you.'No movement. Manville spoke: 'I think that now would be an opportune moment, sir.'Kane stood up and - in one effortless swoop - Manville removed the cup and saucer from the Advocate's hands, placed them carefully on the table and gently prodded the Advocate's back towards the door.Still sitting, Collins smiled to himself and raised his cup as if in salutation: 'Ave Caesar, morituri te salutant...'Manville and Kane stood outside the door to the Dean's Room. A voice from inside called: 'Come!'The Dean's Room was covered wall-to-wall in tomes from a hundred years of accumulated legal knowledge. Robert Lennox, Dean of Faculty, sat, like a large grey owl, quill in hand and puzzling over the papers in front of him. He did not look up, but continued to scratch his quill on the papers.
Manville made a cursory bow: 'Edward Kane sir.'Lennox did not look up: 'Thank you, Manville.'Manville gave a short bow to the Dean, then to Kane and slipped away.Kane stood unacknowledged by Lennox for what must have been three minutes before Lennox barked: 'Sit down, man - you're not in the headmaster's study, you know.'Nevertheless, Kane had a sudden urge to stuff one of the many books down the back of his pinstripe trousers.
Lennox put down his quill, sprinkled some powder over the parchment, blew it off and looked up. He studied Kane's face for a moment: 'Oh, it's you.'Kane - not knowing how to respond to this obvious truth - raised the index finger of his right hand, like a schoolboy proffering a tenuous answer: 'Yes, Dean of Faculty.'Lennox stared at him: 'You have no idea why I've called you here, do you?''No, Dean of Faculty.''Of course not.'The Dean got out of his chair and leafed through some papers on a nearby table. He pulled out a small bundle of papers bound with pink ribbon: 'Now, Edward....'
Tomorrow: The impossible murder
A message from the Editor:
Thank you for reading this article. We're more reliant on your support than ever as the shift in consumer habits brought about by coronavirus impacts our advertisers.
If you haven't already, please consider supporting our trusted, fact-checked journalism by taking out a digital subscription