Edinburgh International Book Festival interview: Denise Mina on re-inventing Philip Marlowe in her new novel
Denise Mina has spent her career challenging the problematic values of crime fiction. As the first female writer to take on Raymond Chandler's Philip Marlowe series she's got the chance to shift the dial even further. "It really is a big buzz," she tells Susan Mansfield
A conversation with Denise Mina could go anywhere. In 90 minutes at a window table in a cafe in Glasgow's Byres Road, we tick off the politics of Renaissance Florence, the rise of populism, P G Wodehouse, the trans debate and the publishing industry. That still leaves time for spotting famous writers – "There's Bernard MacLaverty!" – and for Denise to pop outside for a blether with her cousin who happens to be passing.
She arrives on her bike, a burst of spiky hair and energy. Since the publication of her first novel, Garnethill, in 1998, she has penned some 19 novels, written comic books, and for radio and theatre. This year, she has two books out: The Second Murderer, a Philip Marlowe mystery, which puts her in a small elite who have been approached by the Raymond Chandler estate, and Three Fires, about 15th-century religious reformer Girolamo Savonarola.
Three Fires began as a five-part series for Radio 4 – "I wanted to tell the story of Savonarola in the voice of P. G. Wodehouse!" – performed by comedian Kieran Hodgson. During lockdown, she says, she paced her way round Florence on Google Maps. The austere Dominican whipped up the bohemian city into a frenzy, overthrowing the Medicis and replacing them with a populist assembly. In this materialistic, pluralistic city, he instigated the "bonfires of the vanities", in which luxury goods, from books and clothing to paintings by Boticelli, were publicly burned.
"The more I read about him, the more I was fascinated," Mina says. "I'm a godless bastard, but he performed miracles, and you can't just write them off. Some of his ideas are jaw-droppingly apposite, although he was also homophobic, a misogynist and a total antisemite.
"I think, through a modern prism, he very clearly had an eating disorder. He was self-harming, starving and fasting, but he had a tremendous sense of mission. I think he was so depressed he was really reckless, and this led him to point out corruption in the Catholic Church. Saying those things was so brave. People were routinely being disappeared for mentioning any of that."
There are parallels, she says, between Savonarola's regime and the populist governments on the rise around the world. "Trump was still president when I was writing it, and Modi had just been elected in a landslide. Erdoğan, Orbán, all these populists, I just saw so much in common between his regime and theirs.
"Income differentials widening is a feature before every revolutionary moment. Also, a leader needs someone to blame, like Boris Johnson noticing that the EU bureaucracy was quite annoying and then segueing into 'Let's set fire to everything'. If you're dependent on a populist audience, you have to keep people in a perpetual state of emotion. I think optimism burns out really quickly, but hate lasts longer."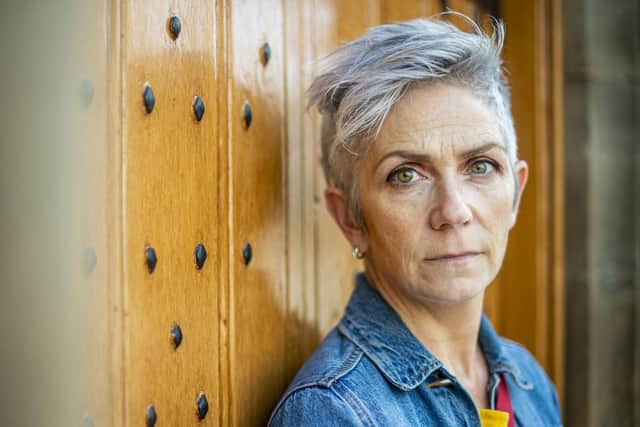 Faith, she says, is one of the big issues of our time. "The conspiracy theories, the rise of populism are faith issues, it's putting your belief in something unprovable. There are still folk who are angry at people saying there is climate change – that's about faith. Trump is a religion, and adamance in religion is very intoxicating."
Then, in the kind of segue which can take place in a Mina conversation, we're talking about 1940s LA. "Did you know Raymond Chandler went to the same school as P G Wodehouse? They missed each other by a term and had the same English master. There are so many parallels between their styles, although they're so different."
As the first female writer to take on the Marlowe franchise, she is making some changes. Marlowe, she says, was a misogynist, racist and homophobe. "The women – all they want is a boyfriend, just like all the women we know!"
Anne Riordan, an amateur sleuth who appears briefly in Farewell My Lovely, is back with her own all-female detective agency. Marlowe's investigation takes him to gay clubs and to Skid Row.
She says writing in the Marlowe voice was a challenge (though he got it from Dashiell Hammett, who got it from the report-writing style of the Pinkerton detectives, and did I know Pinkerton came from Glasgow?). She says she mapped out sentence structures to get the hang of Chandler's short, snappy sentences, and had to lose bucketloads of commas and adjectives.
But the book feels like a triumph. "Myself, Val McDermid and Sara Paretsky, we're all part of a 30-year movement of female crime writers who are trying to change the form and address the problematic values in crime fiction. For me, I read Chandler, hated the values, thought 'I'm going to become a crime writer', and 25 years later I get to do this. It really is a big buzz."
Mina always wanted to change things. She once applied for a job on Take A Break because she thought it might be a way to shift women's attitudes towards domestic violence. She had a law degree and was working on a PhD on mental illness in female offenders when she had a lightbulb moment: "I thought, if you can write stories, you can shift the dial much more than if you do a PhD and become an academic. Look at Uncle Tom's Cabin, or The Way We Live Now, which had a bigger effect on Lenin than Das Kapital. He read it six or seven times."
The sleuth figure of her first three novels, Maureen O'Donnell, is a woman who struggles with her mental health, but still takes the initiative. Other heroines would follow: journalist Paddy Meehan, detective Alex Morrow, podcaster Anna McDonald, women whose lives are far from ideal, but who are active, dynamic characters. They always have a conscience, too, an eye to those less fortunate than themselves.
While crime dramas on TV and film are still too often "copaganda where the police are right, shoot the guy at the end and that's justice, and the victim is the young virgin girl who's white and from a middle-class family", on the bookshelves, the landscape is changing. "When I wrote Garnethill, journalists would say, 'You've got a female protagonist, that's unusual, are you a feminist?' Then I did one about five years ago where the journalist, a young man, said: 'You've got a female protagonist, isn't that a bit clichéd?' It's so changed. That's not me, that's the movement."
Denise Mina is at Edinburgh International Book Festival on 16 August at 5pm. Three Fires is published by Polygon, £10, and The Second Murderer by Harvill Secker, £18.99