Edinburgh International Book Festival interview: art critic Laura Cumming on her Fabritius obsession
He was the artist loved by Vermeer but killed in a gigantic explosion … is it time for Fabritius to get the respect he deserves? Laura Cumming discusses championing a Dutch master of miniature masterpieces. By David Robinson
It has started already. Go to Room 16 in London's National Gallery and there's now a good chance that there'll be someone there already looking at Carel Fabritius's 1652 painting A View of Delft. Smaller than most laptop screens, it can easily be overlooked in a room with two Vermeers. Until last month, it usually was.
"I used to feel sorry for the painting," says Laura Cumming, the Edinburgh-born writer and art critic. "When I first came to London after university, no-one ever used to come and see it, they'd just walk straight past. To me, it's a masterpiece."
It's also the key painting in her book Thunderclap, published only a month ago, a beautifully written love letter to Golden Age Dutch art in general and Fabritius and her own artist father James Cumming in particular. And if the gallery wardens are already noticing more people flocking to see Fabritius's miniature masterpiece, it's probably because Cumming's writing makes that love infectious.
What they'll see is a painting of a young man, apparently lost in thought, looking out across a canal bridge. There's something weird going on with the perspective that draws your eye both left and right, and indeed the painting probably was originally meant to be curved into some sort of viewing box. But that's not the point, says Cumming. Just look at it.
"There's this strange shadowy figure sitting waiting in the darkness for something to happen. He's in the shade and there's this sunnier view of Delft in front of him. When I was in my 20s, this painting had an immense psychological intensity because I too was a bit like him, waiting on the edge of life for something to happen."
Skip forward a few decades. Cumming has been the Observer's art critic for 20 years, won the James Tait Black award for her book The Vanishing Man: In Pursuit of Velazquez six years ago and two years later followed it up with On Chapel Sands which is, quite simply, one of the best memoirs I've read. She is, in other words, no longer waiting for something to happen.
Except two years ago, she was. The pandemic had closed off the world's galleries. Asked by her editor to write about which works of art she missed most, she first thought of that other great Delft artist, Vermeer. A postcard of his painting A Little Street was by her desk, and the more she looked at it, the more she saw what she wanted to write about next.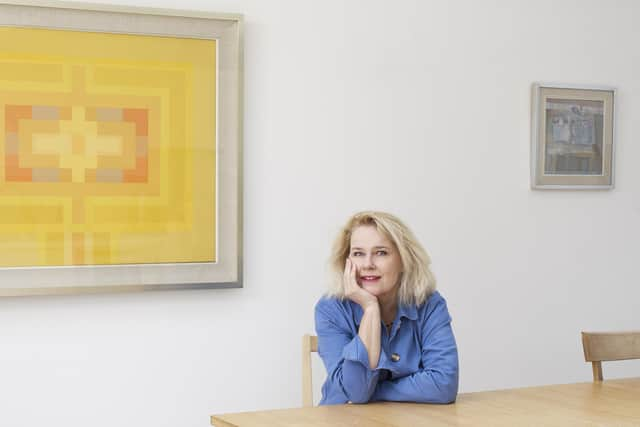 No, not Vermeer. Instead, it was back to that man in A View of Delft. He looked modern, possibly bored, possibly dreaming. And when she thought of the other Fabritius paintings she knew, two things struck her: that there were only about a dozen of them, but each one is so strikingly individualistic. Take The Goldfinch, which is central to Donna Tartt's Pulitzer-winning novel and subsequent film of that name. Equally small (just 13.2 x 9 inches) and equally exquisite, it was in Fabritius's workshop when he was killed, in an explosion at a nearby gunpowder store on 12 October 1654 that was heard 70 miles away – the Thunderclap of Cumming's title – and flattened a quarter of the town.
Of those dozen paintings, Vermeer – who lived just two bridges and four streets away – owned three. When Vermeer died in 1675, the inventory of his will showed that one of Fabritius's paintings hung in the outer hall of his house and the other two alongside his own family portraits in the inner hall. Those two facts, says Cumming, were the key to her book. She could look up at her postcard of Vermeer's The Little Street and imagine stepping inside the threshold. "If you could open it up like a doll's house, you could reach in and find that painting."
Her own book opens up far beyond that one fact, not least because there is often a personal element to her writing about art. "I believe strongly that art and life run together," she says, "that whatever you see is part of your story as well as being the story of the artist." So although she starts with Fabritius's A View of Delft (which, true to her principles, she mentions as having first seen on her way "to meet someone with whom I was having an almost comically doomed affair"), the canvas is soon stretched back to her Edinburgh childhood and the seeding of her fascination with Dutch Golden Age painting in "the most clearly visualised society ever".
Her memories make it sound inevitable. The poster of Hendrick Avercamp's A Winter Scene With Skaters Near a Castle on the classroom wall of her primary school (you can see the real thing just across Room 16 in the National Gallery). The family doctor who gave her a postcard of both Vermeer's A View of Delft and Fabritius's The Goldfinch. The black and white photo of Fabritius's self-portrait that she first saw in one of her father's old art books and which she thought looked like Marc Bolan. That first family holiday abroad: the Netherlands, naturally. Catching the No 23 bus up from Trinity on Sundays to look at the Ruisdaels in the National Gallery of Scotland or occasionally during the week to listen to one of her father's night school classes in the West Sculpture Court at the Edinburgh College of Art.
She'll be there tomorrow, in that very room, talking about the glories of Golden Age Dutch art, defending it as he did against the charge that it's just a transcription of the real world, showing its wildness, strangeness and originality. She'll talk about Fabritius – who embodies all of this – so compellingly that you'll want to visit either Delft or Room 16 of the National Gallery straight away. Failing that, you could always go to Rotterdam and see the original self-portrait of Fabritius looking like Marc Bolan that is on the cover of Thunderclap. At the Boijmanf Gallery, they've just taken it out of storage and put it on display. Coincidence? I don't think so.
Laura Cumming will be interviewed by Allan Little at the Edinburgh International Book Festival on 13 August at 6:45pm. Thunderclap is published by Vintage, price £25.