Molly has oversized paws, ears like sails and soulful eyes, Olive is pale and pint-sized, and rust-coloured Dexter looks a bit gung-ho.
This trio – a hare, barn owl and a fox – are stars of the new book from children's author and illustrator, Edinburgh College of Art (ECA) graduate, Catherine Rayner, 40.
That makes Molly, Olive and Dexter part of this prolific artist's portfolio, which consists of over 20 books, including My Pet Goldfish; Norris, The Bear Who Shared, Smelly Louie and the Kate Greenaway Medal winning Harris Finds His Feet. They all have animals – or fish – in common, and Rayner captures every mottled feather, scale, scruff and pointed snout, in her softly free-flowing style.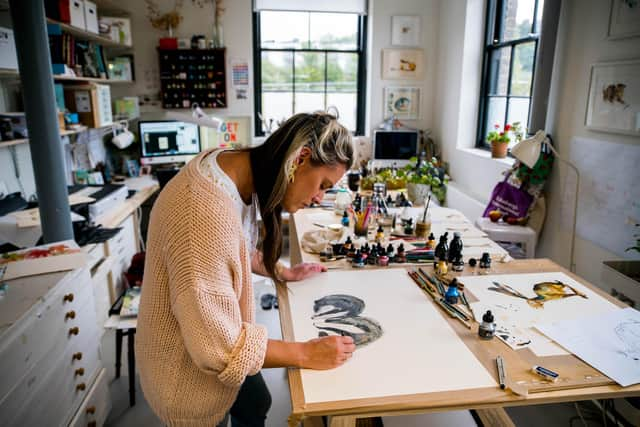 "I've always loved drawing animals – I think that comes from having pets when I was younger," says Rayner, who is talking to me from her Edinburgh studio, where her dachshund, Otto, is asleep under the desk. "I love the textures and personalities and the fact that their bodies are different to ours. They can express their emotions with things like whiskers, ears and tails. Any child can relate to an animal, if you illustrate the emotion, which I spent years learning to do."
She works in pencil, then acrylic inks, and the backgrounds are silkscreen-printed.
As well as appearing in the books, the resulting artworks are also exhibited as stand-alone pieces in various galleries, and Rayner has her own greeting card range. That's as well as illustrating for other authors including Julia Donaldson and Michael Morpurgo.
Although her work has developed with time, Rayner's skills were obviously quite precocious, as she graduated in Illustration from ECA back in 2004, and was immediately snapped up.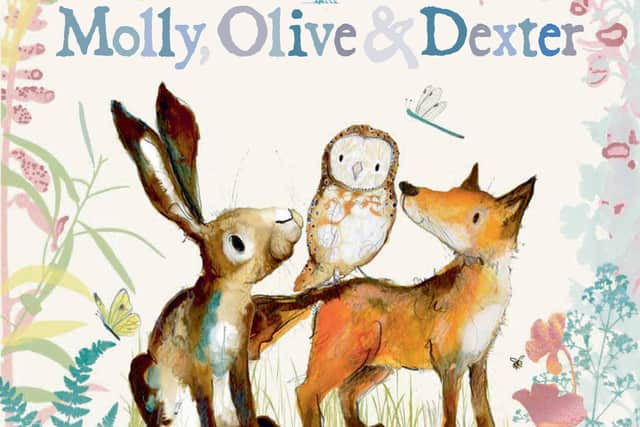 "In my final year I decided to write an illustrated book for my degree show – it was Augustus and his Smile, which ended up being my first publication," she says, in reference to her book that follows a tiger in his quest for happiness. "We went down to a graduate show in London.
"You can display a couple of illustrations on the wall and I took the book that I made. Two different publishers picked it up and said they wanted it and I couldn't believe it. This is what I was hoping to do for a job and I was prepared to work very hard to get it, but that was a flying start."
After graduation, she stayed in the Scottish capital, where she's now raising young children, plus Otto, a cat called Ena, goldfish and other pets. She still finds it an inspiring location.
"It's an amazing place to live," says Rayner, whose books also feature beautifully rendered green spaces. "We're lucky that there are loads of trees around us and birds and wildlife and we have a horse on the hill. I walk my dog and explore."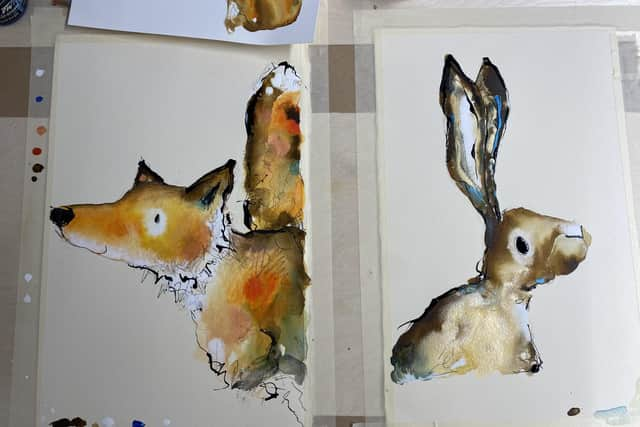 The latest read will be the first in a new series pitched at three-year-olds, who must be one of the hardest markets. Their attention span is notoriously short, and getting them to sit down to listen to a story is a bit like wrestling a ferret into a crisp packet.
Thus, alongside the inky illustrations, there's a neat selection of easy-to-manage sentences, which Rayner describes as "simple, bounce-along texts", on each page. The narrative – spoiler alert – covers friendship and a game of hide-and-seek. The three amigos' personalities are based on those of toddlers, and, although there's some very mild peril in the mix, the tale is reassuring and perfect for bedtime winding-down.
"They're like a hug," says Rayner. "And I think that's what's nice about doing a series, as all of them finish in a similar way. So there's a real rhythm to them, which I think is really comforting. It's inspired by my own family and learning all these simple games that never really go out of style."
The author shares the next book will involve a guessing game among the three animals. She's already had a positive reaction regarding their initial adventure.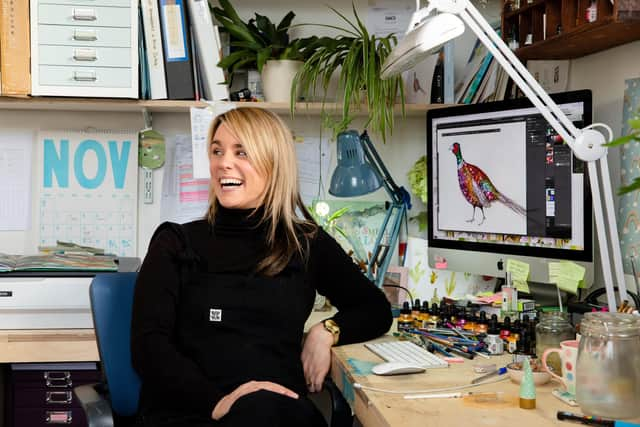 "People seem to fall for these three little cuties and I think they find them really warm characters," says Rayner. "The feedback's been just so nice. They seem to love it, which is great because there's more to come."
The book has been created in a size that's suitable for the hands of small people, who can probably already use a mobile phone and have been born into a world of artificial intelligence (AI) and algorithms. However, the children's book market seems immune to modern trends.
"I mean, there is a place for online and Kindles and I'm not anti-them at all, but actual books and having something to hold that's non-digital I think is incredibly important stuff", says Rayner, who originally designed Molly, Olive and Dexter to appear on a baby-wear range.
When this author was a child, growing up in the West Yorkshire village of Boston Spa, there was a selection of authors she rated. They've continued to inspire.
"I loved Roald Dahl and Quentin Blake", says Rayner. "Also, Jill Barklem's Brambly Hedge series and Harry the Dirty Dog by Gene Zion. Those were absolutely amazing. I was fortunate enough to have parents who also loved books and an older brother and sister, so I got their collections as well as my own."
We're certain that Molly, Olive and Dexter will soon be sharing a shelf beside some of those childhood classics.
Molly, Olive & Dexter by Catherine Rayner is out now, £12.99, Walker Books