Celebrating crime fiction with the return of Bloody Scotland
If you're a crime fiction fan, you should be heading for Stirling this weekend, says Louise Fairbairn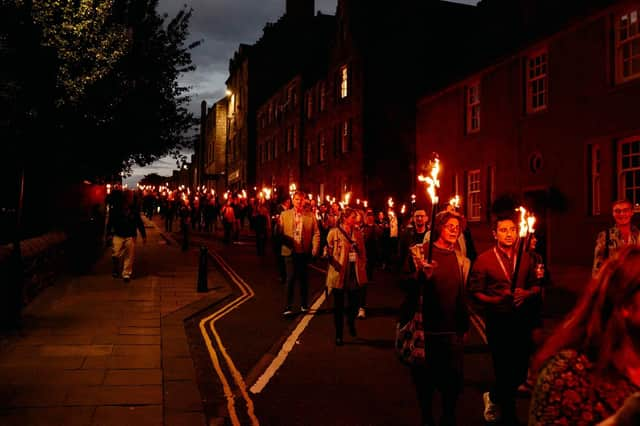 As the nights start drawing in, many people might think of curling up on these darker evenings with a good book. But crime fiction fans know a different way to deal with a dark night in September: join the torchlight procession on the first night of Bloody Scotland, the country's biggest crime writing festival.
The festival, which marked its tenth anniversary last year, returns to Stirling this weekend with another packed programme to celebrate the genre, including an official welcome reception - featuring Stirling Gin's special Bloody Scotland cocktails - that stunning torchlight procession from the castle esplanade to the Albert Halls, and the presenting of the McIlvanney Prize for Scottish Crime Novel of the Year and the Bloody Scotland Debut Prize.
Shortlisted for the McIlvanney Prize are previous winners Denise Mina and Craig Russell, plus Robbie Morrison, who won the Debut Prize in 2021, and debut author Callum McSorley. The shortlist for the Debut Prize includes McSorley, along with Heather Critchlow, Heather Darwent, Kate Foster and Fulton Ross.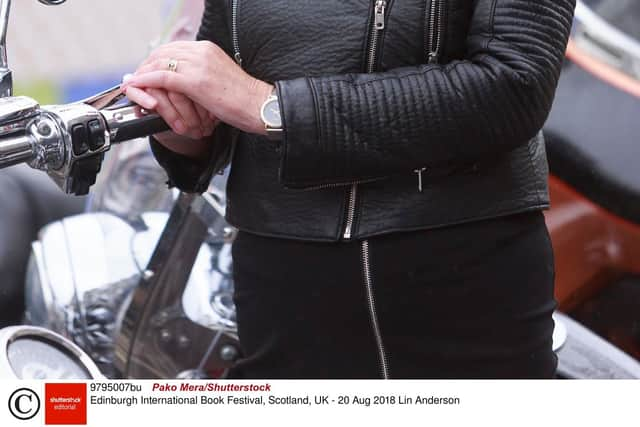 A mix of big names and up-and-coming authors, and initiatives to help the latter while acknowledging the success of the former, is a trademark of Bloody Scotland. So on the opening day you can find writing masterclasses and panels featuring authors early in their career as well as events with Val McDermid and festival co-founder Lin Anderson. Before those two well-kent names start talking, however, there will be a couple of minutes given to a writer at the start of their career to read from their work and maybe persuade the audience to buy their book too. It's called Crime In The Spotlight and it runs all weekend - watch out for them if you're at an Albert Halls event, you could be witnessing a star in the making.
Another way to spot a rising star is to be in the audience for Pitch Perfect on Sunday morning, where eight hopefuls will pitch their novels to an industry panel of editors and publishers, chaired by literary agent Jenny Brown. Writers who have won this event at previous festivals include Alison Belsham (who is on a panel this year), DV Bishop and Joseph Knox.
If it's bigger names you're after though, there's Lisa Jewell and Liz Nugent on Saturday afternoon, Mick Herron and Chris Brookmyre will be chatting that evening, Alex Gray and James Oswald kick things off on Friday afternoon and Craig Russell and Liam McIlvanney chat on Sunday afternoon, to name just a few.
For an inside look at prison life, catch Dr Shahed Yousaf and James McIntyre, or maybe you'd prefer legal eagles-cum-novelists Rob Rinder and Nadine Matheson. And for a look at how forensic and legal experts help crime writers create realistic plots, catch Lin Anderson & Guests on Friday - to mark 20 years of her Rhona MacLeod series, she will be joined by soil scientist Professor Lorna Dawson, forensic pathologist Dr James Grieve and advocate Donald Findlay, KC.
Anderson said: "I thought Driftnet was a one-off, but loved the world and characters in the novel so much I wrote two more, and a series was born. For Driftnet I used a former pupil of mine Emma Hart, who had become a forensic scientist, to check the forensic bits. After which I did a diploma course in Forensic Medical Science where I met most of the experts who now help me with research.
"I draft out a scene or a question regarding a body, or location, then ask James about injuries and Lorna about soil. If I get as far as court, I check with Donald as to the correct procedure in law. And they give me real insight into the reality and practicalities of their work, which hopefully makes my characters more like real people."
At other events over the weekend, Charles Cumming and James Naughtie will discuss spy novels; Denise Mina and Karen Smirnoff will be talking about continuing a series begun by another author (they have recently written works for characters created by Raymond Chandler and Stieg Larsson respectively); legendary comics creators Grant Morrison and Robbie Morrison will reveal why they have taken the step into long-form writing, and there will be panels discussing historical crime, police procedurals and the cosier side of the genre.
If you're looking for an international flavour, don't miss the Nordic Noir event, and Hot Blood, Cold Blood, celebrating an anthology of short stories from Scottish and Bengali authors, plus Finland's Antti Tuomainen will be in conversation with England's Mark Billingham - expect plenty of laughter here.
However, there is a lot more to Bloody Scotland than sitting listening to authors talking about their books and whether they are avid plotters or fly by the seat of their pants when it comes to their writing process. There's also sitting listening to authors while howling with laughter at CrimeMaster as they undertake tasks set by Luca Veste and CL Taylor; there's standing (and possibly waving and shouting encouragement) watching authors play football in the annual England v Scotland match, and there's dancing to authors playing and singing as the Fun Lovin' Crime Writers strut their stuff on Saturday night.
And if you haven't had enough exercise pivoting between venues, there's even a true crime walking tour of Stirling, exploring some of the town's more gruesome history.
If you can't make it to Stirling in person, 15 of the events will be available to watch digitally, either live or on catch-up until the end of the month, which will give you a good flavour of the festival and perhaps encourage you to come along in future.
Crime fiction authors and fans alike are for the most part the loveliest people to meet in person (something to do with the genre being cathartic, perhaps?). If you've never been to Bloody Scotland, why not give it a go: you've got something in common with everyone there, and you'll find yourself queuing for events, book signings and to buy a coffee or a pint, so why not strike up a conversation? And if you see an author you're a huge fan of, it's absolutely OK to go up to them and say: "I just wanted to say I'm a huge fan of your books, thanks." Though it's best to check out the football score before approaching anyone around 4.30pm on the Saturday...
Bloody Scotland runs from Friday 15 to Sunday 17 September in various venues in Stirling. For more information and tickets, including details of digital events, visit www.bloodyscotland.com​​​​​​​​​​​​​​​​​​​​​​​​​​​​